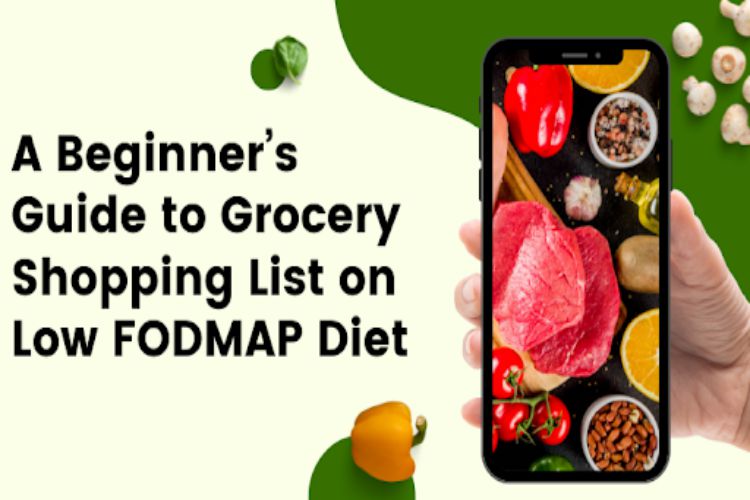 The low FODMAP diet is for individuals who experience discomfort. It can also be related to digestive issues related to consuming certain carbohydrates. Some can cause bloating, gas, and other irritable bowel syndrome (IBS) symptoms.
A study shows that 14 out of 17 individuals experience relief from gut symptoms. This is after completing the 8-week low FODMAP diet. Following a low FODMAP diet can ease symptoms. It can also improve your gut health. 
Today's technology can help anyone follow a low FODMAP diet through resources. This includes using FODMAP apps. You'll enjoy a satisfying diet that supports your gut health by choosing the right foods.
Embarking on a low FODMAP diet doesn't have to be confusing. This beginner's guide aims to help you feel more confident. It will help you start this new journey toward a healthier, more comfortable you.
What is the Low FODMAP Diet?
The Low FODMAP diet is an innovative dietary approach. Its purpose is to reduce gastrointestinal discomfort caused by certain types of carbohydrates.
FODMAP stands for Fermentable Oligosaccharides, Disaccharides, Monosaccharides, and Polyols. These compounds are present in a wide range of foods. These are difficult for some individuals to digest. It can also trigger symptoms like bloating, gas, and abdominal pain.
The science behind the Low FODMAP diet is as fascinating as it is practical. FODMAPs are osmotic. This means that they draw water into the intestinal tract. They're also fermented by bacteria in the gut. By limiting the intake of high-FODMAP foods, you can reduce these effects. It also promotes better digestive health.
Who Should Consider a Low FODMAP Diet?
While the low FODMAP diet may sound intriguing, it's not suitable for everyone. It's designed for three groups of people.
1. People with Irritable Bowel Syndrome (IBS)
IBS is a common condition characterized by uncomfortable symptoms. This includes abdominal pain, bloating, and altered bowel habits. The low FODMAP diet alleviates these symptoms in many IBS sufferers. 
2. Those with Other Gastrointestinal Issues
The FODMAP diet is also for those who have gastrointestinal conditions. It reduces fermentable carbohydrates and can help manage symptoms. This includes consuming more low-FODMAP veggies and other food groups.
3. Individuals Looking for a New Approach to Their Dietary Regimen
Some people without gastrointestinal conditions may feel better with a low FODMAP diet. It's essential, but they must approach this diet with care. This diet can be quite restrictive and should be under the guidance of a dietitian.
Importance of the FODMAP App and Consulting a Healthcare Professional
Changing a dietary regimen is a significant decision that should not be taken lightly. Individuals can use resources like Monash University FODMAP app. It makes navigating the intricacies of this diet easier. But seeking professional advice before starting is still important.
The FODMAP app, based on robust research like the Monash University FODMAP App, is a powerful tool. This app helps manage the dietary needs of people suffering from IBS. 
The Monash University FODMAP app has an extensive FODMAP food database. It has been instrumental in assisting millions of individuals in managing their IBS.
The app includes a list of low FODMAP foods, meal plans, a symptom tracker, and other helpful features. This makes it easier for individuals to adhere to a low FODMAP diet. 
Many people claim that the FODMAP app is an invaluable resource. But remember that it should not replace professional medical advice. You can consult a healthcare professional, like a dietician. This is vital before starting a low FODMAP diet or making significant changes. 
These experts can provide personalized advice based on your medical history. It includes your current health status and specific dietary needs. 
They can also track your progress and troubleshoot any issues that may arise. From there, they'll help interpret the data from the app in a broader health context. 
Thus, using the FODMAP app with professional healthcare guidance ensures the most effectiveness. It is also a safe approach to managing your dietary health.
Comprehensive Low FODMAP Grocery Shopping List
Navigating the grocery store while following a low FODMAP diet can seem challenging. But with the right knowledge, you can fill your cart with foods that align with your dietary goals. 
Let's journey through each aisle together to understand the low FODMAP options.
1. Fruits and Vegetables
Fruits and vegetables are essential for a balanced diet. It provides a wealth of vitamins, minerals, and fiber. But not all fruits and vegetables are low in FODMAPs. There are plenty of options to include in your shopping cart.
Fruits:

Consider bananas, blueberries, oranges, strawberries, and grapes. 

Vegetables:

Choices like bell peppers, carrots, cucumbers, lettuce, and zucchini are great. 
When selecting fresh produce, choose ripe but not overripe. Remember that ripeness can affect FODMAP content.
2. Proteins
Protein is an essential macronutrient. It is vital for body repair and maintenance. 
Animal proteins:

Chicken, beef, fish, and eggs are low in FODMAPs. 

For vegetarians and vegans:

Options include tofu and tempeh. Lentils and chickpeas are also included in small quantities, especially when canned.
3. Dairy and Non-Dairy Alternatives
Dairy products can be a significant source of FODMAPs. This is due to their lactose content. Opt for lactose-free milk, lactose-free yogurt, and hard cheeses. These are naturally low in lactose. 
Non-dairy alternatives:

These include almond milk or coconut yogurt. 
Always check the labels to ensure no high FODMAP ingredients are present.
4. Grains and Cereals
Whole grains and cereals are key sources of dietary fiber and other nutrients. Low FODMAP options include rice, quinoa, oats, and gluten-free pasta. Remember, the goal is not to cut out all wheat products but to limit those high in FODMAPs.
Even on a low FODMAP diet, there's room for snacks and beverages. 
Snacks: Consider rice cakes, gluten-free pretzels, lactose-free yogurt, or some nuts

Beverages: Stick to water, coffee, and tea. Ensure to avoid high FODMAP drinks like apple juice or milk-based beverages.
Practical Tips for Grocery Shopping on a Low FODMAP Diet
With practical strategies, you can make your grocery shopping stress-free and enjoyable. Here are some tips to remember: 
Planning your meals is critical for a successful low-FODMAP diet. You can create a specific shopping list by knowing what you eat for each meal and snack. This saves you time and money. It also ensures you have the right foods to stick to your diet.
Start by mapping out your weekly meals. Ensure to include breakfast, lunch, dinner, and snacks. The Monash FODMAP app can be a great resource for finding low-FODMAP ideas.
Local and Seasonal Shopping
Shopping for local and seasonal produce is good for the environment. This can enhance your low FODMAP diet. Seasonal fruits and vegetables are often fresher. They also have a higher nutritional value and are more likely to be at their peak flavor.
Many local farmers' markets have a variety of low-FODMAP veggies and fruits. Shopping at these markets can allow you to talk to the growers. You can also learn more about the product and even get recipes.
Reading food labels is a crucial skill you must develop while following a low FODMAP diet. This is because many processed foods contain hidden FODMAPs in their ingredients. Knowing what to look for on a food label can help avoid unwanted symptoms.
When examining a food label, look for ingredients such as: 
Honey

High fructose corn syrup

Inulin

Wheat

Milk solids 
These are all high in FODMAPs. The Monash FODMAP app provides detailed information on reading food labels. This makes it a valuable resource for your low FODMAP journey.
Impulse buying can derail your low FODMAP diet. Those high-FODMAP snacks can be tempting. You must stick to your pre-planned list and resist these impulses.
One effective strategy is to eat a small, low-FODMAP snack before shopping. Shopping on an empty stomach can lead to impulse buying. 
Another strategy is to shop the perimeter of the store first. You can find fresh foods like fruits, vegetables, and lean proteins here. Save the inner aisles for last. This is where you can find processed foods.
Conclusion
Embarking on a low FODMAP diet is a manageable and rewarding journey. Ensure that you have the right knowledge and apps. 
Remember that a low FODMAP diet isn't about deprivation. It is about discovering new foods and finding balance. It helps you make mindful choices that support your health and well-being. 
Everyone's tolerance for FODMAPs is different. Personalizing your diet to your unique needs and reactions is vital. With the right FODMAP app, you're ready to hit the grocery store and take the first steps in your low FODMAP journey. Stick to your plan, and focus on the low-FODMAP foods available. Remember that with every meal, you're investing in your health. Smart shopping equals healthier digestion.