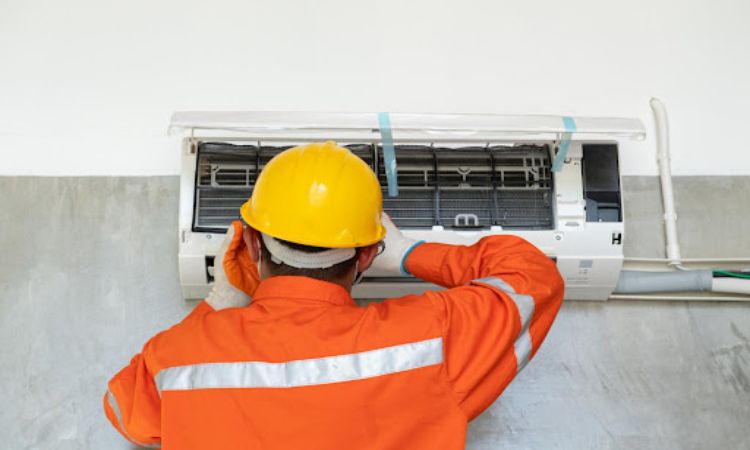 Air conditioning is a way of life during the sweltering summer months in the United States, with nearly 91 percent of homes using an air conditioner for comfortable interior temps. When heat waves and humidity roll through town, your AC is your best friend, but your air conditioner may struggle to win the battle. Knowing what to do when your AC can't keep up is critical for a comfortable home.
You don't need an AC technician background to assess and solve your AC dilemma. The proper resources will point you in the right direction toward determining why your AC is struggling and what you can do to resolve the issue.
Luckily, you've found the right resource to determine why your AC can't keep up on hot days and if you need to schedule AC repair. Continue reading to diagnose your air conditioner's weakness today!
Avoid Turning Down the Thermostat
One of the big mistakes many homeowners make when trying to help their air conditioner on hot days is turning the thermostat down. Turning it down won't speed up the process of cooling your home. You'll make the issue worse by overworking your already struggling air conditioner.
Your AC will use more energy to cool your home, resulting in higher energy bills. It's a separate issue if your air conditioner isn't providing cool air for your household. Keep the dial at a reasonable temperature until your AC catches up.
Open Your Vents
Another simple fix you can use when you feel your AC is not keeping up with your need for cool air is to check your AC vents. When the vents are shut and sealed, your system will struggle to produce comfortable air for your home. The goal is to provide an unobstructed path for your AC to push the cold air throughout your home.
Change the Air Filter
You can also check and change your air conditioner's air filter if it's hampering your AC's performance. A dirty and clogged air filter is a common culprit for homeowners who find their air conditioner isn't keeping up with the heat.
The air can flow through your home without obstructions, pushing the cooler air out of the system and into your home's rooms. Don't cut corners by washing the old air filter.
It's always best to purchase a replacement filter for your system to keep it running smoothly in the future. A dirty filter puts more stress on your air conditioner and produces higher energy bills. It's much more cost-effective to purchase and install a new air filter.
Clean the Outdoor Unit
Cleaning the outdoor unit for your air conditioner is another effective measure when your air conditioner is not keeping up with the heat. A clean outdoor unit must collect air from the outside before cooling it for interior use. A system that is blocked will prevent air from entering the system.
Check the outdoor unit if you know a heatwave is on the way. By washing the outdoor unit, you can get a headstart on preparing your home and air conditioner for the muggy conditions. When handling maintenance, look for debris like grass clippings, leaves, dirt, and pet hair.
Refrigerant Leak
Some instances of a lagging air conditioner can get traced back to mechanical issues with the unit. One of the most common is a refrigerant leak in the system. Your AC unit's refrigerant level must stay consistent to produce the cold air you're accustomed to.
A leak in the refrigerant lines will allow the cold air your system produces to escape. The interior temps won't change much since the air you're seeking is getting released outside the home.
You also risk damaging the internal components in your air conditioning unit when ignoring your refrigerant leak. Hire local hvac services to assess the damage and get the repairs your system needs to overcome future heat waves.
Poor Insulation
Your home's insulation will also play a significant role in causing your air conditioner to struggle. A thriving air conditioner will struggle if your home doesn't keep the cold air it produces inside. The cooler air will seep through your walls, windows, and attic while the hot air remains inside.
It's challenging to locate the issue when facing poor insulation, but there are a few tips you can use. Look for gaps in your walls near plumbing and electrical outlets. These are common areas to find insulation issues. You should also look for gaps near your home's windows to see if cool air is escaping.
Clog any gaps with spray foam insulation or caulk. Your AC will have fewer struggles when heat waves roll through.
Solar Heat Gain
Your home will also collect heat from the sun on those sweltering summer days. Solar heat gain can feel wonderful during winter, but it will create oppressive conditions in your home when summer arrives. The fastest way for heat to enter your home is through your windows.
The best windows can slow the heat transfer, but your AC will fight a losing battle during summer. Consider investing in solar shade screens to keep heat and UV rays out of your home. It's the best way to give your AC the help it needs to produce comfortable temperatures during June, July, and August.
Focus on your south and west-facing windows for the best results. Mount the screens over your windows to keep the solar heat from making it to the glass and inside your home.
Understand Why Your AC Can't Keep Up
Knowing the reasons why your AC can't keep up with the heat this summer will help you take steps to correct the situation and create a comfortable home environment. Try changing your air filter and cleaning the outdoor unit for your AC before scheduling AC repair. Check your home's insulation and invest in solar window shades to limit heat transfer for comfortable interior temps.
Adding value to your home is essential, and there are several routes you can take. Follow more of our Home blog content to get the latest scoop on tips and tricks to add value and comfort to your home today!