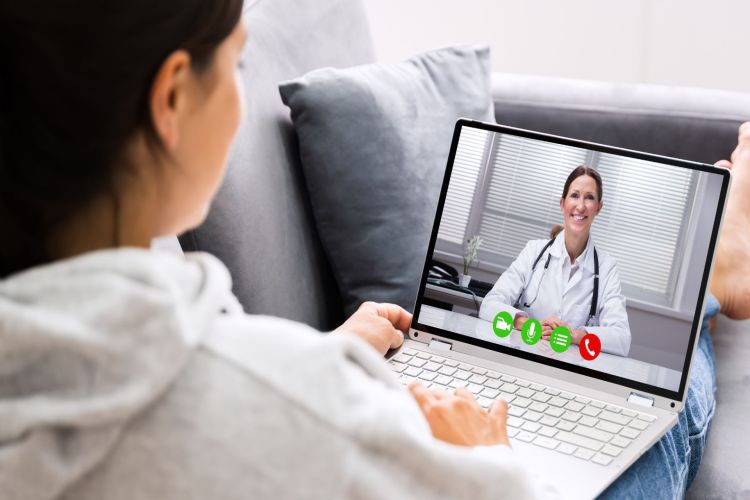 In-person assessments have traditionally been the way to diagnose and treat ADHD, but with the advent of telehealth, remote assessments are becoming more popular. As telehealth technology develops and healthcare services with a telehealth psychiatrist are now more accessible than before.
The rise of telehealth psychiatry
The COVID-19 pandemic accelerated the adoption of telehealth and changed the healthcare industry. There was a notable increase in remote telepsychiatry services as a result of the decreased face-to-face availability. 
Without telehealth services, particularly those for mental healthcare, patients had to travel farther and spend more money, which raised medical expenses and restricted their access to care. By reducing the stress of wait lists and offering convenience and cost benefits to patients, telehealth is expanding its reach with more mental health support.
Who is an ADHD telehealth psychiatrist?
An ADHD telehealth psychiatrist is a licensed psychiatrist who uses telehealth technology to do online psychiatric evaluations, consultations, and therapy for children, adolescents, and adults with Attention-Deficit/Hyperactivity Disorder (ADHD). Online consultations are conducted with patients online as a way to offer mental health care remotely through video conferencing or other internet platforms.
Adults with untreated ADHD may develop mental illnesses because of the ongoing focus, concentration, and impulsive issues that occur from ADHD symptoms. Ineffective management of these symptoms can exacerbate feelings of worthlessness, impatience, and lack of emotional control.
What does an ADHD telehealth psychiatrist do?
ADHD-licensed medical professionals specialize in diagnosing, treating, and managing ADHD, a complicated neurodevelopmental condition with symptoms like inattention, hyperactivity, and impulsivity.
Remote assessment and diagnosis
A psychiatrist uses telehealth to treat ADHD through online digital tools and apps to administer psychiatric tests, evaluations, consultations, and therapy remotely. To accurately diagnose ADHD, ADHD telehealth psychiatrists may carry out remote examinations to analyze a patient's symptoms, medical and psychiatric history,and functioning. The patient will answer questionnaires online and have a virtual interview before the therapist establishes a treatment plan.
Treatment planning and ongoing support
ADHD telehealth psychiatrists recommend evidence-based therapies such as therapeutic interventions and medication management. They provide continuous care through their online services to monitor the patient during and after treatment. In addition, telehealth offers are available for families to participate in therapy.
Collaboration with other healthcare providers
Telehealth psychiatrists can easily collaborate with other medical professionals to offer complete care for ADHD patients, which is crucial to provide a comprehensive and integrated strategy for managing the condition. By removing geographic obstacles, enhancing communication, and giving access to shared digital resources like secure and authorized access to medical information, telehealth can make it easier for a healthcare team to provide the best care.
Key benefits of remote assessments in ADHD telehealth psychiatry
Online ADHD treatment offers great benefits to adults and children of all ages. It is particularly effective with children because consultations are done in their homes' safety, encouraging them to open up and talk about difficult subjects.
Most children are comfortable using video and text messaging, so communicating online feels natural. The adjustment to starting therapy can be made easier when children use tools they are familiar with, and it is not as intimidating as visiting an office of strangers.
Increased Accessibility
Remote services for ADHD Telehealth psychiatry significantly improves access to care, especially for people who might have trouble traveling or finding specialized healthcare practitioners due to varying restrictions. No matter where they are, patients can receive therapy and support through telehealth, making it easier to get the treatment they need whenever they need it.
Reduced Stigma
Telehealth helps lessen the stigma that is still sometimes connected to mental health issues like ADHD. People may feel uncomfortable or embarrassed about being seen getting in-person treatment for a mental disorder. These perceptions become barriers to seeking help, and some people struggle for years to manage their ADHD without professional help. With telehealth, they do not need to risk disclosing their need for mental healthcare as it gives people a more private and confidential way to get treatment.
Cost-Effectiveness
Compared to in-person therapy, telehealth services for ADHD can be more affordable. Reduced travel costs, no need to take time out of work or school, and other logistical costs and issues are minimized with online psychiatry services. Patients can get an earlier diagnosis and prompt treatment by regularly accessing effective and timely consultations. Telehealth can potentially lower healthcare expenditures by preventing complications and lowering long-term medical expenses.
Flexibility and Comfort
Patients benefit from the convenience and comfort of remote assessments through telehealth. Patients can participate in the assessment anywhere that is convenient and comfortable for them, such as their home, office, or any private area. This may put patients at ease during the evaluation procedure and produce more thorough and accurate evaluation outcomes.
Enhanced Continuity of Care
Telehealth services improve continuity of care by facilitating timeous follow-ups and monitoring. The patient's treatment progress is monitored and modified as needed. Busy schedules, transport issues, and costs do not have to prevent an individual from getting the necessary care and treatment.
Final thoughts
The development and delivery of telehealth have gained impetus in response to COVID-19. And this trend is expected to grow exponentially in the years to come. Telehealth services can improve access to ADHD treatment, especially for those with logistical difficulties and mobility constraints.
Because patients don't need to travel to a physical location to get treatment, it makes it easier for people to engage with specialized healthcare experts. Increased access to care improves outcomes because of an early diagnosis and effective interventions. This aspect is important for conditions like ADHD. The effects of the disorder include poor academic and professional performance, divorce, and a high risk of complications like depression, antisocial disorders, and addictions.
For safe and effective care, telehealth ADHD psychiatrist services must be verified using best practices for online therapy and adhering to privacy regulations. Get in touch with a reputable ADHD psychiatrist who offers affordable, secure, and convenient remote healthcare.
There is no one-size-fits-all method for treating adult ADHD, although a number of measures can assist to lessen its symptoms. A mental health practitioner will ultimately decide the appropriate treatment strategy for each client based on a thorough evaluation.