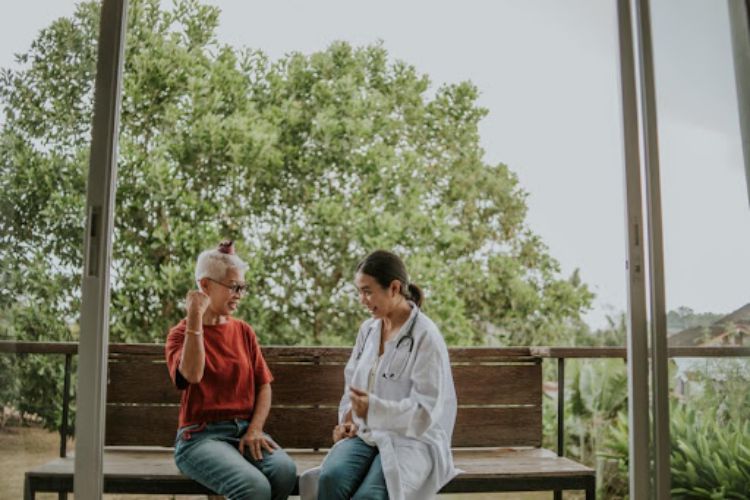 As a nurse, you are likely to encounter various complex challenges. While it is easy to assume that simply 'treating patients' covers much of what you will do, there are ethics and strategies to consider as well. It is a complex career path, and many nurses relish the challenge, given that it is so rewarding to help get people back to full health.
When studying to become a nurse, you will likely come across a few different principles and standards that you may wish to follow during practice. For example, terms such as 'altruism,' 'holistic nursing,' and 'humanism' may all pop up while you study.
But what do each of these tenets mean, and why are they so important to nursing practice as a whole?
What is altruistic nursing?
While there are many different essential nursing skills that may be discovered on the way to graduation, altruism is a core concept student will always want to come back to.
Altruism, in its most basic definition, concerns showing other people care. It is the art of selflessness without the expectation of any kind of reward. It is a virtue that, as society has evolved, is considered a cornerstone of basic human kindness. 
Nurses naturally need to be empathetic! Altruistic nursing is all about an individual doing all they can to help patients get the relief and support they deserve. Nurses must uphold several codes of ethics and agree to put their patients' needs ahead of everything else.
That may mean they experience some discomfort or may even need to curtail their lifestyle to ensure charges get the care they need. Working late to administer medicine or redress wounds, for example, is altruistic nursing in action.
Most tend to value nurses as altruistic, empathetic people by default. However, it's always worth remembering this core principle in all nursing work.
To show true altruism in nursing, adopting a healthy balance of empathy is important. Being empathetic to patients means more than just treating them for problems they are experiencing. It also means ensuring that they are comfortable and that nurses can communicate with them clearly what to expect next.
Of course, getting too emotionally attached to patients and their cases is entirely possible. That's why balancing empathy is key. Too much of an emotional attachment can take a nurse out of the picture and may even harm some patients' cases and their reputation.
What is holistic nursing?
While altruistic nursing covers attitudes and principles when treating patients, holistic nursing considers the overall effects of treatment. Specifically, 'holistic' refers to interconnectivity. In nursing, that means nurses are effectively seeing each patient as more than a case and more than just the illnesses or conditions they're suffering from. For example, the holistic nursing practice may include considering the mental health effects that patients experience when undergoing oncology treatment.
Holistic nursing derives from concepts such as humanism, which are covered in a little more detail below. Essentially, holistic nursing care considers multiple needs and strands that connect. For example, nurses are not just treating physical and psychological needs, but also spiritual and social effects.
The idea behind holistic nursing is that care providers should do more than just 'heal problems.' Those nurses administering holistic care will look at the bigger picture and find ways to provide immediate comfort and rehabilitate their patients over respite.
Nurses who practice holistic care tend to be highly professional and fantastic communicators. In some cases, nurses with religious and/or spiritual beliefs may use their experiences to help guide the treatment of specific patients. However, this must always align with the codes and practices agreed upon by the hospital or healthcare provider.
What is humanistic nursing?
The humanistic nursing model is fairly similar to the holistic because this nursing style also dives deep into the interconnectivity of patient needs. However, the key difference lies in human connection – this model places huge importance on the relationship between nurses and patients.
When studying for a BSN or other nursing degrees online such as via Holy Family University, students will likely find that rapport-building between them and their patients is key to overall care success. Humanistic nursing models take this one step further, focusing on treating patients as individuals that you can 'grow' with during the care practice.
Humanistic nursing rests on the idea that each patient and their needs will always be unique. However, this nursing style goes deeper by suggesting that standardized care may not be enough to rehabilitate people.
This nursing standard derives from many different studies and theories. Essentially, it is all about helping to heal patients by finding that human connection.
Instead of treating patients as numbers or cases that nurses need to complete, humanistic nursing expects nurses to dive deeply into what's affecting patients. Along the same lines as holistic nursing, this could mean looking at the bigger picture, such as by connecting psychological and physical health demands together.
Students also typically consider social and spiritual effects, too. As the name suggests, this nursing model positions the patient as a human – while that may seem arbitrary to some, the opposite would be to simply treat a patient as 'just another problem.'
What connects these types of nursing?
One main factor connects all three of these nursing principles together – humanity. Altruism is a deeply human trait that expects humans to support one another no matter the cost. Holistic nursing considers patients as the greater whole, while humanistic nursing ensures patients receive thorough, 'human' treatment to leave the hospital healthy and grow as a person.
These tenets may seem complex at first, but they all help nurses keep to the ethical cornerstones expected of them after graduation. As it happens, all nurses are different, too! Therefore, those interested in this career path will need to practice a few different styles, research theories, and methods for long-term success.