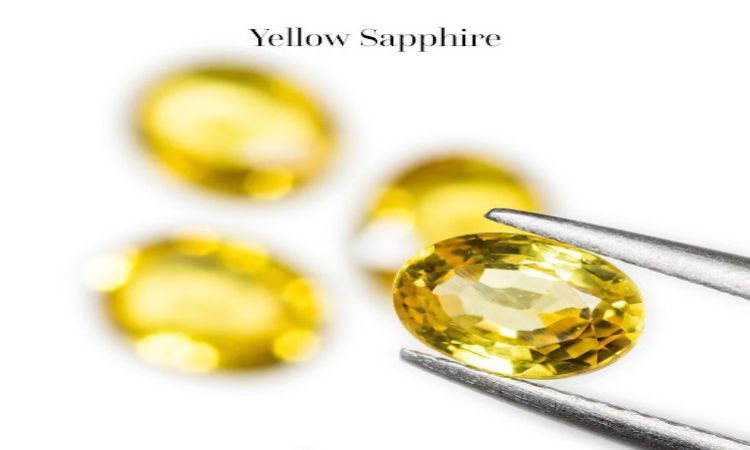 Are you looking for a way to add some sunshine to your summer wardrobe? Look no further than yellow sapphire jewellery. With its vibrant hue and sparkling brilliance, the yellow sapphire stone is the perfect choice to brighten up any outfit. When worn as jewellery, it can bring a sense of joy and positivity to the wearer's life. The stone can boost your self-confidence and add a touch of elegance to your style.
Yellow sapphire jewellery is available in marvellous designs and styles on popular portals like GemPundit. They offer certified gemstones crafted with finesse into exquisite jewellery perfect for all occasions. So, grab a cold drink, put on your favourite sunglasses, and let's dive into the world of Yellow Sapphire Stone to find your perfect match.
Layer Your Jewels
By layering multiple pieces, such as a necklace, bracelet, and earrings, you can create a cohesive and eye-catching look that is sure to turn heads. However, it's important to keep in mind the size and shape of each piece to ensure they complement each other rather than compete for attention.
For example, pairing a chunky necklace with delicate earrings may not be the best choice. Additionally, don't be afraid to mix metals or styles – this can add depth and texture to your overall look. And because Yellow Sapphire Stone is such a versatile gem, they pair well with a wide range of other gemstones, allowing you to experiment with different textures and designs until you find the perfect combination.
Prefer Silver or Gold Settings
Gold and silver are two popular choices that can showcase the beauty of yellow sapphires in different ways. Gold is a classic choice that adds warmth and richness to any piece of jewellery. When paired with yellow sapphire, it creates a luxurious look that is both elegant and timeless. On the other hand, silver has a cool tone that complements the classy undertones in yellow sapphire. It gives a modern and edgy feel to the jewellery while still highlighting its natural beauty.
When choosing between gold or silver for your yellow sapphire jewellery, consider the occasion and your personal style. Gold may be more appropriate for formal events or if you want to make a bold statement, while silver may be more appropriate for casual occasions or if you prefer a more delicate look. Additionally, consider your skin tone and what metal looks best on you. Silver generally looks better on cold skin tones whereas gold often looks better on warm skin tones.
Choose a High-Quality Stone
A high-quality gemstone can make all the difference when it comes to flaunting your stunning yellow sapphire stone jewellery. The stone should be a bright and vibrant canary yellow colour that catches the eye with excellent clarity and cut that allows it to sparkle in any light.
A yellow sapphire with good clarity will have minimal inclusions or flaws, allowing the gemstone to shine bright and clear. Avoid yellow sapphires that appear too pale or too dark, as these may not have the same visual impact as a gemstone with a more vibrant hue. When selecting a yellow sapphire, be sure to look at it in different lighting conditions to ensure that the colour is consistent and stunning in any setting.
Finally, when selecting a yellow sapphire, consider the carat weight of the gemstone. A larger yellow sapphire can make a bold statement and be a stunning centrepiece for any piece of jewellery.
Look for a Stylish Design and Setting
When looking for a stylish design, consider the cut of the stone and how it will showcase its natural beauty. A cushion or oval cut can provide a classic look, while a pear or marquise cut can add some edge to your style. The setting also plays a crucial role in displaying your yellow sapphire jewellery.
One option is a classic solitaire setting, which features a single yellow sapphire set in a simple band. You can also opt for a halo setting in which a ring of smaller diamonds surrounds the yellow sapphire, creating a stunning and eye-catching look.
A three-stone setting is another option with a yellow sapphire flanked by two smaller diamonds or gemstones. This design can create a stunning contrast between the yellow sapphire and the white diamonds, while also creating a look that is both elegant and unique. Similarly, a cluster setting with multiple gemstones creates a bold style.
A simple prong setting can highlight the stone's brilliance, while an intricate bezel setting can add more depth and detail to your piece. Additionally, consider pairing your yellow sapphire jewellery with complementary colours such as blues and greens to create a striking contrast.
These are some of the best ways to style your yellow sapphire jewellery for this summer. Choose your jewels wisely after visiting a trusted seller and enjoy every piece for your lifetime.