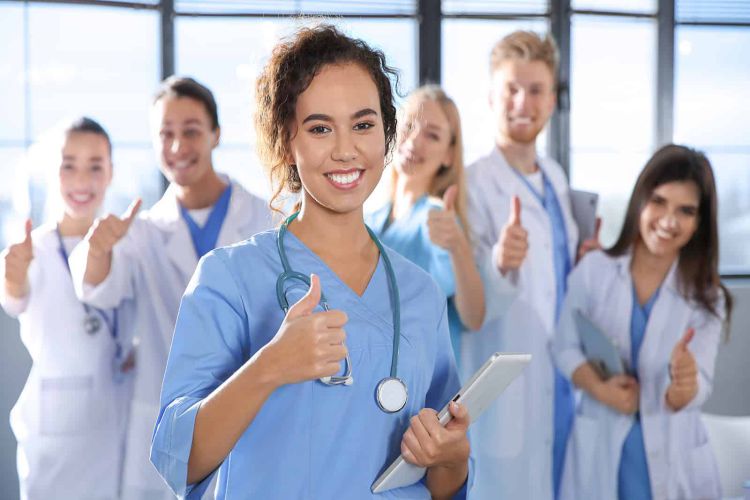 Medical staffing is an essential component of healthcare delivery. It involves the recruitment, training, and management of healthcare professionals who provide direct patient care. The medical staff includes physicians, nurses, pharmacists, therapists, and other allied health professionals who work together to ensure that patients receive quality care.
Effective medical staffing requires a collaborative effort among all members of the healthcare team. This article explores the different types of medical staff and their responsibilities in delivering quality care. We will also discuss effective communication and teamwork in healthcare settings and highlight the importance of medical staffing in ensuring positive patient outcomes. So sit back, relax, and let's dive into the world of building bridges through effective medical staffing!
Types of Medical Staff
The categorization of medical personnel can be analyzed based on their respective roles and responsibilities within the healthcare system. There are several types of medical staff, including physicians, nurses, allied health professionals, and administrative staff. Physicians include specialists like pediatricians, gynecologists, cardiologists, neurologists, and general practitioners who provide primary care to patients. Nurses are responsible for patient care coordination and administering medications as prescribed by physicians. Allied health professionals include pharmacists, physical therapists, occupational therapists, and speech-language pathologists who provide specialized services to patients.
Recruitment challenges exist in hiring all categories of medical personnel due to the increasing demand for skilled workers in the healthcare sector. Training and development opportunities are essential for staff retention since it allows them to improve their knowledge and skills while adapting to new developments in medicine and technology. Medical organizations need to invest resources into providing training programs that cater to different skill levels among their staff members so that they can perform optimally in delivering quality patient care services. Ultimately building a diverse team of competent medical personnel is crucial not only for improving patient outcomes but also for ensuring the sustainability of our healthcare systems worldwide.
Responsibilities of Medical Staff
The responsibilities of individuals fulfilling medical staffing positions are vast and varied, encompassing a wide range of tasks that require extensive training and expertise. These professionals must possess the knowledge and skills necessary to provide high-quality care to patients, while also working collaboratively with other healthcare providers to ensure optimal outcomes. Training requirements for medical staff vary depending on their specific roles but typically include a combination of academic coursework, hands-on clinical experience, and ongoing professional development.
In addition to providing direct patient care, medical staff is also responsible for maintaining accurate records and documentation, communicating effectively with patients and their families about treatment options and expectations, adhering to ethical standards in all aspects of care delivery, and participating in quality improvement initiatives. Career advancement opportunities within the field of medical staffing are plentiful for those who demonstrate exceptional skills and dedication to their work. Many professionals choose to specialize in a particular area of medicine or pursue advanced degrees or certifications that allow them to take on leadership roles within healthcare organizations.
Effective Communication in Healthcare
Effective communication within the healthcare industry is a critical component in ensuring optimal patient outcomes, as it facilitates the exchange of information between providers, patients, and their families regarding treatment options, expectations, and potential risks. The importance of empathy cannot be overstated when it comes to effective communication in healthcare. Empathy allows providers to understand the emotional and psychological needs of their patients beyond just their physical symptoms. By being able to put themselves in their patient's shoes, healthcare professionals can better communicate with them and provide more personalized care.
Technology also plays a significant role in improving communication within healthcare. Electronic health records (EHRs), for example, allow providers to access important patient information quickly and easily. This not only saves time but also ensures that all relevant parties have access to accurate information about a patient's medical history, allergies, medications, etc. In addition, telemedicine has become increasingly popular over the years as it allows doctors to consult with patients remotely using video conferencing technology. This can be particularly beneficial for patients who live in rural or remote areas where access to specialized care may be limited. Overall, effective communication coupled with modern technology can help bridge gaps between providers and patients ultimately leading to better health outcomes for everyone involved.
Teamwork in Healthcare
Collaboration and cooperation among healthcare professionals are crucial in achieving the best possible patient outcomes, and teamwork is an essential aspect of effective healthcare delivery. A collaborative approach to healthcare requires effective communication, problem-solving skills, and interpersonal skills. Interpersonal skills are particularly important as they facilitate teamwork by promoting positive relationships between team members. Effective interpersonal skills can help to build trust among healthcare professionals, which is critical for successful collaboration.
Teamwork in healthcare involves different professionals working together towards a common goal of providing quality care for patients. The success of a healthcare team depends on the ability of its members to communicate effectively with each other and work collaboratively towards shared objectives. Healthcare teams that are able to function well have been shown to improve patient outcomes by reducing medical errors, improving treatment adherence, and enhancing patient satisfaction with their care. Therefore, it is essential that all healthcare professionals possess strong teamwork skills so that they can contribute effectively to the provision of excellent patient care.
Importance of Medical Staff in Quality Care Delivery
The provision of quality care in healthcare settings is contingent on the contribution and competence of healthcare professionals, who must possess a range of valuable skills to ensure that patients receive optimal care. One critical element in ensuring the quality of healthcare delivery is medical staffing. The importance of medical staff cannot be overstated as they are responsible for providing direct patient care, conducting assessments, diagnosing conditions, and prescribing treatments.
Despite the crucial role played by medical staff in delivering high-quality patient care, there are significant challenges associated with staffing in healthcare settings. One major challenge is the shortage of qualified healthcare professionals due to an aging population and increased demand for services. Additionally, cost-effectiveness has become a prominent concern for many healthcare providers due to limited resources. As such, it is essential that healthcare providers address these challenges by prioritizing strategies that promote the recruitment and retention of qualified medical staff while also striving to maintain cost-effective practices that can help sustain long-term success and growth within their organizations.
Conclusion
Medical staffing plays a crucial role in providing quality healthcare delivery. These professionals are responsible for ensuring the provision of high-quality care to patients. The types of medical staff include physicians, nurses, pharmacists, and nurse practitioners, among others who work collaboratively as a team to deliver effective patient care.
Effective communication and teamwork are essential elements in healthcare delivery. Medical staff must communicate effectively with each other to ensure that patients receive appropriate treatment and medication. Cooperation and collaboration between medical staff also lead to better outcomes for patients.
In conclusion, building bridges between different types of medical staff is essential for successful healthcare delivery. Effective communication and teamwork among these professionals play an important role in delivering quality care to patients. Therefore, it is necessary to recognize the importance of medical staffing in maintaining the standards of healthcare services provided by hospitals or clinics.