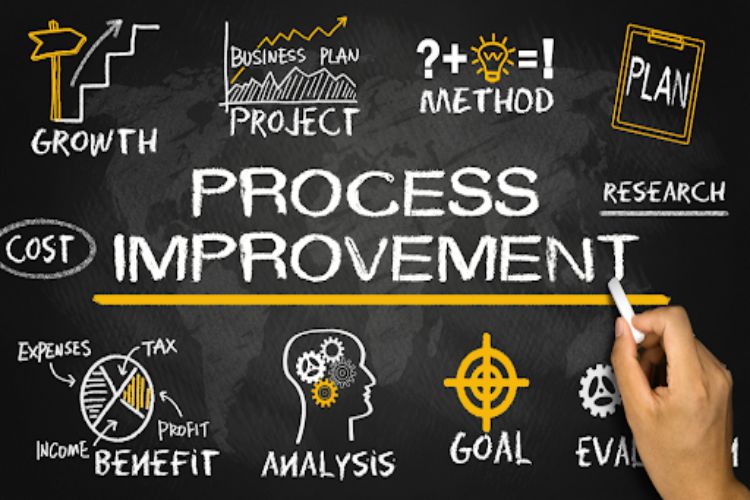 Business process management (BPM) was a $15.01 billion market in 2022. Come 2030; experts say it could reach $56.61 billion.
One core factor of BPM is business process improvement. This practice aims to optimize and refine existing processes to enhance their results. It can help boost productivity, reduce resource use and waste, and prevent downtimes.
To that end, we created this guide discussing business process improvement examples. Read on to discover what they are, their benefits, and how they can help your firm.
Task Automation
A McKinsey study published in 2022 looked at how organizations use business automation. About 70% of respondents said their firms use automation for at least one process. This represents a jump from 2020's 66% and 2018's 57%.
That growth is due to automation's many benefits, including saving time and resources. It can do so because it relegates repetitive tasks to software. 
Many programs can automate business processes, from marketing to accounting and data analysis. You can find more information here on what you can use this process improvement strategy for.
With automation, you can minimize human error and the need for manual labor. This can help boost productivity and lower work-related stress. Jobs completed on time can also mean happier, more satisfied customers. 
Going Paperless
Offices in the U.S. consume 12.1 trillion sheets of paper yearly. Unfortunately, this contributes to deforestation. 
So if you plan to make eco-friendly organizational changes, consider going paperless. It involves digitizing data or assets you keep on paper, such as:
Forms

Reports

Orders and invoices

Legal records

Employee evaluations

Written letters
Digitizing paperwork is eco-friendly as it reduces the need to use paper. This then lowers the demand to cut down trees. 
Plus, the less paper you use, the less waste you generate.
Aside from being a greener option, digitizing paperwork simplifies document inventory. It's easier to organize, search, update, and delete documents in digital form. This can help save time, enhance productivity, and even cause less stress in workers.
Choosing Preventive Over Corrective Maintenance
Preventive maintenance detects and fixes minor issues before they worsen.
Breakdown maintenance occurs only once a business asset breaks or fails. This is why many also refer to it as break-fix or corrective maintenance.
You should consider preventive maintenance to prevent unplanned downtime. This downtime often results from asset failure due to a lack of upkeep. It may also result from ignoring problems and delaying their repairs.
You want to avoid unplanned downtimes since they drain productivity. They can also lead to delayed task completion, which can then cause disputes with clients. When these happen, they can tarnish your business's reputation and cause profit losses.
Apply These Business Process Improvement Examples
Automation, digitization, and preventive maintenance can all help improve business processes. They simplify tasks, save time, reduce resource use, and keep downtimes at bay. As a result, they can help your firm become more productive and generate more profits.
So, consider using the business process improvement examples above as early as today.
Did you enjoy reading this guide? Then check out our post on choosing the best marketing automation software!