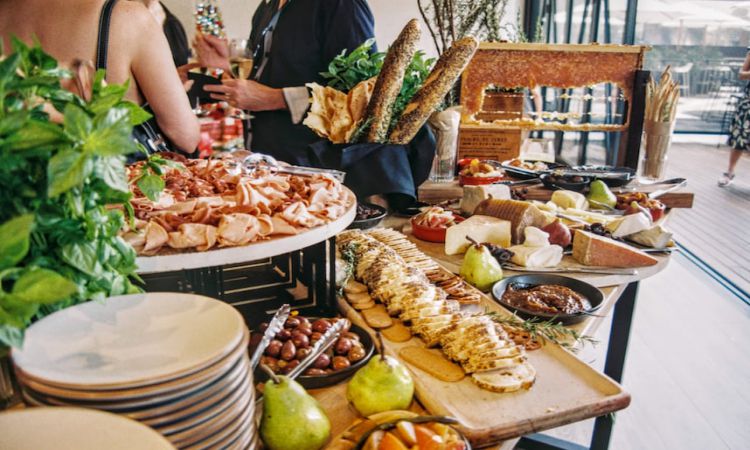 Office happy hours can be a fantastic way to enhance workplace relationships and create a fun and enjoyable work environment. A well-planned happy hour event can give employees a chance to unwind and bond over shared interests and experiences outside the office.
According to a 2022 post on StudyFinds, happy hours have become increasingly mainstream, with a majority of employees expressing a desire for longer events. A survey of 2,000 American adults over the age of 21 revealed that 38% believe happy hours should last an average of three hours, indicating that short events may no longer satisfy the needs of today's workforce.
Planning such an event, however, can be a challenge. A lot of factors must be considered to ensure that everyone will enjoy the happy hour, such as the food and drink options, the location, the timing, and the overall ambiance.
In this article, we will explore some tips and tricks for planning an office happy hour that will leave everyone feeling satisfied and happy.
Determine Dietary Restrictions
One of the most important steps in planning a happy hour is to determine any dietary restrictions or preferences of your team members. This will help ensure that everyone can enjoy the food and drinks that are being offered. Make sure to ask about allergies, dietary restrictions (e.g., vegetarian, vegan, gluten-free), and any other preferences.
According to a recent article on foodinsight.org, the latest data suggests that the prevalence of food allergies worldwide ranges from 1.1 to 10.8% of the population, and there is evidence that this figure is on the rise. In the United States alone, approximately 32 million individuals report having a food allergy, and each year, around 200,000 people require emergency medical treatment due to food allergies.
One way to accommodate dietary restrictions is to offer a variety of options. For example, if you know that several team members are vegetarian, make sure to include vegetarian options in the menu. You may also want to label the dishes so that people can easily identify what is vegan, gluten-free, or nut-free.
You may also think about hiring a happy hour catering business to assist you. Catering services like CaterCow offer a variety of options for both big and small events. They can help you choose the right menu and ensure that your team's dietary restrictions and preferences are taken into account.
A wide array of menu choices are available from catering services such as CaterCow, including dairy-free, gluten-free, vegetarian, and vegan meals. With the expertise and experience of such catering companies, you can create a menu that is tailored to your team's preferences and the theme of your event.
Choose the Right Food and Drinks
Once you have determined the dietary restrictions and preferences of your team, it's time to choose the right food and drinks. Consider offering a variety of options, including healthy snacks, appetizers, and beverages. You may also want to consider hiring a catering company that specializes in the office happy hour events to help you with this.
There are a few things to consider when selecting the perfect food and beverages for your event. To begin, make sure you provide a range of possibilities. Because everyone has various likes and preferences, it is critical to provide something for everyone.
Another consideration while selecting food and beverages is the event's theme. For example, if you are hosting a summer-themed happy hour event, you may want to serve light, refreshing drinks and snacks that are reminiscent of summer. If you are hosting a holiday-themed event, you may want to offer seasonal drinks and treats.
Set a Budget
Setting a budget is another important step in planning an office happy hour. Determine how much you can afford to spend on food and drinks, and then work with a catering company or vendor to create a menu that fits within your budget.
When devising a budget for your event, it's crucial to take into account all expenses associated with it. Along with food and beverages, you may also need to factor in venue rental fees, decorations, and the cost of any planned entertainment or activities.
As per a Wrike article from December 2022, event budget planning serves as a safeguard against overspending. By undertaking careful planning, the organizing team can monitor their progress and spot any areas for improvement, thus increasing the chances of a successful event.
One way to save money on your happy hour event is to host it at your office. You may save a lot of money by doing this because you won't need to rent a location. Another way to save money is to work with a catering company or vendor that offers package deals or discounts for bulk orders. Finally, to make sure you are receiving the greatest deal, think about requesting estimates from other providers.
Choose the Right Time and Location
Choosing the right time and location is key to making your happy hour a success. Consider the schedules of your team members and choose a time that works for most people. You may also want to consider the location of your event. Hosting it at your office can be convenient and cost-effective, but you may want to consider other options if you are looking for a change of scenery.
Consider aspects like capacity, parking, and accessibility while selecting the ideal venue. Make sure that the location you choose is easy for everyone to get to and has enough space to accommodate your team.
Plan Fun Activities
Finally, planning fun activities can help make your office happy hour event even more enjoyable. Consider activities such as trivia games, karaoke, or board games. To add entertainment, you could also want to think about hiring a DJ or band. When planning activities, make sure to consider the interests of your team members. You want to choose activities that everyone will enjoy and that will help foster a sense of community and teamwork.
Conclusion
Organizing a workplace happy hour might be difficult, but it is well worth the effort. By taking the time to determine dietary restrictions, choose the right food and drinks, set a budget, choose the right time and location, and plan fun activities, you can create an event that everyone will enjoy.
Remember, happy hour events are not just about the food and drinks. They are also about building relationships and fostering a sense of community within your team.