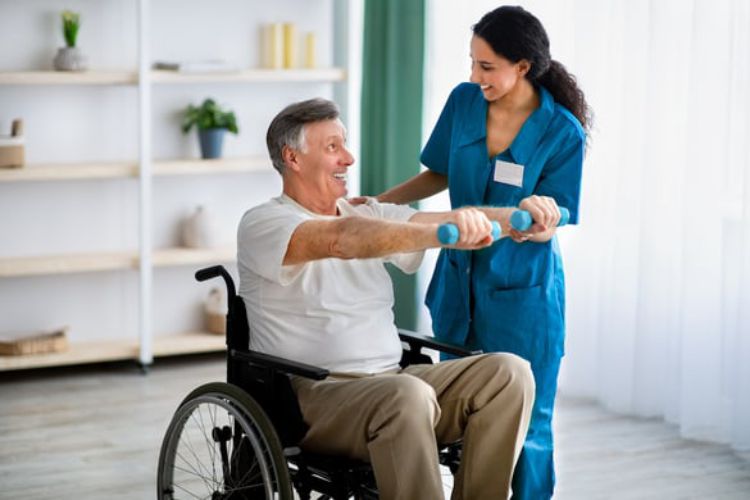 Having a stroke can be devastating. If you've recently had one, it can be easy to think your life as you knew it is over. Fortunately, modern medicine has found recovery tools that work wonderfully for people who have recently come through a stroke. If you're trying to get your life back after having a stroke, the following five tips will help you continue recovery from the comfort of your home. 
Continue Moving
The first way you can continue stroke recovery at home is by continuing regular movement. A brain injury like a stroke is liable to limit some of your range of motion, especially if it was severe. You may have gone through some rehab during your in-hospital recovery period to help you relearn how to move. If you did, it's crucial to keep doing the exercises they gave you. 
Even if you didn't go to rehab or a physical therapist, steady and slow movements will help your recovery. Things like taking an evening walk after dinner are easy on your body, but they'll help your mind and body learn to work together again. 
Don't Quit Rehab
The next step to recovering at home involves your support team. If you went to a rehab facility or therapist as part of your recovery journey, it's important to not stop going once you go home. Depending on the program you're enrolled in, you may only need to continue for a few weeks once you return to regular life. Even if you're almost done, don't stop attending until your medical team says it's a good idea. Rehab and physical therapy can help you relearn how to live normally.
Prioritize Quality Rest 
The third step to recovering from a stroke at home is to prioritize quality rest. Sleep is important to everyone, especially stroke survivors. When you rest, your brain is able to reinforce neural connections and build new ones, allowing you to regain some of the motor functions and knowledge you may have lost during your stroke.
Additionally, recovery is exhausting. Getting high-quality sleep lets you build your energy levels so you can keep up with your rehab program. Whether you're recovering mainly at home or going to therapy with a specialist, sleeping well is a cornerstone of successful recovery. 
Evaluate Your Nutrition
The next step to managing your stroke recovery from home is to evaluate your nutrition. The foods you eat are incredibly influential to neuroplasticity and neurological health in general. 
Some of the best foods for you after your stroke are those high in healthy fats and natural acids. Things like salmon, olive oil, seeds, and eggs all have healthy fat that your body needs, as well as the amino acids that help your brain forge new neural pathways. These pathways make room for some of the skills you may have lost during your stroke, from movement to speech. Eating well will not only help you stay healthy overall but also target your neurological health as you recover from your stroke. 
Strengthen Your Mind
The final tip for continuing your stroke recovery from home is to strengthen your mind. It's not uncommon for stroke survivors to feel like it's difficult to think clearly or remember things for very long. By exercising your brain just as you exercise your body, you can help promote new neural pathways and the redevelopment of ones you may have lost. 
Some of the best mental exercises come in the form of games. Brain teasers such as Sudoku, word searches, and crosswords can help with your pattern recognition and reasoning skills. Mundane tasks like counting money and cooking help you regain confidence in your math skills while improving your motor function, allowing you to feel more like yourself. When you focus on your mental acuity as much as your neurological health, your recovery will be far easier. 
In summary, going through a stroke can be a devastating blow to your way of life. However, with these tips, you can recover in the comfort of your home and return to doing the things you love.