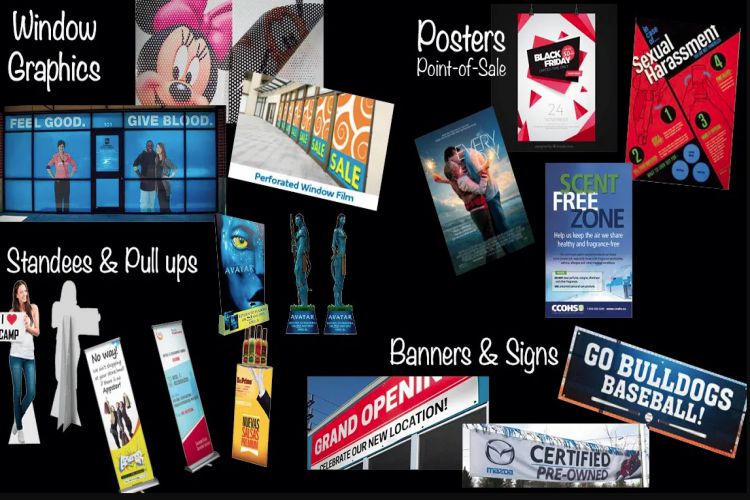 Custom banners are a versatile and cost-effective method to advertise your business, event, or cause.
They can be designed to fit any space, message, and style, making them an excellent choice for indoor and outdoor applications. In this article, we'll explore what options you can customize when designing your perfect custom banners.
Vinyl Banners
Vinyl custom banners are among the most popular due to their durability and versatility. You can choose from various sizes, colors, and finishes when customizing a vinyl banner. You can also decide on the type of mounting options, such as grommets or pole pockets. Additionally, you can fully customize the design and text, ensuring your message is conveyed precisely how you want it.
Outdoor Banners
Outdoor custom banners must withstand varying weather conditions, which should be considered during customization. Durable materials like vinyl or mesh are typically used, and UV-resistant inks ensure your banner stays vibrant even in direct sunlight. Size, design, and mounting options are all customizable, allowing you to create an eye-catching display that can match the elements.
Indoor Banners
Indoor custom banners offer more flexibility regarding material choices, as they're not exposed to harsh weather conditions. Fabric, vinyl, or poly paper are common choices, each giving a different aesthetic appeal. From hanging banners to retractable designs for easy transportation, there's much room for customization in size, design, and mounting options.
Double-Sided Banners
Double-sided custom banners are a fantastic way to maximize visibility, especially in high-traffic areas. When customizing these banners, you can duplicate the same design on both sides or create various designs. Material choice is crucial here to ensure opacity, and durable, thick vinyl is often the go-to option.
Mesh Banners
Mesh custom banners are perfect for windy outdoor conditions, as the perforated material allows wind to pass through, reducing the risk of damage. Customization options include size, design, and finishing touches like reinforced edges or grommets. It's also worth noting that plans should be bold and straightforward due to the perforations for maximum visibility.
Pole Banners
Pole custom banners often lining streets or decorating campuses provide vertical advertising space. You can customize the size and design based on where they'll be displayed. Most importantly, the mounting method must be customized to fit the specific poles where the banners will be hung.
Banner Stands
Custom banners, including retractable, X-stand, and telescopic styles, are often used for trade shows or indoor displays. When customizing, you can choose the size and design of the banner itself and the type and material of the stand for the best match with your venue and purpose.
Wholesale Banners
For businesses needing large custom banners, wholesale options allow for significant savings. When ordering wholesale, each banner can be customized individually, or you can choose to have the same design across all. This option is excellent for franchises, significant events, or city-wide promotions.
In Conclusion – Custom Banners 101: What options can you customize?
Custom banners offer many customization options, allowing you to create the perfect banner for any need. Whether selecting the suitable material for an outdoor banner or the design for a double-sided banner, each decision helps craft a unique and effective advertisement.
With so many options, you can let your creativity soar while creating a powerful visual statement with your custom banners.