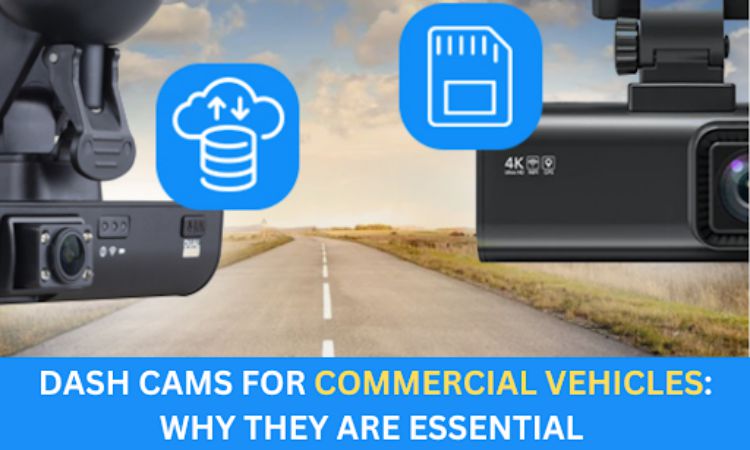 In the world of commercial trucking, safety, and efficiency are paramount. With extended hours on the road and unpredictable traffic conditions, truck drivers and fleet managers must adopt advanced technologies that enhance safety and provide valuable insights. One such technology that has gained significant popularity recently is the dashcam.
This blog aims to explore why dash cams are essential for commercial vehicles, specifically focusing on trucks.
Understanding Dash Cams: Types of Dash Cams for Commercial Vehicles
Dash cams for commercial vehicles, including trucks, are specialized video recording devices installed on the vehicle's dashboard or windshield. The dash cams for commercial vehicles are designed to capture real-time footage of the road ahead and sometimes the interior of the vehicle as well.
Features of Dash Cams for Commercial Vehicles
Dash cams capture clear and detailed footage of the road.
Continuous recording by overwriting the oldest footage when storage is full.
Detects sudden movements or collisions and automatically saves the footage as an event.
Some dash cams include GPS functionality to track the vehicle's location and speed.
Offers a broad field of view to capture a wider area in front of the vehicle.
Enhanced visibility in low-light conditions or at night.
Types of Dash Cams for Commercial Vehicles
Single-lens dash cams: Basic dash cams with a single lens for forward-facing recording.
Dual-lens dash cams: Feature front and rear-facing cameras to record the road ahead and the vehicle's interior or rear.
Fleet management dash cams: Advanced dash cams that integrate with fleet management systems to provide real-time monitoring and tracking of multiple vehicles.
4G-enabled dash cams: Dash cams with built-in 4G connectivity for live streaming and remote footage monitoring.
Cloud-enabled dash cams: Allows the storage and retrieval of footage on the cloud, providing easy access to recordings from any device.
These are just a few examples of the features and types of dash cams available for commercial vehicles. Choosing the right dash cam depends on the specific needs and requirements of the commercial fleet.
Reasons Why Dash Cams for Commercial Vehicles Are Essential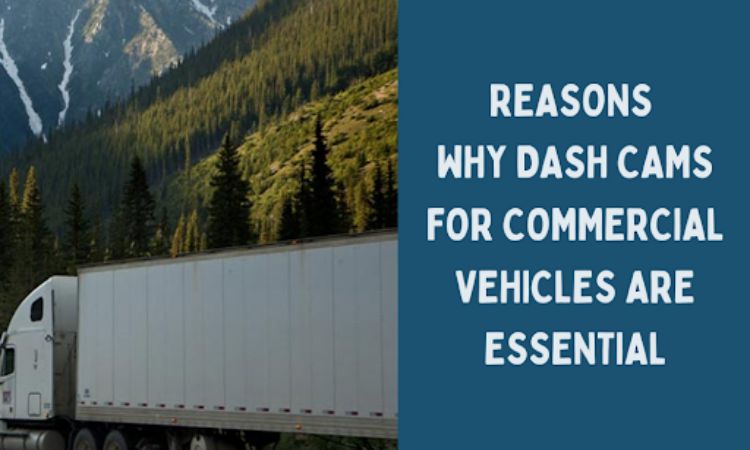 Dash cams are crucial in mitigating risk and preventing accidents for commercial vehicles, including trucks.
Here's how dash cams contribute to accident prevention:
1. Real-time monitoring:
Dash cams continuously record the road ahead, providing real-time monitoring of the driving environment. This allows truck drivers to remain alert and proactive, spotting potential hazards or dangerous situations early on. By having a clear view of the road and its surroundings, drivers can make informed decisions to avoid accidents.
2. Documentation of events:
Dash cams capture detailed video footage of incidents and near-miss situations. In the event of an accident, this footage serves as valuable evidence to determine the cause and sequence of events. It helps identify any contributing factors, such as reckless driving by other motorists or road hazards, which can aid in accident investigations and insurance claims.
3. Training and coaching:
Dashcam footage can be used for driver training and coaching. Fleet managers and safety trainers can review recorded incidents or risky driving behaviors with drivers, providing feedback and guidance for improvement. This proactive approach helps address potential risks and promote safer driving practices among truck drivers.
4. Behavioral feedback:
Some advanced dash comes equipped with driver behavior monitoring features. These systems analyze driving patterns, such as speeding, harsh braking, or sudden lane changes, and provide real-time feedback to drivers. By alerting drivers to risky behaviors, dash cams help foster safer driving habits and reduce the likelihood of accidents.
Enhancing Fleet Management
Dash cams contribute to safety and accident prevention and play a significant role in enhancing fleet management for commercial vehicles. By providing valuable insights and data, dashcams help fleet managers optimize operations, improve efficiency, and streamline processes.
The following are ways dash cams enhance fleet management:
1. Real-time monitoring and tracking:
Dash cams equipped with GPS functionality enable real-time monitoring and tracking of fleet vehicles. Fleet managers can access the live feed from dash cams, allowing them to monitor each truck's location, route, and driving behavior. This information helps optimize route planning, ensure compliance with designated trails, and provide accurate ETAs to customers.
2. Efficient incident management:
In the event of an accident or incident involving a fleet vehicle, dash cam footage serves as valuable evidence for incident management. Fleet managers can quickly review the recorded footage to determine the cause, liability, and necessary actions to take. This expedites the claims process, reduces downtime, and ensures efficient resolution of incidents.
3. Compliance with regulations:
Dash cams for trucks and commercial vehicles assist fleet managers in ensuring compliance with transportation regulations. By monitoring driver behavior and adherence to road rules, fleet dash cams help promptly identify and address compliance issues. This includes tracking factors such as seat belt usage, speed limits, and hours of service regulations, contributing to a safer and more compliant fleet.
4. Preventing unauthorized vehicle use:
Using the best dashcams for fleet vehicles can help detect and prevent unauthorized use. With real-time monitoring and access to dash cam footage, fleet managers can verify vehicle usage and identify any instances of unauthorized driving. This helps prevent misuse, unauthorized detours, and unauthorized vehicle activities, enhancing fleet security and accountability.
Navigating Regulatory Compliance
For commercial vehicles, including trucks, regulatory compliance is of utmost importance. Dash cams can be valuable tools in helping fleet managers and truck drivers navigate regulatory requirements.
Here's how dash cams assist in ensuring compliance:
1. Hours of Service (HOS) Compliance:
Dash cams can help monitor and track driver activity, including driving hours and breaks. By recording the driver's actions and providing accurate timestamps, dash cams verify compliance with HOS regulations. This helps prevent violations and ensures drivers adhere to the mandated rest and driving limits.
2. Speed Limit Compliance:
Dash cams can capture speed-related data, including the vehicle's speed and surrounding road conditions. This information can be used to verify compliance with speed limits. Fleet managers can review the recorded footage to identify instances of speeding and take appropriate action, such as coaching drivers or implementing additional training to promote adherence to speed limits.
3. Seat Belt Usage:
Safety regulations mandate using seat belts while operating commercial vehicles. Dash cams can help monitor and enforce seat belt usage among truck drivers. The footage recorded by dash cams can be reviewed to ensure compliance with seat belt regulations, and fleet managers can address any instances of non-compliance through driver training and policies.
4. Incident Documentation:
In the event of accidents or incidents, dashcam footage is essential to comply with reporting requirements. The recorded footage provides accurate and objective evidence of the incident, assisting in compliance with regulatory reporting obligations.
5. Adherence to Traffic Laws:
Dash cams can monitor driver behavior and capture violations of traffic laws, such as running red lights or illegal lane changes. This data can be used to address and correct non-compliant driving practices, ensuring adherence to traffic regulations.
Fleet managers and truck drivers can effectively navigate regulatory compliance requirements by utilizing dashcams. The recorded footage serves as tangible evidence to demonstrate adherence to HOS regulations, speed limits, seat belt usage, and other traffic laws. Ultimately, dashcams contribute to a culture of compliance, promoting safe and responsible operations within the commercial vehicle industry.
Protecting Commercial Drivers
Dash cams play a crucial role in protecting commercial drivers regarding insurance claims. These video recording devices provide objective evidence and valuable insights that can support drivers in the event of accidents or other incidents.
Here's how dash cams contribute to protecting commercial drivers during insurance claims:
1. Accurate Documentation:
Dash cams capture real-time footage of the road and the surrounding environment. In the event of an accident, this footage serves as objective documentation, providing a clear and accurate account of the incident. It eliminates any potential disputes or discrepancies in the reporting of events, ensuring that drivers have concrete evidence to support their version of what happened.
2. Determining Fault:
Insurance claims often involve determining fault and liability. Dash cam footage can be instrumental in establishing the cause of an accident by providing a visual record of the events leading up to the incident. The footage can show whether the driver followed traffic rules, maintained a safe distance, or took evasive actions to avoid the accident. This evidence can help prove that the driver was not at fault or minimize their liability, protecting them from unjust blame.
3. Preventing Insurance Fraud:
Dash cams deter insurance fraud attempts against commercial drivers. Fraudulent claims, such as staged accidents or false injury allegations, can be exposed with the help of dashcam footage. The recorded evidence can reveal the true nature of an incident and prevent dishonest individuals from targeting commercial drivers for financial gain.
4. Expedited Claims Process:
Dashcam footage provides insurers with accurate and detailed information about the accident, enabling faster claims processing. Insurers can review the footage to assess the extent of damages, determine liability, and make informed decisions regarding claim settlements. The availability of clear evidence can expedite the claims process, allowing drivers to receive the compensation they deserve promptly.
5. Improved Insurability:
Commercial drivers with dash cams installed in their vehicles may enjoy improved insurability. Insurance providers often view dash cams as proactive safety measures, signaling a commitment to safe driving practices. This can lead to lower insurance premiums and favorable policy terms, benefiting commercial drivers in the long run.
Final Words
Dash cams are essential for commercial vehicles, especially trucks, because they enhance safety, improve fleet management, ensure regulatory compliance, and protect drivers during insurance claims.
These compact video recording devices offer valuable features that promote responsible driving, provide evidence in accidents, and assist in navigating regulatory requirements. Dash cams contribute to a safer and more efficient commercial vehicle industry, benefiting both drivers and fleet managers.