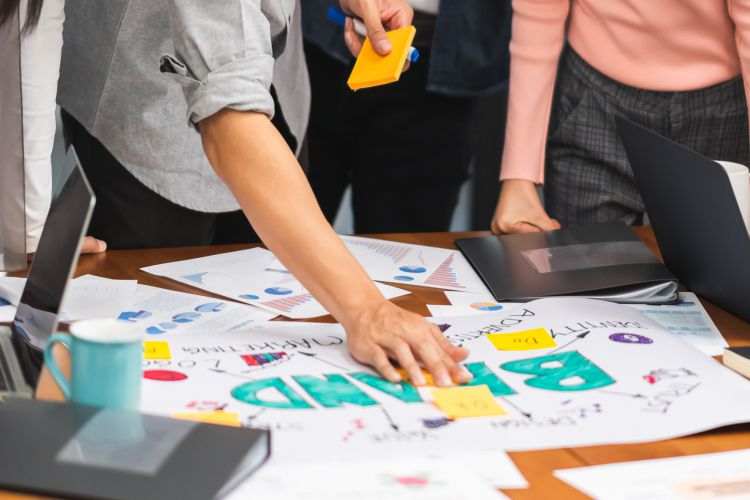 In the fast-paced, ever-changing business world, marketing is the linchpin connecting products and consumers. The success of any marketing strategy depends on its ability to resonate with the target audience and set the brand apart.
One emerging approach that's taking the marketing landscape by storm is design thinking. Typically associated with product development, the method is now a crucial component of innovative marketing strategies. In essence, design thinking is not merely a process; it's a mindset that can revolutionize how marketers connect with their consumers.
What is Design Thinking?
The Core Concept
Design thinking is a problem-solving approach that emphasizes empathy, collaboration, and experimentation. By viewing problems through the eyes of the end user, companies can create customer-centric solutions that are both innovative and relevant.
Empathy: Connecting with the End-User
Empathy is the cornerstone of design thinking. It's about understanding and connecting with users on a profoundly human level. Companies must observe, interact with, and listen to users to develop empathy to uncover their unspoken needs and desires.
Techniques such as interviews, surveys, and participatory design activities enable a profound understanding of the user's experiences, frustrations, and aspirations. Designers and marketers can create more meaningful and personalized solutions by putting themselves in the users' shoes.
Collaboration: Bridging Disciplines and Perspectives
Collaboration fuels creativity in the design thinking process. It brings together various stakeholders, including designers, engineers, marketers, and users, to achieve a common goal.
This interdisciplinary collaboration ensures that multiple perspectives are considered and ideas are challenged and refined. By breaking down silos and encouraging open communication, design thinking fosters an environment where innovation thrives and solutions are more robust and well-rounded.
Experimentation: A Cycle of Learning and Adapting
Experimentation is central to design thinking. It involves an iterative prototyping, testing, learning, and adapting process. Rather than seeking a perfect solution from the outset, designers are encouraged to take calculated risks, make mistakes, and learn from them. 
Prototypes can range from simple sketches to functional models, allowing designers to visualize and test their ideas quickly. This iterative process helps fine-tune solutions, ensuring they align with user needs and business goals.
The Five Stages of Design Thinking
Empathize: Understand the customer's perspective.

Define: Translate insights into a clear problem statement.

Ideate: Generate creative and diverse solutions.

Prototype: Create tangible representations of ideas.

Test: Evaluate and refine through iterative processes.
1. Empathize: Understand the Customer's Perspective
As we discussed, empathy involves engaging with users to understand their needs and emotions. Techniques like interviews and observations provide insights that form the foundation for the design process.
2. Define: Translate Insights into a Clear Problem Statement
This stage synthesizes the insights into a focused problem statement. Analyzing data and creating user personas help articulate the problem in a human-centered way.
3. Ideate: Generate Creative and Diverse Solutions
Ideation is about brainstorming and creating a wide variety of ideas. This stage stimulates creativity and explores diverse solutions using methods like mind mapping and sketching.
4. Prototype: Create Tangible Representations of Ideas
Prototyping brings ideas to life through tangible representations like sketches or digital tools. It allows for interaction and feedback, leading to refined concepts.
5. Test: Evaluate and Refine Through Iterative Processes
Testing involves evaluating prototypes with users and stakeholders. Techniques like user and A/B testing lead to refined solutions aligned with user needs.
Why Design Thinking in Marketing?
Driving Customer-Centric Solutions
Incorporating design thinking into marketing ensures a focus on real human needs, creating solutions that resonate with the target audience. This approach goes beyond traditional marketing strategies by placing the customer at the heart of the decision-making process.
The iterative nature of design thinking—ideating, prototyping, testing—encourages marketers to explore various solutions and continually refine them. This process ensures that the marketing strategies are not only innovative but also fine-tuned to the specific needs and preferences of the customers. By connecting with customers in the development process, marketing becomes a dialogue rather than a monologue, building trust and relevance.
Promoting Collaborative Innovation
In a traditional marketing environment, departments seemingly work in silos, having limited interaction and understanding of one another's roles. Design thinking encourages collaboration across disciplines, challenging this paradigm and fostering a culture where ideas can be freely shared and iterated upon.
Breaking Down Silos
Cross-Functional Teams:

By assembling teams from various disciplines—marketing, design, engineering, and more—design thinking ensures diverse perspectives are considered. This diversity leads to more decadent ideas and more innovative solutions.

Shared Understanding:

Working collaboratively ensures everyone has a voice in the process. This promotes a shared understanding of the problem, the goals, and the proposed solutions, reducing conflicts and enhancing alignment.
Facilitating Rapid Experimentation
The iterative nature of design thinking allows for quick prototyping and testing, ensuring that only the most effective solutions reach the market. This emphasis on experimentation is critical in a landscape where consumer preferences change quickly, and businesses must adapt to remain competitive.
Prototyping: From Ideas to Tangible Concepts
Quick Mockups:

Rather than spending extensive time on a single idea, design thinking creates quick, low-fidelity prototypes. These can be as simple as sketches or digital wireframes, allowing teams to visualize concepts without significant investment.

Interactive Models:

Prototypes offer a way to interact with an idea, assessing its feasibility and appeal. These tangible representations enable a hands-on evaluation, whether it's a new product design or a marketing campaign.
TCGen's Design Thinking
TCGen's Design Thinking is a prime example of combining design principles with strategic marketing. Their structured methodology brings creativity into the decision-making process, ensuring alignment with business objectives, and provides a clear path to innovation. Here's how TCGen's approach stands out:
Combining Creativity with Strategy
Bridging Design and Business Goals:

TCGen's methodology recognizes that creativity and business objectives are not mutually exclusive. They create a synergy that drives inventive solutions and business growth by aligning innovative thinking with strategic goals.

Fostering Innovation Culture:

TCGen helps businesses cultivate an innovation-oriented culture where creativity is not an isolated event but an integrated part of the organizational DNA.
Implementing Design Thinking in Different Marketing Areas
Product Development
Using design thinking in product development, businesses can create products that meet customer needs, improving satisfaction and loyalty.
Delivering Real Value:

Products crafted through design thinking aim to solve genuine problems and fulfill unique needs. When customers find real value in a product, their satisfaction naturally increases.

Creating Emotional Connections:

Beyond functionality, design thinking looks at creating products that resonate emotionally with users. These emotional connections often translate into long-term loyalty and advocacy.
Content Strategy
Applying design thinking to content strategy ensures content resonates with the audience's desires and problems, creating engaging and effective communication.
Audience Research:

Identifying and understanding the target audience is the foundation of resonant content. Surveys, interviews, and social listening can uncover their preferences, behaviors, and challenges.

Creating Personas:

Personas represent typical audience members, detailing their demographics, psychographics, and needs. They act as a constant reference during the content creation process, ensuring alignment with the audience.
Customer Experience
Design thinking focuses on the overall customer experience, ensuring that every touchpoint meets customer needs and expectations.
Identifying Touchpoints:

Customer touchpoints are customers' various interactions with a brand. This includes browsing a website, speaking with customer service, purchasing a product, or engaging on social media.

Empathizing with the Customer:

Through observation, interviews, and journey mapping, design thinking helps businesses deeply understand how customers feel at each touchpoint, uncovering opportunities for improvement.
Digital Marketing
In digital marketing, design thinking helps create user-friendly interfaces and personalized campaigns, improving user engagement and conversion rates.
Understanding User Behavior:

By empathizing with users and understanding their interaction patterns, design thinking helps create intuitive and easy-to-navigate interfaces.

Prototyping and Testing:

Creating and testing prototypes allows designers to experiment with different layouts and functionalities, identifying what works best for the target audience.

Accessibility and Inclusivity:

Design thinking emphasizes creating interfaces that are accessible to all users, including those with disabilities, ensuring a broader reach and a more inclusive experience.
The Future of Design Thinking in Marketing
Integrating design thinking into marketing is not a temporary trend but a sustainable practice that will continue to shape the industry's future. Here's how:
Enhancing Personalization:

With the rise of big data, design thinking will play a vital role in leveraging data to create personalized experiences.

Boosting Sustainability:

Design thinking's empathetic approach extends to environmental considerations, promoting more sustainable practices.

Fostering Agility:

In a rapidly changing market, design thinking enables businesses to remain agile, adapting quickly to new trends and technologies.
Conclusion
Design thinking has emerged as a powerful tool in the marketing arsenal, moving beyond traditional methods to create more engaging, relevant, and innovative strategies. With examples like TCGen's Design Thinking, the concept has proven its worth in various domains, from product development to digital marketing.
Embracing design thinking is more than adopting a new process; it's about fostering a culture that values empathy, collaboration, and continual learning. As businesses evolve, design thinking will likely remain vital to marketing strategy, helping brands connect with customers in meaningful and memorable ways.