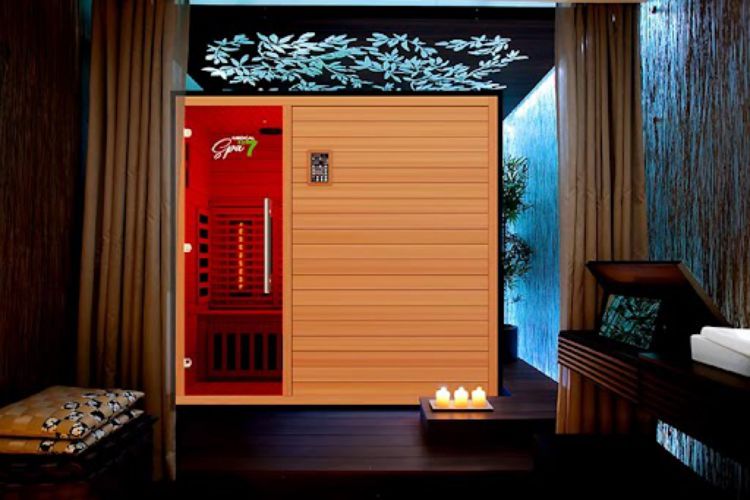 Throughout history, saunas have offered more than just a steam-filled sanctuary; they've been a communal haven. From ancient Nordic traditions to modern health clubs, they have long been revered. But today, with the advancement of science and research, the myriad benefits of Medical saunas have come into sharper focus.
Saunas have transcended their origins, evolving from simple wooden structures heated by burning stones to sophisticated spaces with advanced technology like infrared heaters. This evolution reflects our deepening understanding and appreciation of their potential.
Let's uncover the numerous health advantages of this cherished tradition.
1. Revitalizing Circulation: More Than Just Warmth
At the heart of the sauna benefits is its ability to revitalize the circulatory system. The enveloping warmth stimulates blood vessels, allowing them to expand. As circulation improves, oxygen and nutrients can be transported more efficiently to cells throughout the body. This physiological transformation doesn't just offer immediate relaxation; it promotes long-term cardiovascular health. Furthermore, better circulation often translates to enhanced energy levels and improved overall vitality, making each sauna session a step toward optimal health.
2. The Skin's Sanctuary: A Deep Cleanse
One of the notable benefits of a sauna is its positive impact on the skin. The comforting warmth initiates a thorough purification of the skin. As sweat acts as the body's inherent cleanser, it aids in eliminating toxins and clearing pores. Regular sessions can help diminish acne occurrences, refine pore visibility, and bestow a natural glow on the skin.
3. A Haven for the Mind: Bidding Stress Goodbye
As mental well-being gains prominence alongside physical health, saunas stand out as sanctuaries not only for the body but also for the mind. As warmth seeps into the muscles, it alleviates tension spanning body and mind. This relaxation response helps combat the detrimental effects of chronic stress, making mental rejuvenation an essential health benefit of a sauna.
4. Aiding Athletes: Speedy Muscle Recovery
Any athlete, amateur or professional, understands the importance of recovery. The gentle embrace of a sauna's heat accelerates the body's natural healing process. Moreover, the infrared sauna benefits are especially noteworthy. They delve further into muscle layers, helping to reduce inflammation, relieve pain, and speed up recovery times.
5. A Breath of Fresh Air: Enhanced Respiratory Function
While a sauna's heat is undeniably comforting, it's also therapeutic, particularly for respiratory health. Those with conditions like bronchitis or asthma may find relief as the warm air reduces airway resistance. Regular sessions can lead to improved lung function, offering a natural remedy for breathing challenges.
6. Beyond Relaxation: A Hand in Weight Management
It's a delightful surprise for many to discover the weight management potential of saunas. Although it's no substitute for exercise and a balanced diet, the increased metabolic rate during a session can aid calorie burn. As you sweat and your heart rate rises, your body works similarly to a moderate workout, making weight management an unexpected but welcome benefit of a sauna.
7. Fortified Defences: Boosting Immunity
Imagine if relaxation came with a shield against diseases. With saunas, it does. The heat stress from a sauna session stimulates the making of white blood cells and protective antibodies. These act as the body's defenders, fighting off pathogens and enhancing immunity. Over time, consistent sauna use can lead to a robust immune system ready to tackle infections head-on.
8. Joint Comfort: Easing Arthritic Pain
For those battling arthritis, saunas can be a game-changer. The warmth helps reduce joint stiffness and pain, providing a natural, non-pharmaceutical approach to alleviating arthritic discomfort, another testament to the holistic health benefits of a sauna.
9. Sleep Blissfully: Promoting Restful Nights
An additional yet lesser-recognized advantage of a sauna is its influence on sleep quality. The tranquillity from a sauna session can foster a profound and more restorative sleep. It helps regulate sleep patterns and improve sleep quality, ensuring you arise invigorated and renewed.
Conclusion
Revisiting our exploration, the multifaceted nature of saunas becomes evident. They're not just rooms of warmth and relaxation but hubs of holistic health benefits. From nurturing the skin to enhancing our circulatory system, the impact is substantial. Thus, when you next immerse yourself in the soothing warmth of a sauna, savor the moment knowing the multitude of health benefits you're deriving.