When it comes to achieving a restful night's sleep, choosing the right bedding is key. A comfortable and supportive mattress, such as the Sleepmaker mattress, can make all the difference in how well you sleep and wake up feeling refreshed. This comprehensive buying guide will walk you through everything you need to know to make an informed decision and find your dreamland of comfort.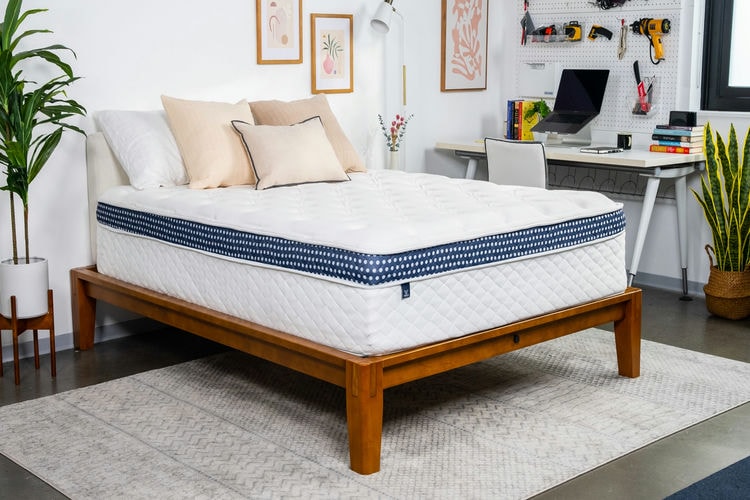 Assessing Your Sleep Needs
Before diving into the vast sea of options, assessing your sleep needs is essential. Consider factors such as your preferred sleep position, any specific health conditions or concerns, and whether you sleep alone or share a bed. Understanding these aspects will help you narrow down the features and materials that will work best for you.
Types of Mattresses
Innerspring
Innerspring mattresses are constructed with a network of coils or springs that provide support. They often offer good breathability and bounce. However, be mindful of the coil count and gauge, as they affect its durability and supportiveness.
Memory Foam
Memory foam mattresses are preferred for their contouring abilities and pressure relief. They conform to your body's shape, providing excellent support and minimising motion transfer. Look for bedding with different foam layers and varying densities for optimal comfort.
Latex
Latex mattresses are made from natural or synthetic latex foam. They offer excellent responsiveness, durability, and breathability. Additionally, latex is hypoallergenic and resistant to dust mites and mould, making it an excellent choice for allergy sufferers.
Hybrid
Hybrid mattresses combine the best of both worlds by incorporating both innerspring coils and foam layers. This hybrid design offers the benefits of contouring foam and the support of coils, resulting in a balanced and comfortable sleep surface.
Firmness Levels
The firmness level of a mattress is subjective and varies from person to person. Generally, they are classified as soft, medium, or firm. Choose a firmness level that aligns with your sleep preferences and body type. Side sleepers may prefer softer bedding for pressure relief, while stomach sleepers often find firmer ones more supportive.
Cooling Features
If you live in a warmer climate, consider mattresses with cooling features. Look for materials like gel-infused memory foam or one with breathable covers that promote airflow and heat dissipation. These features can help regulate your body temperature and prevent night sweats.
Motion Isolation
If you share your bed with a partner or have a restless sleeping partner, consider sleeping in bed with excellent motion isolation. Memory foam and hybrid ones are known for their ability to absorb movement, minimise disturbances and promote undisturbed sleep.
Durability and Warranty
Investing in quality bedding is crucial for long-term comfort and support. Look for ones made from durable materials and check for comprehensive warranties that protect against manufacturing defects. A longer warranty period is generally an indicator of the manufacturer's confidence in their product.
Budget Considerations
While it's tempting to splurge on a luxurious bedding set, setting a budget that aligns with your needs is important. Quality bedding can be found in a range of price points. Consider the value, durability, and features that matter most when determining your budget.
Finding your dreamland of comfort begins with selecting the right mattress, such as the Sleepmaker mattress. By assessing your sleep needs, and considering different types, firmness levels, cooling features, motion isolation, and edge support, you can make an informed decision. Remember to prioritise durability, warranty coverage, and budget considerations. With this comprehensive buying guide as your companion, you're now equipped to embark on a journey towards restful nights and rejuvenating mornings. Sleep tight!