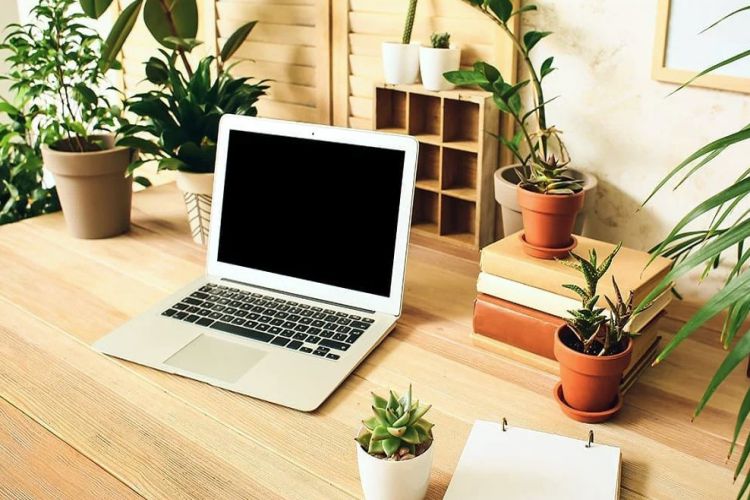 Many employees are working long hours. It's an unfortunate reality, but one that we can't change. What we can change is how we feel as we sit at our desks for hours on end.
Desk plants are just what you need to improve your mood! They are a great way to liven up your workspace throughout the day. The addition of a plant on your desk can have a very meaningful impression on your day-to-day life.
Keep reading below to know which office desk plants are best for your workplace.
Ponytail Palm
Ponytail palm is an ideal choice if you're looking for the best desk plants with a modern, stylish look. They are easy to take care of, even with no natural light. They also don't need as much water or sunlight as other plants.
Ponytail palms bring a calming atmosphere and good focus. They make your work environment more pleasant, making them the perfect addition to an office desk. You can also read this guide to indoor plants for more insight into ideal office desk plants.
Chinese Evergreen
They require minimal maintenance and offer an abundance of benefits, including improved air quality and aesthetic appeal. Chinese Evergreen's adaptable nature allows it to thrive even in low light, making it ideal for the typical office environment.
Lush and attractive, these plants are sure to make any desk look more inviting and help to eliminate negative feelings. Their vibrant foliage will help to bring positive energy to the workplace and improve one's outlook.
Lucky Bamboo
Lucky bamboo is incredibly tolerant of different light levels making it low maintenance for desk displays. Its hardiness makes it easy to transport, perfect for desk decorations at any office. With its unique green color, it is a great symbol of growth and prosperity.
Lucky bamboo also needs minimal water and care and can go weeks without being watered, ideal for busy professionals with a hectic life schedule.
Peace Lily
The Peace Lily is also known to bring a sense of calm and relaxation to an area. A cheerful splash of green is sure to lighten your day and make your workspace more pleasant. It can bring joy and even improve your productivity.
It is an easy-care plant and only needs to be watered once a week, which is a great responsibility for even the busiest worker.
Jade Plant
The lush green of the leaves and stems has been clinically proven to improve mood and reduce stress, providing a calming effect to the atmosphere.
Having a jade plant nearby can increase productivity and improve overall well-being. Its low maintenance quality makes it a great pick as it's likely to stay alive even when office conditions are not ideal.
Office Desk Plants With Mood-Boosting Power
Office desk plants not only add aesthetic value to any workplace, but they also have psychological benefits in making one feel more relaxed and happier. From the stylish ponytail palm to the lively jade plant, there are numerous office desk plants to choose from.
Having a few plants around your desk can do wonders for both your happiness and productivity in the long run! Bring a little nature into your workspace and reap its benefits – buy a desk plant today!
If you find this article helpful, check out our blog for more informative content.