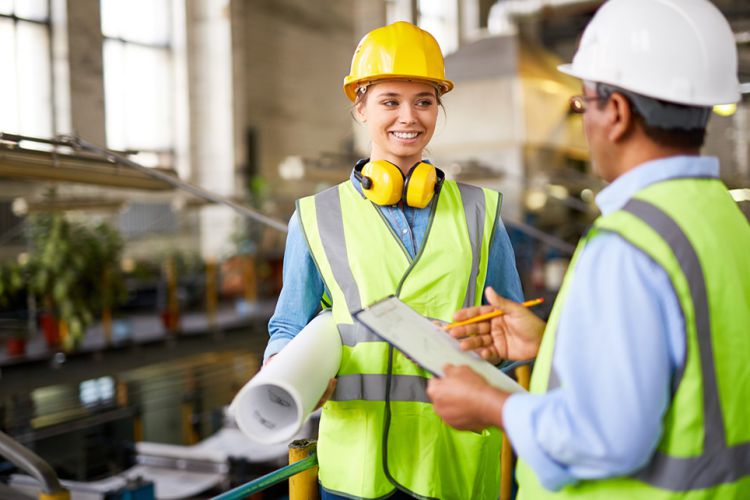 Workplace safety is a crucial element for ensuring a productive and happy team. All employees have the right to a secure and healthful environment while they earn their livelihood. 
This comprehensive article aims to shed light on simple yet effective ways to augment safety and well-being in every workplace. Topics ranging from the importance of good lighting to occupational health recommendations will be covered. The objective is to transform your work environment into a sanctuary of health and safety.
Why Enhancing Workplace Health and Safety is Important for Business
Often, businesses overlook the importance of health and safety, considering them as added expenses rather than investments. Prioritizing health and safety is not just ethical – it's also good for business. 
A safe workplace boosts employee morale. When people feel safe, they are happier and more productive. Fewer accidents mean less downtime and lower costs on health claims. It also improves your business reputation. Customers and clients will notice your commitment to your employees' well-being. This makes your business more appealing to work with.
9 Strategies to Enhance Workplace Health and Safety
Good Lighting Matters
You might not notice it right away, but poor lighting can lead to a host of problems. It increases the risk of eye strain, migraines, and even unfortunate accidents due to low visibility. 
Ensuring that all work areas are well-lit is an easy but impactful step towards enhancing worker well-being. Overhead lighting should be bright enough to illuminate the space without causing discomfort. In individual workstations, softer light sources can be used to reduce glare on computer screens, thus further decreasing the risk of eye problems.
Proper Ventilation
The importance of fresh air cannot be overstated. Many workspaces, especially closed offices, suffer from poor ventilation, making employees feel sluggish, unwell, or even nauseous. 
An effective ventilation system will circulate fresh air, remove impurities, and also control the temperature. Fresh air reduces fatigue and boosts concentration, leading to better productivity and overall well-being.
Ergonomic Furniture
For those who work long hours sitting at a desk, ergonomic furniture is not a luxury but a necessity. Prolonged sitting in uncomfortable positions can lead to back pain, wrist strain, and other musculoskeletal issues. Ergonomic chairs and desks are designed to provide optimal support to the human body. They help in maintaining good posture, reducing the risk of developing physical ailments over time.
Occupational Health Practices
Occupational health focuses on how your job affects your well-being. Adhering to guidelines set by experts in this field is imperative. Scheduling regular health screenings for employees is one proactive approach to keep the workforce healthy. These check-ups can identify potential health issues before they escalate. 
Additionally, periodic safety training sessions should be mandatory. These sessions will educate staff on the best safety practices and protocols, ensuring everyone is on the same page.
Use of Protective Gear
In some professions, wearing protective gear is non-negotiable. This can range from hard hats in construction to a body armor plate for security personnel. Employers have the responsibility to provide such high-quality equipment. Proper training on how to use this gear is also crucial. Knowing how to correctly wear and maintain protective equipment can be the difference between life and death in certain situations.
Cleanliness is Key
Sanitation is another cornerstone of a healthy work environment. A regular cleaning schedule should be strictly adhered to. This will prevent the build-up of dust and the spread of germs. Common areas like kitchens and restrooms deserve special attention. These are hotspots for bacteria and should always be kept clean. Hand sanitizers and disinfectant wipes should be readily available to encourage frequent use.
Emergency Plans
Even with the best safety measures in place, accidents can still occur. Being prepared for such scenarios is critical. Every workplace should have an established emergency response plan. This plan should be communicated to all employees, and regular drills should be conducted. Fire drills, earthquake drills, and even simple first-aid training should be a routine part of your workplace culture.
Mental Health Support
Physical health is just one aspect of a well-rounded safety plan. The mental well-being of employees is equally significant. A stressful work environment can be a breeding ground for mental health issues like anxiety and burnout. 
Employers can offer support through various means such as counseling services, mental health days, or even just by offering a more flexible work schedule.
Involve Employees in Safety Plans
Creating a safety plan should never be a one-sided effort. Employees often have the best insights into what would make them feel more secure and comfortable. Include them in the decision-making process whenever possible. Run surveys to get their views on current safety measures and ask for suggestions. This will not only make your safety plans more effective but will also show your team that you value their input and well-being.
Conclusion
Improving workplace health and safety is a continuous effort that requires the involvement of both employers and employees. Simple initiatives like installing proper lighting and ensuring good air quality can have a profound impact. By taking these concerted steps, we can make strides toward creating a safer and healthier work environment for all.