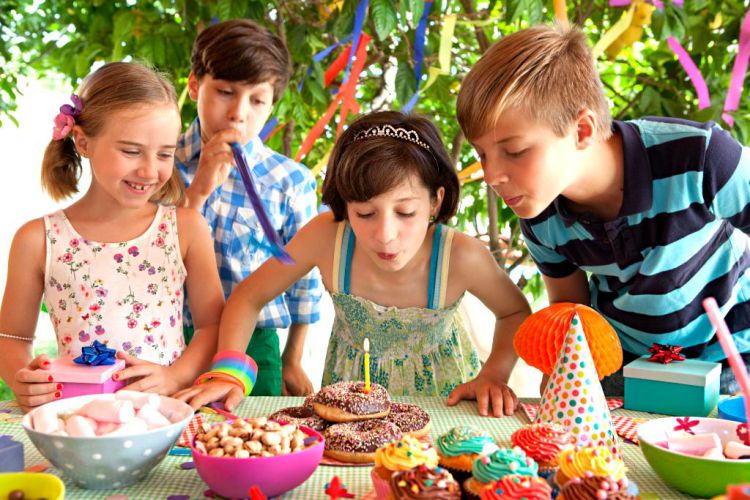 A birthday is a special occasion that honors the day a person was born. It is a celebration acknowledging the uniqueness and appreciation of someone very well-loved. Spending time with the guest of honor is more important than giving a gift. A birthday is about rejoicing in memories, experiences, and emotions that this individual evokes in us. 
Whether a birthday party is a surprise or planned with the celebrant's cooperation, the festivities need fun elements. There are many birthday party venues to choose from depending on what kind of entertainment the birthday person likes. Birthday parties can be formal or a casual affair theme-oriented, or just an old-fashioned get-together with family and friends.
Things to Consider When Planning a Birthday Party
Choose a venue for a birthday party that caters to the interests of the birthday honoree. Will the celebration be held indoors or outdoors? If outdoors is preferred, have a backup plan if the weather fails to cooperate. Send invites out early, and if the party is a surprise for the guest of honor, remind guests to park recognizable vehicles out of sight. If attendees are responsible for bringing anything special for the planned activities, include that information on the invitation. 
Indoor Birthday Festivities Have a Wide Range of Options
Indoor parties are more common than hosting a birthday outdoors. Young children may enjoy celebrating a birthday at a museum or an aquarium. Of course, an at-home party is always in fashion and may include craft activities or a movie. Teens may enjoy something new and exciting such as rock wall climbing, attending a painting class, or having fun at a trampoline park. Adults may want to go bowling, sing karaoke at a venue that serves food and drinks, or try axe throwing. Axe-throwing facilities often offer outside options for target throwing too.
Outdoor Birthday Festivities Are Perfect for the Outdoorsy Person 
If an outdoor party is the setting of choice, pick a venue that offers age-appropriate options. Young children may like a zoo party or a pool party. Outdoor events, such as a game of paintball, paddle boarding, and camping, are fun possibilities for teens and adults. Adults may also enjoy attending a music venue with close friends or having an outdoor game day with a bonfire in the evening. The possibilities are endless. 
Decide on a Maximum Number of Guests When Planning a Birthday Party
Party size is of great importance when making arrangements for a birthday celebration. Compose a list of the people the birthday person would want to attend before deciding on a venue. Since costs add up with each person on the list, a party needs to have a budget to work with. A budget helps determine what options are most affordable while being fun too. Always request that guests respond to the invitation as soon as possible to have an accurate count for the venue to work with.
Celebrating the Birthday Honoree With Style
Birthday parties are a fun way to let the guest of honor know how much they are loved. Selecting a theme reflecting the honoree's interests ensures that the birthday person will enjoy the planned festivities. When choosing a venue for a birthday celebration, be sure to find out the rules and specifics beforehand to avoid surprises upon arrival.