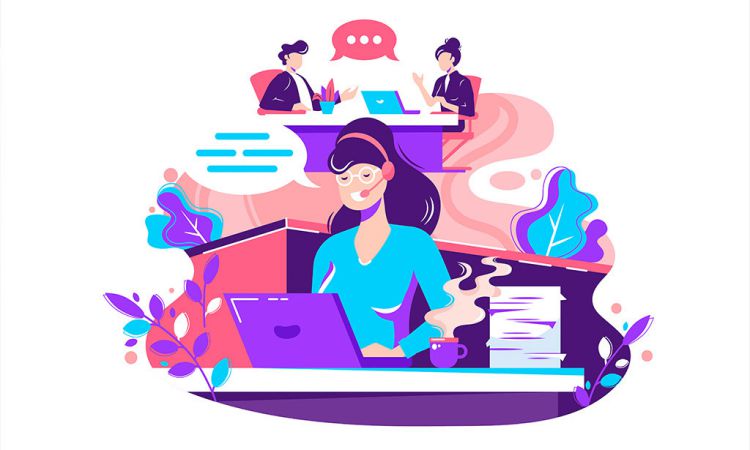 Your contact center is directly linked to your customer experience. If your contact center operations are efficient and put your customers first, you will get a competitive advantage. However, if they are not customer focused and inefficient, your customers are likely to choose other companies over yours. We will discuss the four ways in which you can boost your contact center operations, leave a good first impression, and retain/onboard customers.
 What Is a Contact Center?
A contact center is a centralized department within an organization responsible for managing all customer interactions via different channels such as social media, SMS, chat, email, and phone. Such departments often provide customers with dedicated support, manage marketing campaigns, and handle sales queries. All types of customer interactions happen through a contact center. The primary motive of contact center outsourcing services is to satisfy the customers in the best way possible and ensure a good customer experience.
 The key components of a contact center include the following:
Excellent line of communication
Capacity for both email- and text-based communications
Advanced technology – security, hardware, and software
Tech-savvy IT staff
Performance and data trackers
The Four Ways to Improve Your Contact Center Operations
Here is how you can enhance your contact center operations:
1. Maintain a Low Employee Turnover
Your agents represent your contact center. So, invest in the agents with appropriate skills for the job, providing your clients with professional services. And once you hire the best force, make sure you connect with your staff and provide them with the right working environment, guidance, training, and support. It is an essential step to maintain a low employee turnover.
Around 30% to 45% of contact center workers tend to leave their job due to:
Lack of enough support
Lack of training
Work stress
And when the turnover is high, you will have to hire more employees and train them again, which is not only painful for you but for the customers as well. This is because trained, experienced, and happy employees are known to interact better with customers.
2. Call Routing
Businesses can lose potential customers if their queries are not solved on time. And this usually happens when the customers have to repeatedly explain their queries to multiple agents because the call got dropped.
However, you can solve this issue using call routing. Call routing is an automated system designed to improve customer experience and satisfaction. Using call routing, you can redirect the customer to the most appropriate agent or the one that was previously talking to the customer. This way, customer queries will be solved on time, and you would not lose customers.
3. Introduce Self-Service Channels
A major chunk of the customers would prefer finding the solution on the internet by themselves before getting in touch with the contact center department. That is why you need to have self-service channels on your website so that the customers can help themselves out.
By doing so, your agents will get more room for other complicated customer queries and ensure a seamless workflow. Make sure to choose a sturdy solution with steps, guidelines, and FAQs catering to the most common customer issues.
4. Use Analytics for Better Insights
Utilizing analytics is a powerful way to improve your inbound call center outsourcing operations. Contact centers can start by identifying key metrics such as call abandon rate, customer satisfaction scores, and call resolution time. You can collect data using different software to identify various customer patterns and insights.
Apart from that, you must also gather information from your agents and understand their feelings or issues. That is because these agents are the first to notice where your services are lacking.
While the above steps may seem basic, they are practical and can improve your contact center operations effectively. So, start implementing them today and make every customer interaction a delightful experience for your customers.