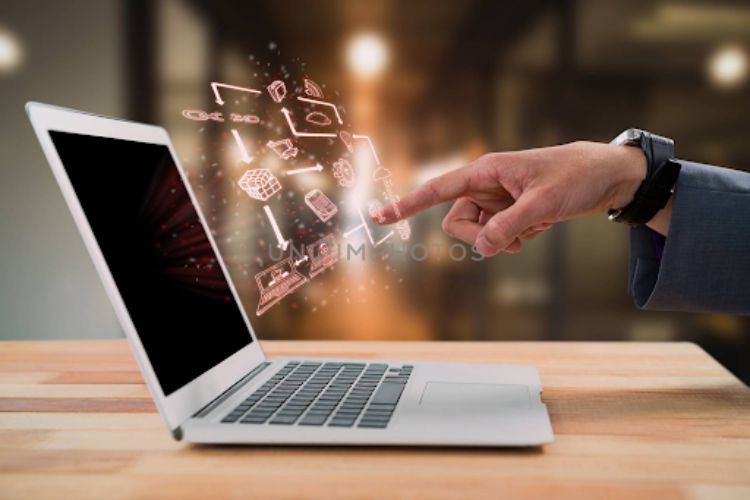 The landscape of online team collaboration and content marketing tools is undergoing a transformative phase driven by technological advancements. 
This article delves into the future trends in this field, highlighting how emerging technologies like artificial intelligence (AI) and virtual reality (VR) are revolutionizing team collaboration and content management practices.
AI-Powered Automation and Intelligence
Artificial intelligence is set to reshape content management by introducing automation and intelligent capabilities. 
AI-powered tools can automate mundane tasks like content tagging, categorization, and recommendation, enabling teams to efficiently organize and retrieve relevant information. Additionally, machine learning algorithms can analyze user behavior, preferences, and engagement patterns to personalize content delivery, enhancing user experiences.
VR-Enabled Immersive Collaboration
Virtual reality is unlocking new dimensions of team collaboration through immersive experiences. VR allows team members to meet and interact in virtual environments, transcending geographical boundaries. Such technology facilitates seamless collaboration, promoting creativity, innovation, and efficient teamwork. 
Virtual meetings, brainstorming sessions, and training programs can be conducted in a highly engaging and interactive manner, improving collaboration outcomes.
Blockchain for Secure Content Management
Blockchain technology holds great potential for enhancing the security and transparency of content management. By leveraging blockchain, teams can ensure the integrity and authenticity of content through decentralized and immutable data storage. 
This technology enables secure management of intellectual property, tracks content ownership and usage rights, and simplifies transactions within the digital content ecosystem.
IoT Integration for Data-Driven Content Management
The integration of Internet of Things (IoT) devices with content management tools opens up avenues for data collection, analysis, and automation. IoT devices generate real-time data that can be leveraged by content management systems for personalized content delivery, targeted marketing, and seamless content distribution across various channels. 
This integration enhances data-driven decision-making and enables dynamic content adaptation based on user behavior and contextual information.
Augmented Reality for Interactive Content Experiences
Augmented reality (AR) enhances content experiences by overlaying digital elements onto the physical world. It presents exciting opportunities for creating interactive and immersive content. 
Teams can leverage AR to deliver engaging product demonstrations, virtual tours, interactive manuals, and more. AR-enabled content experiences captivate users, provide real-time information, and facilitate deeper engagement with the content.
Integration of Voice and Natural Language Processing
The integration of voice recognition and natural language processing technologies is poised to transform content management tools. Users can interact with content management systems using voice commands and conversational interfaces, streamlining content creation, search, and navigation processes. This innovation enables hands-free operation, improves accessibility, and enhances user convenience in managing and accessing content.
Conclusion
The future of online team collaboration and content management tools is characterized by cutting-edge innovations. As AI, VR, blockchain, IoT, AR, and voice and natural language processing technologies continue to evolve, teams can expect streamlined workflows, improved collaboration, enhanced content personalization, fortified security measures, and voice-enabled interactions. 
Embracing these future trends empowers teams to stay ahead of the curve, boost productivity, and deliver exceptional content experiences. Adapting to the evolving technological landscape ensures that teams can effectively navigate the realm of content management and leverage these innovations to their advantage. 
With these advancements, online content management tools are poised to revolutionize team collaboration and content management, paving the way for more efficient and immersive experiences in the digital era.