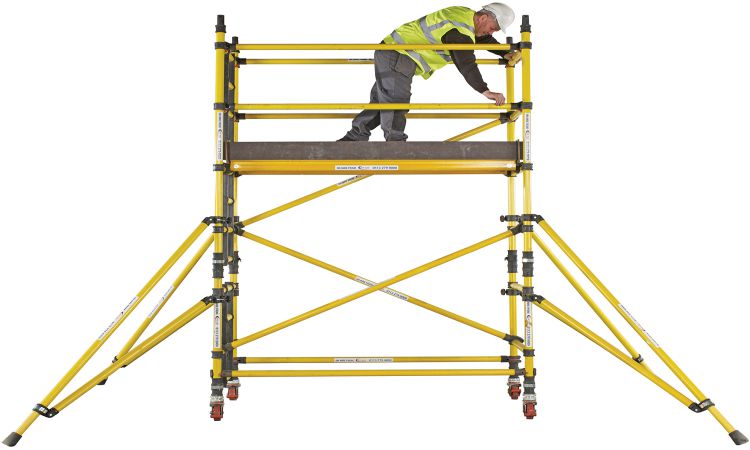 Scaffold towers are essential tools in various industries, providing safe and convenient access to heights during construction, maintenance, and other tasks. When it comes to choosing a scaffold tower, one material stands out for its exceptional qualities: Glass Reinforced Plastic (GRP). GRP scaffold towers offer a unique combination of lightweight design and impressive durability, making them a preferred choice for professionals in different fields here in the UK. In this article, we will explore the numerous benefits of GRP scaffold towers and why they are becoming increasingly popular in the construction industry.
1. Lightweight Construction
One of the key advantages of GRP scaffold towers is their lightweight nature. Unlike traditional scaffold towers made of steel or aluminum, GRP towers are significantly lighter, making them easier to transport, assemble, and dismantle. The lightweight design reduces the physical strain on workers during tower setup, ensuring enhanced safety and efficiency. Additionally, the reduced weight allows for increased maneuverability, enabling workers to easily move and adjust the tower to different locations as needed.
2. Excellent Durability
Despite their lightweight construction, GRP scaffold towers offer impressive durability. GRP is a composite material made of a plastic matrix reinforced with glass fibers. This combination results in a scaffold tower that is exceptionally strong and resistant to corrosion, impact, and extreme weather conditions. GRP towers are non-conductive, providing a safe solution when working near electrical sources. Furthermore, the material is non-magnetic, making GRP scaffold towers ideal for projects in sensitive environments, such as laboratories or MRI facilities.
3. Enhanced Safety Features
Safety is of utmost importance when working at heights, and GRP scaffold towers prioritize the well-being of workers. The non-slip surface of GRP towers reduces the risk of accidents caused by slips and falls. Additionally, GRP towers are designed with integrated guardrails and toe boards, providing an added layer of protection for workers. The lightweight design also contributes to safety, as it minimizes the risk of strain injuries during assembly and disassembly. By choosing GRP scaffold towers, employers demonstrate their commitment to creating a secure working environment for their employees.
4. Easy Assembly and Maintenance
Another benefit of GRP scaffold towers is their ease of assembly and maintenance. Due to the lightweight nature of the material, GRP towers can be quickly erected by a small team without the need for heavy machinery or specialized equipment. This saves time and reduces labor costs. Furthermore, GRP scaffold towers require minimal maintenance compared to traditional towers. The material is resistant to rust, corrosion, and degradation, allowing the towers to withstand harsh conditions without compromising their integrity. With GRP scaffold towers, businesses can save both time and money in the long run.
5. Versatility in Applications
GRP scaffold towers are versatile and suitable for a wide range of applications. They are commonly used in construction, maintenance, painting, and renovation projects. The lightweight design and easy maneuverability of GRP towers make them ideal for tasks that require frequent adjustments of the working height or relocation of the tower. Whether it's repairing a roof, painting a building facade, or conducting maintenance on industrial equipment, GRP scaffold towers offer a reliable and adaptable solution.
6. Environmental Friendliness
In today's world, environmental considerations play a crucial role in decision-making processes. GRP scaffold towers offer a sustainable alternative to traditional tower materials. The production of GRP requires fewer resources compared to steel or aluminum, reducing the overall carbon footprint. Additionally, GRP is 100% recyclable, ensuring that the material can be repurposed at the end of its lifecycle. By opting for GRP scaffold towers, businesses contribute to a greener and more sustainable future.
7. Cost-Effectiveness
In addition to their other benefits, GRP scaffold towers offer significant cost advantages. The lightweight nature of GRP towers reduces transportation costs, as they require less fuel and equipment to move from one site to another. Moreover, the ease of assembly and disassembly of GRP towers saves labor costs, as fewer workers are needed for setup and takedown. Additionally, the durability of GRP ensures a longer lifespan compared to traditional scaffold tower materials, reducing the need for frequent replacements or repairs. Overall, the cost-effectiveness of GRP scaffold towers makes them a wise investment for businesses looking to optimize their budget without compromising on quality and safety.
Conclusion
GRP scaffold towers have emerged as a superior choice for professionals in various industries due to their lightweight construction, impressive durability, enhanced safety features, ease of assembly and maintenance, versatility, environmental friendliness, and cost-effectiveness. These towers provide a reliable and efficient solution for working at heights while prioritizing the well-being of workers. As the construction industry continues to evolve, GRP scaffold towers are set to play an increasingly vital role in ensuring safe and productive operations. By embracing the benefits of GRP scaffold towers, businesses can elevate their performance while ensuring the utmost safety for their workforce.