Building an aesthetic backyard can be suitable for your property and lifestyle. Choosing safe furniture items can be a priority when you decorate this space. You get all types of chairs and other seating options. But they can feel comfortable and luxurious with cushions and pillows. Since people usually spend long hours sitting and chatting with their friends there, making this space more remarkable can be crucial. As mentioned, cushions can be that thing. You get plenty of choices. If you want to buy the right thing, pay attention to its shape, size, features, and maintenance. Here are some insights about this.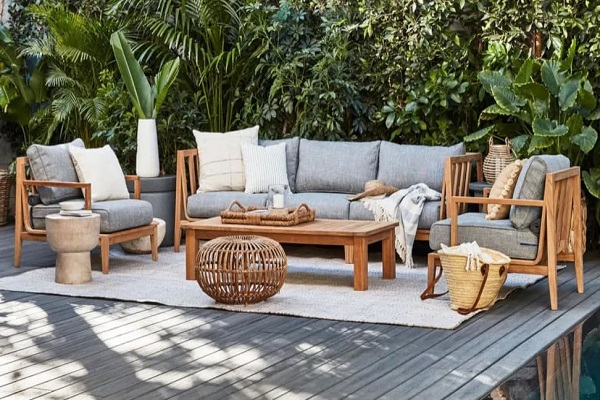 Find the correct cushion size
You can measure furniture items to figure out the cushion style for them. Check the width (one arm to another), depth (back to the front part of the seat), the whole length of the back (from base to top), and height or thickness. Regarding cushion height, ensure that it doesn't go beyond the back support of the chair, chaise lounge, or any such seating item.
Outdoor cushions provide water, sun, and wind resistance because of the use of proper materials. You can notice varieties in cushion fabrics, such as vinyl, cotton canvas, duck cloth, and more. Some fabrics can fight fading and moisture issues, while others can have a plusher appeal. You can select something that maintains a balance between these two and offers comfort with durability. At the same time, you can analyze cushion filling by material. For instance, foam is famous for its density, firmness, and resilience. The foam has different construction, such as closed and open cells and polyurethane. Again, each of them is unique.
Some people believe cushion materials can be enough for their safety and security. Sheaths increase the lifespan of the inserts by blocking moisture, sunrays, snow, and other elements. In contrast, only custom waterproof outdoor cushion covers can take extra care of them.
Focus on seat type for cushion shape
A single-seat cushion can be round, curved, square, or profound. Usually, square pillows go with almost all patio furniture pieces. You can select a curved cushion for a seat with a curved back, such as a wicker chair. Some people keep benches, sofas, and love seats in their lawn area. For all of them, bench cushions can be ideal. If the seating base is broader, you may need gusseted cushions for their width and thickness. Regular-style bench cushions may not work. And if you have chaise lounges in the backyard, hinged cushions can help. These recliner-type seats tend to be longer with good back height. That's why hinged designs can be suitable for them.
When you measure different seating furniture items, you will realize each is different. So, make sure you are accurate. For perfect measurement, you need to check the chaise seat's length and width along with the back length. Loveseats and sofas require the dimensions of the back (width and height) and seat (width and depth). As hinted, you can determine a seat's depth by measuring the seating area from the back to the front edges. Remember, these size measurements will also help you choose a protective cover for them.
Outdoor cushions and pillows require more care. When you invest in the proper covers for them, you have done more than half of this job already. Colors and patterns are a bonus.