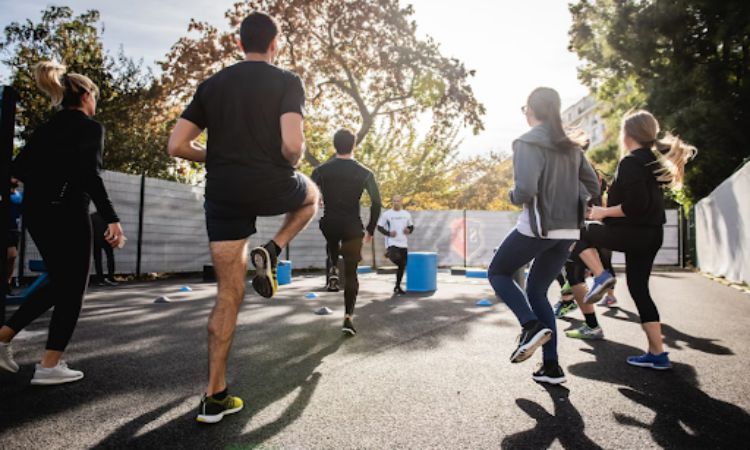 Do you have a fun exercise class concept?
Of course, you need to know how to execute that concept. Using a group exercise instructor job description can improve your chances and make your class more fun for everyone.
If you like working with people, exercising, and helping people get into positive habits and routines, then working as an instructor may be a great job for you.
Keep reading to learn more about what you can expect from this position, how much it can pay, how to get jobs with one of the big chains, and more.
Job Description of a Group Exercise Instructor
A group exercise instructor leads and instructs group exercise classes in various fitness settings. Here is a job description for a group exercise instructor:
Class Planning and Preparation
Develop and plan interesting exercise routines and sequences that fit the type of class. You could focus on step aerobics, dance, strength training, cycling, yoga, Zumba, Pilates, etc. Think about the fitness levels and abilities of the people doing the workouts and adjust the workouts accordingly. Before each class, ensure you have all the tools and music playlists you need.
Instruction and Demonstration
Lead group exercise classes by showing people how to do the right moves and techniques and giving them clear instructions. Make sure that exercises are done safely and with the right form to reduce the chance of getting hurt. Offer changes or steps so that people of different fitness levels can take part.
Motivation and Encouragement
Make the environment positive and encouraging so people are inspired to push themselves and reach their fitness goals. Give everyone in the class encouragement, positive reinforcement, and constructive feedback. Keep up the energy and enthusiasm to keep people interested and motivated.
Benefits of Being a Group Exercise Instructor
Being a fitness trainer can be rewarding and fulfilling with several benefits. Here are some of the advantages of being a group exercise instructor:
Helping Others
One of the best things about being a group exercise instructor is making a difference in other people's lives. You can inspire and motivate people to reach their fitness goals, get healthier, and feel better about themselves.
Building Relationships
Group exercise classes bring people together and make them feel like part of a group. As a teacher, you can get to know your students and create a supportive and encouraging environment. In the fitness industry, you can meet people from different walks of life and build a network.
Personal Growth and Development
Being a fitness instructor gives you chances to grow and improve yourself. You can learn more about fitness and exercise, try out new class formats, and keep up with the latest trends in the industry. Through workshops, certifications, and professional development, you can keep improving your skills and knowledge.
Be the Heartbeat of a Healthier Community
Group exercise instructors have the chance to motivate and inspire others in a career that is both professionally and financially rewarding. Being an instructor is an enjoyable experience that comes with a great deal of personal job satisfaction.
An instructor's passion and commitment to helping people achieve their goals help to create a sense of job security. If you want a career that offers purpose and fulfillment while providing tangible benefits, consider becoming a fitness professional today!
We hope you found this article useful. If you did, be sure to check out our blog for more helpful content like this.