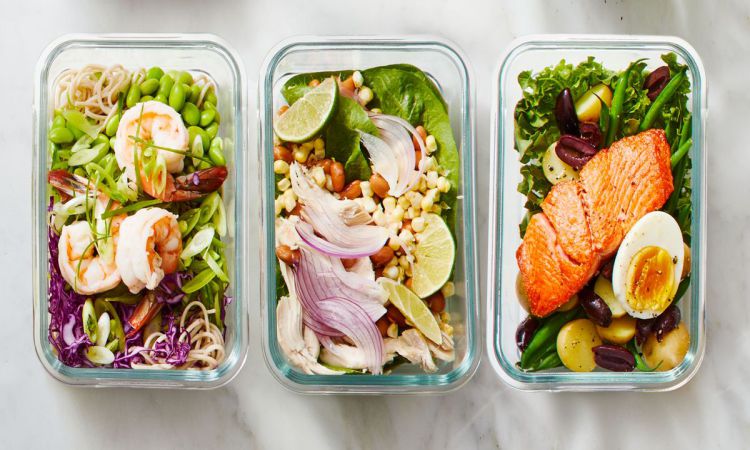 In today's fast-paced world, busy weeknights often leave us with little time to cook healthy meals. This is where meal prep comes in handy. Meal prep is the process of preparing meals in advance to save time and ensure healthy eating habits.
By taking the time to prepare meals ahead of time (or by finding healthy prepared meals that suit your needs), we can avoid the temptation of ordering takeout or grabbing a quick and unhealthy meal. In this article, we will discuss some healthy meal prep ideas for busy weeknights.
1. Make a Meal Plan
Making a meal plan is a crucial step in healthy meal prep. By planning your meals for the week, you can avoid the last-minute scramble to figure out what to eat, which often leads to unhealthy choices.
To make a meal plan, start by looking at your schedule for the week and identifying the nights when you'll have less time to cook. On those nights, choose simple meals that can be prepared quickly, such as grilled chicken and vegetables.
When making your grocery list, include all the ingredients you'll need for your meals, as well as healthy snacks and staples like fresh fruits and vegetables. By sticking to your meal plan and shopping ahead of time, you'll be well on your way to eating healthier on busy weeknights.
2. Choose Simple and Nutritious Recipes
When choosing simple and nutritious recipes for meal prep, it's important to prioritize whole, nutrient-dense ingredients. Focus on incorporating a variety of colorful fruits and vegetables, lean protein sources like chicken or fish, and complex carbohydrates like quinoa or sweet potatoes.
Look for recipes that utilize simple cooking techniques, such as roasting or grilling, and avoid recipes that require excessive amounts of salt, sugar, or processed ingredients.
By choosing simple, wholesome recipes, you can ensure that your meals are not only convenient but also nourishing and satisfying. Don't be afraid to experiment with new flavors and ingredients to keep your meals interesting and delicious.
3. Cook in Bulk
Cooking in bulk is one of the most effective ways to meal prep for busy weeknights. By preparing large batches of food at once, you can save time and ensure you have healthy meals ready to eat throughout the week.
When cooking in bulk, it's important to choose recipes that can be easily stored and reheated, such as soups, stews, or roasted vegetables. Be sure to portion out your meals into individual containers, so you can easily grab them on your way out the door. By taking the time to cook in bulk, you can simplify your meal prep routine and enjoy nutritious, home-cooked meals all week long.
4. Prep Ingredients
Prepping ingredients ahead of time is an essential aspect of meal prep for busy weeknights. By taking the time to chop vegetables, cook rice or quinoa, and marinate meats in advance, you can significantly cut down on meal preparation time during the week.
You can even go a step further by preparing entire meals and storing them in the fridge or freezer for later use. When prepping ingredients, it's important to invest in good-quality storage containers that are air-tight and leak-proof. By having prepped ingredients on hand, you can easily whip up healthy and delicious meals, even on the busiest of nights.
5. Make Use of Leftovers
Use leftovers from previous meals to create new meals. For example, leftover chicken can be used to make a chicken salad or added to a stir-fry. Not only is this a way to save yourself some time in the kitchen, but it will also give you the ability to break out some recipes you don't normally get to do. You might even save some money along the way.
Healthy Recipes
Now that we have discussed some healthy meal prep ideas, let's look at some specific meals you can prepare for busy weeknights.
Quinoa Bowls
Quinoa bowls are a great meal prep option. Cook a large batch of quinoa and then add different ingredients to create a variety of meals. For example, you can add roasted vegetables, grilled chicken, and a drizzle of tahini dressing for a nutritious and delicious meal, or you can roast some tofu until it crisps up, pair it with pickled onions and carrots, and top it all with a ginger lime dressing.
Sheet Pan Meals
Sheet pan meals are easy to prepare and require minimal cleanup. You can roast vegetables and chicken on a sheet pan with your favorite seasonings and have a healthy meal ready in no time. You can even make sheet pan pasta like the viral feta and tomato baked pasta that became popular on TikTok.
Stir-Fry
Stir-fry is a quick and easy meal that you can prepare in advance. Cook rice or quinoa ahead of time and then add stir-fried vegetables and protein, such as chicken or tofu. Just make sure you use a ripping hot wok for the best results.
Mason Jar Salads
Mason jar salads are a convenient and portable option for meal prep. Layer ingredients such as lettuce, cherry tomatoes, cucumbers, and grilled chicken in a jar, and then top it off with your favorite dressing.
Time to Get Prepping
Meal prep is an excellent way to ensure that you're eating healthy, nourishing meals throughout the week, even on the busiest nights. By choosing simple, nutritious recipes, cooking in bulk, and prepping ingredients ahead of time, you can save time, reduce stress, and improve your overall health and well-being.
Don't be afraid to experiment with different flavors and ingredients to keep your healthy meals interesting and enjoyable. With a little planning and preparation, you can achieve your health and wellness goals without sacrificing convenience or flavor.