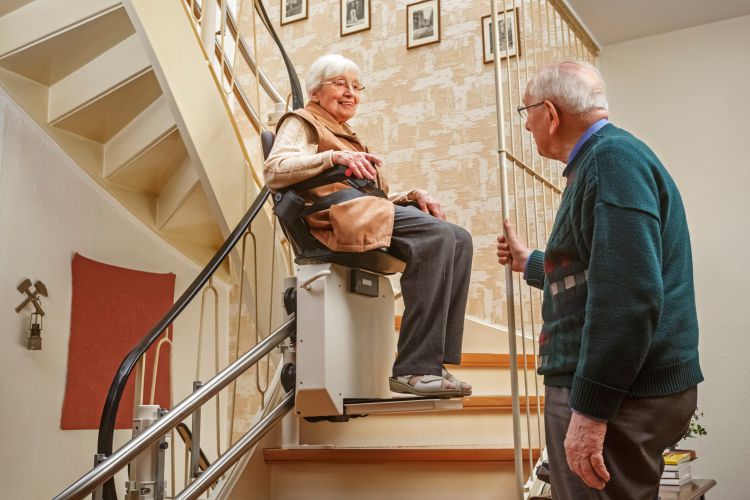 Whether you live with your elderly parents or would like to help them adapt their own home as they grow older, you might be struggling to think of ways to make their environment safer. The older people get, the more likely they are to experience an accident that results in serious injuries, such as falling and breaking a bone. This is why adding to and adapting their home can make such a difference in their well-being. Here are some ideas to help you get started.
Ramps and Handrails
Even for older people who do not have a diagnosed disability, mobility can still be an issue. This is because muscles and bones tend to grow weaker with age, and this can lead to pain in joints during movement. To make getting around the home easier, handrails and ramps are your simplest solution. Having alternative methods of balancing and moving between spaces can help your elderly parents to feel more relaxed at home and less worried about potential obstacles.
Stairlifts
As mentioned already, joint pain becomes much more common as a person gets older, and this is particularly noticeable when walking up and down stairs. If your parents are willing to relocate, a home on a single level could make daily routines easier. However, if they live somewhere with more than one level, you could suggest that they install a stairlift. These are designed to help people travel between levels safely and in comfort.
Home Alerts
If you do not live with your parents, you may be concerned that they might have an accident and be unable to contact you for help. With age, the chances of this happening unfortunately increase. To combat this, you could install a home alert system that notifies the emergency services if your parents have an accident. Of course, another alternative would be to search for a care home in Farnham Common, as these professional care residences are well-equipped to look after seniors with a higher risk of injury. You can also ask your parents to keep a remote alert in their pocket so that if they can't reach a phone, they can still let you know they need your help.
Automated Systems
Apart from emergency systems, you could also suggest that your parents make use of digital devices to add convenience to their lives. Smart speakers are great for receiving voice commands to adjust aspects of a home, such as a temperature and lighting.
Accessible Bathrooms
Bathrooms are fraught with potential risks for people with mobility issues. Hard materials, sharp corners, and slippery surfaces combine to create a dangerous environment for anyone not entirely confident in their own balance and strength. Fitting an accessible bathroom can make your parents' daily hygiene routines much safer. For example, a bath can be replaced with a shower that has a built-in seat and handrails for comfort and accident prevention.
There are plenty of ways you can adapt your elderly parents' home to make it a safer and more peaceful environment.