Wondering how the crime stats in Birmingham compare to other cities in the UK? If you are thinking of relocating or setting up a new business in a city in the UK, crime is an important consideration. You want to live and/or work somewhere that is considered to be safe, but you will find that all major cities carry some risk and can be dangerous. Some cities are more dangerous than others, though, and this article will look specifically at Birmingham as the UK's second-largest city and a popular place for people to move to. Keep reading to find out more.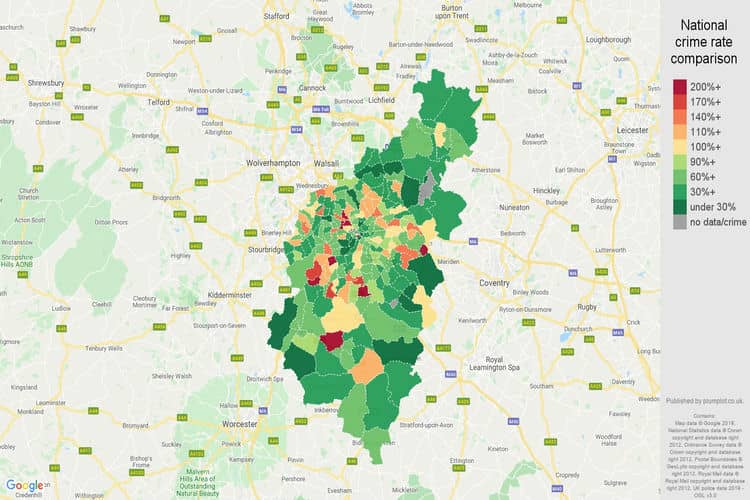 Birmingham Overview
First, it is useful to provide an overview of Birmingham. Birmingham is the second-largest city in the UK behind London and an economic and cultural hub. It is also somewhere that is a lot more affordable to live in than London and other places in the south, so it is easy to see why it is somewhere that is popular with people looking to relocate. As with any major city, crime can be an issue in Birmingham.
Despite this, Birmingham is generally considered a safe place to live, and there are areas within Birmingham that are known to be safer than others. If you are setting up a business in the city, consulting with Faz Nawaz, managing director at Taybar Security in Birmingham, is a smart idea. Taybar Security provides security services for businesses in the city that can provide important protection and peace of mind for business owners.
Statistics
Looking at the statistics, Birmingham is the second-most dangerous city in the UK – this is expected as the second-largest city. Despite this, it is only the 245th most dangerous location when you factor in towns, villages, and cities. Birmingham's total crime rate in 2022 was 145 offences per 1000 persons.This is 17% higher than the overall crime rate in all of the West Midlands. The crime rate in a few other major cities in the UK is as follows:
Bristol – 97.73
Leeds – 172.39
Liverpool – 140.93
Sheffield  – 102.73
Comparison With London
Of course, the main comparison that people will be interested in is with London as the UK's largest city. There are many important comparisons to make, but in terms of crime, London has a better crime rate at 87 crimes per 1000 people. Despite this, knife crime is a major issue in the capital and something that needs to be considered when making a decision.
Common Crimes In Birmingham
It is also important to look at the type of crime that is being committed, as not all crimes are the same. In Birmingham, the most common crimes are violent and sexual offenses, with 76,805 reported in 2022, giving a crime rate of 66. Bicycle theft was the least common crime in 2022, with 1,114 offenses in 2022.
Safe & Dangerous Areas
As mentioned, some places are more dangerous than others in Birmingham, and this means that there are places that you could move to or set up a business without worrying about crime. Some of the safest areas include:
Solihull
Edgebaston
Sutton Coldfield
Some of the most dangerous areas that you will want to avoid include:
Staying Safe
Whether you relocate to Birmingham or any other major city, you need to know how to say safe. There will always be some risk no matter what city you live in, so safety needs to be a priority. You should use high-quality security products for protection, including CCTV cameras, video doorbells, and intruder alarms. For businesses, using security services can be extremely helpful and provide peace of mind as well as protection. This can include manned guarding, door supervisors, mobile patrols, and site security, as a few examples of services available. There are then general common sense practices, including concealing valuables, avoiding walking alone in dangerous areas at night, and being aware of your surroundings.
The information in this post should be useful for anyone considering relocating to Birmingham or any major city in the UK. Crime must be an important consideration when moving to any major city, as crime rates will always be higher here, and Birmingham is no different. While crime rates in Birmingham are relatively high, that should not deter you from making a move. There are many safe and desirable places to live within Birmingham, and always measures that you can take to protect yourself and/or your business against crime.