Cooking can be a fun and rewarding experience when you have the right kitchen gadgets. But most individuals have no idea how often they should clean and maintain appliances like microwaves.
If you spend a lot of time in the kitchen, you know that it can get crowded with all kinds of gadgets and tools. While they might save time in the kitchen, they still require regular maintenance and cleaning to function properly and ensure optimal performance.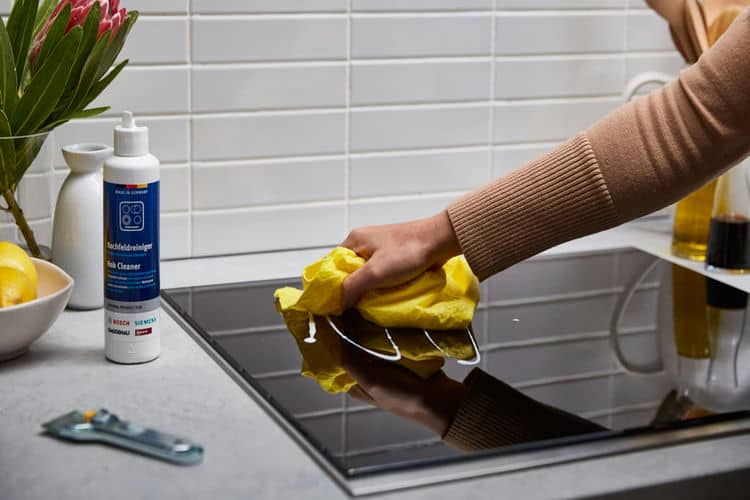 This article will cover how frequently you should clean your kitchen gadgets. So whether you are a seasoned professional in the kitchen or just starting, this article is for you.
Why You Should Clean Your Kitchen Gadgets Often
You should never ignore cleaning these gadgets because they have parts and crevices that food particles enter. Most foods spoil fast and help harmful germs or bacteria multiply. For example, using your microwave daily means there are chances food particles can remain inside the heating chamber. Also, dirty kitchen gadgets make the cooking area smell bad and unhealthy.
Therefore, you need to learn how to clean microwave and how often to do it. Typically, you should clean your microwave ovens at least once in three weeks. However, if you are a heavy microwave user, please clean it once a week.
Here are other kitchen gadgets you should clean often and our recommendations:
Bread Toaster
An unclean toaster can start a fire if you continue using it. Frequently cleaning your toaster preserves it and your home. Crust-collecting slide-out chambers are a common feature of bread toasters.
Cleaning a toaster is essential for maintaining its performance and ensuring that it produces evenly toasted bread.
Here is how frequently to care for your toaster:
Daily:
Wait a few minutes after using it before cleaning it.
Use a soft, dry cloth to wipe the exterior and crumb tray of the toaster. This will remove food particles.
Weekly:
If the tray is filthy, you may need to wash it with warm, soapy water and dry it thoroughly before returning the tray to the toaster.
Check the toaster cord for any frays or damage. If you notice any issues, have them repaired or replaced.
Monthly:
About once a month, you should deep clean your toaster. To do this, unplug your toaster and detach the crumbs tray. You can also use a vacuum cleaner with a long nozzle to remove hard-to-reach crumbs.
After cleaning the interior, reattach the crumb tray and plug the toaster back in. Toast a piece of bread using the lowest setting to burn off any residual crumbs or debris.
It's also a good idea to refer to the manufacturer's instructions for specific care and maintenance recommendations for your toaster.
Blender
Blenders are handy and adaptable kitchen appliances. They work great for making smoothies and sauces. However, cleaning a blender is essential to ensure it is clean and ready for use.
We recommend cleaning your blender weekly. This can involve cleaning the blender thoroughly after each use and rinsing the blades and base thoroughly with hot water and a mild washing liquid.
Monthly maintenance should include thoroughly cleaning the blender, including detaching the blades and base to ensure all parts are clean and functioning correctly.
Daily care for your blender may include simply rinsing the blender after each use and wiping down the base and control switch to remove stains caused by spills or splatters. It is also essential to ensure the blender is stored correctly and kept in a clean and dry environment.
Hand Mixer
It is essential to clean your hand mixer regularly to ensure that it is in good working condition and free of any food debris or bacteria. Here are some guidelines on how frequently to clean your hand mixer:
After Each Use: Regular cleaning will help to prevent any food particles from decomposing on the beaters or attachments. Wipe down the beaters and attachments with a damp cloth to remove any visible food particles.
Weekly: If you use your hand mixer regularly, wash all parts of the gadget at least once a week. Proper cleaning stops bacteria from accumulating on the beaters or attachments. To do this, wash the detachable parts in hot, soapy water. Then, use a soft cloth to wipe down the hand mixer, paying particular attention to any crevices or hard-to-reach areas.
Refrigerator
It is essential to regularly maintain and care for your refrigerator to ensure it runs efficiently. Here are some tips for cleaning your refrigerator:
Clean the Outer Parts: Do this at least once a month to remove any dirt, dust, or food stains. This will help keep it looking clean and prevent any build-up of dirt or grime that can be difficult to remove.
Clean the Interior: Clean your fridge interior at least once a month to remove any spills or stains and to ensure that it is free from any spoiled or expired food. It will help keep the fridge smelling fresh.
Check and Replace the Water Filter: If your fridge has a water or ice dispenser, check and replace them every six months or annually, depending on the manufacturer's recommendations.
Check the Seals: Check the seals on your fridge door(s) at least once a month to ensure they are clean and in good condition. If the seals are dirty or damaged, they may not be sealing properly, which can lead to an increase in energy consumption and a decrease in the fridge's efficiency.
Check the Temperature: Check the temperature of your fridge and freezer regularly to ensure the operating temperature is correct. The refrigerator should be set to a temperature of 0-5°F.
Conclusion
In conclusion, cleaning your kitchen gadgets is crucial. Moreover, keeping them clean will help prolong their lifespan.
On the other hand, following the manufacturer's recommended schedule for cleaning and servicing these gadgets will also make cleaning easier. So, always ensure you create a schedule to keep those gadgets clean and prevent food poisoning.