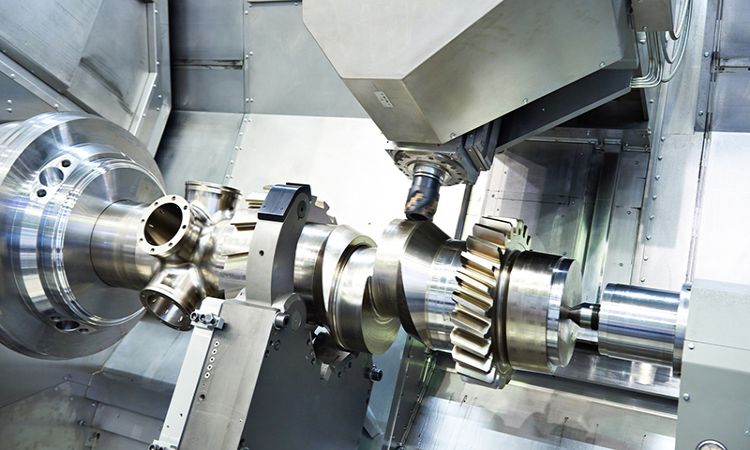 When you look at an elegant piece of metal furniture or hold a perfectly balanced tool, it's easy to overlook how these items came into existence. The truth is, behind every precise screw thread, every smooth surface, and every perfectly rounded object lies the handiwork of a lathe machine.
Let's dive into the fascinating world of lathe machines and explore how they are the linchpins in the manufacturing sector.
The Basics: What is a Lathe Machine?
A lathe machine is a tool that shapes various materials by removing material, sanding, knurling, or even cutting the object as it rotates around an axis. They've been around in some form for thousands of years, going from rudimentary, human-powered versions to today's complex CNC (Computer Numeric Controlled) machines.
No matter how advanced they become, the core purpose remains the same: precision shaping of materials. What truly sets lathe machines apart is their unparalleled ability for precision and consistency. Whether you're manufacturing ten pieces or 10,000, the dimensional integrity and quality of the pieces will be maintained. This is crucial in aerospace, automotive, and medical technology industries, where even a tiny flaw can lead to catastrophic failures.
The Swiss Army Knife of Manufacturing: Versatility of Lathe Machines
You might wonder how a machine that spins things around could be crucial. Well, the answer lies in its versatility. Lathes can work with a plethora of materials. You can use them for making simple objects like screws and candlestick holders to intricate parts used in aerospace engineering.
Turn the Ordinary into the Extraordinary
The essence of any form of creation—art, science, or manufacturing—is the act of transformation. This is where lathe machines shine brightest; they can take something as bland as a metal rod and mold it into something useful, intricate, or breathtakingly beautiful.
The Art of Craftsmanship
But it's not all about utility. The natural beauty of what lathes can do lies in the details—the minute engravings, the subtle indentations, and the perfectly symmetrical shapes they can create. Even watching a lathe machine carve intricate designs onto a piece of wood can be mesmerizing, almost like watching a sculptor at work.
This confluence of technology and artistry enables skilled artisans to create pieces that aren't just functional and aesthetically pleasing. Whether it's a unique wooden vase, an artistically designed metal gate, or a beautifully balanced chess set, lathes bring the element of art into manufacturing.
Customization
Need a part that's not standard? Lathe machines are perfect for custom jobs! Custom car parts, prototypes for new technologies, or even special screws you can't find in stores—lathes can make them all.
When the standard solutions can't meet your specialized needs, lathe machines step in to fill the gap. They're not just about churning out large volumes of identical parts; they're also about catering to unique needs and specific visions. This adaptability makes lathe machines an invaluable tool in a world that is increasingly seeking personalized solutions.
Speed and Efficiency: How Lathes Make Manufacturing Profitable
One of the most vital points of lathe machines is their efficiency. When programmed correctly, they can produce large quantities of high-quality parts quickly. This has significant implications for productivity and cost-effectiveness in manufacturing.
Economy of Scale
Because lathes can produce items quickly and with a high degree of accuracy, they are essential in achieving an economy of scale in manufacturing, thus reducing the unit cost of each piece.
Quality Control
The precision offered by lathe machines ensures that every item meets stringent quality criteria, reducing wastage and ensuring customer satisfaction.
Technological Advances: The Smart Machines
In today's digital age, lathe machines have embraced technological advances to become more innovative and more capable than ever. CNC lathes, controlled by computers, can execute complex designs that would be almost impossible to do manually.
Automation
Modern lathes can run autonomously, allowing factories to operate around the clock without human intervention. This dramatically increases output and profitability.
Where to Find the Best Lathe Machines?
A suitable lathe can make all the difference in your manufacturing process. If you're in the market for one, look at lathe machines by Summit Machine Tool. Known for their durability and precision, these machines are an excellent investment for any manufacturing operation.
Conclusion: The Unsung Hero of Manufacturing
It's high time we acknowledged lathe machines' central role in shaping our world—literally. From the everyday items in your home to the advanced components in aerospace, these machines are the backbone of modern manufacturing.
Their versatility, efficiency, and adaptability to technological advances make them indispensable in today's fast-paced industrial landscape. So, the next time you admire a beautifully crafted object, remember that a lathe machine probably had a hand (or a spindle) in making it.