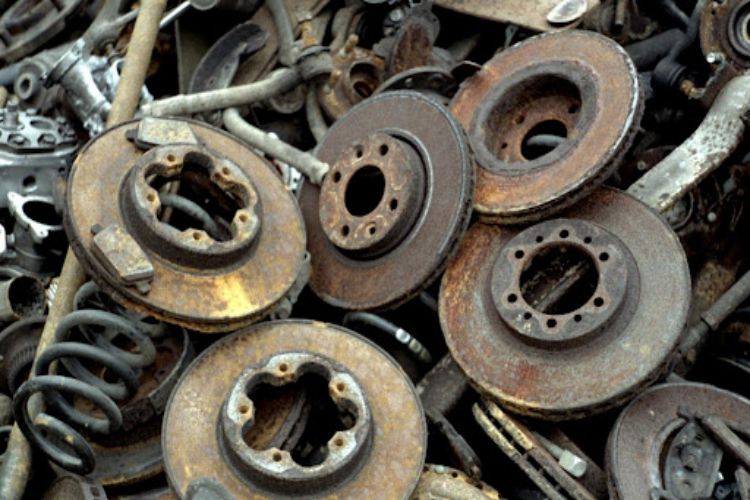 Scrap metal is all around us – from old appliances and discarded cars to construction materials and even electronics.
While many people see these items as nothing more than junk, they can actually be turned into a lucrative source of extra cash through scrap metal removal.
In this document, we will explore how scrap metal removal can help you earn extra cash and provide tips on how to get started. So, let's dive in and discover the world of profitable scrap metal recycling!
What Is Scrap Metal?
Scrap metal refers to any discarded metal object or material that is no longer in use. This can include anything from old cars and appliances to metal pipes, wires, and even household items like cutlery and pots. This metal waste is often considered useless or "junk" by most people, but it actually holds a lot of value.
The value of scrap metal lies in its ability to be recycled and reused. Unlike other materials, metal can be melted down and transformed into new products without losing its quality. This makes it a valuable resource for industries that rely heavily on metal, such as the following:
construction

manufacturing

transportation
Types of Scrap Metal
There are various types of scrap metal, each with its own unique properties and value. The most common types of scrap metal include:
Ferrous Metals
These are metals that contain iron, such as steel and cast iron. They are the most widely used type of metal in the world due to their strength and durability. Examples of ferrous metals commonly found in scrap include old cars, appliances, and building materials.
Non-Ferrous Metals
These are metals that do not contain iron, such as aluminum, copper, and brass. They are lighter in weight and have a higher resistance to corrosion compared to ferrous metals. This makes them highly valuable for industries like electronics and construction.
Precious Metals
These include metals with high economic value, such as gold, silver, and platinum. They are often found in electronic devices and jewelry, making them a popular target for scrap metal collectors.
Exotic Metals
These are lesser-known metals that have unique properties and are used for specific purposes. Examples include titanium, tungsten, and cobalt.
The Benefits of Recycling Scrap Metal
Recycling scrap metal offers numerous benefits, both for the environment and for individuals. Here are some of the main advantages:
Sustainability
Recycling scrap metal reduces the need for new metal production, which in turn conserves natural resources and reduces energy consumption. By recycling scrap metal, we can decrease our reliance on mining activities, which can cause environmental damage and contribute to climate change.
Moreover, recycling scrap metal reduces the amount of waste that ends up in landfills. This helps prevent pollution and protects our ecosystems, as many metal objects can take hundreds of years to decompose. By recycling, we give these items a new life and prevent them from contributing to the growing waste problem.
Environmental Impact
Recycling scrap metal also has a positive impact on the environment in other ways. For example, it helps reduce air pollution and greenhouse gas emissions. This is because producing new metal from raw materials requires a lot of energy, which often comes from burning fossil fuels.
By using recycled scrap metal instead, we can decrease the amount of energy needed and consequently reduce air pollution and carbon emissions. Recycling scrap metal also helps conserve water resources. Many metal production processes require large amounts of water, which can be a strain on local water supplies.
How Can You Earn Extra Cash with Scrap Metal Removal?
Now that we understand the basics of scrap metal and its benefits, let's explore how you can turn this waste into a profitable source of extra cash:
Selling to Scrap Yards
To get started, you can search for local scrap yards in your area and inquire about their buying process and prices. It's important to identify the types of scrap metal they accept and their current rates, as different yards may offer varying prices.
Once you have collected enough scrap metal, you can bring it to the yard and receive payment based on its weight and type. This can be a great way to earn extra cash on a regular basis, especially if you live in an area where there is high demand for certain types of scrap metal.
Participating in Community Recycling Events
Community recycling events are another way to earn extra cash through scrap metal removal. These events are often organized by local governments or environmental organizations and offer an opportunity for individuals to drop off their scrap metal in exchange for payment.
Apart from earning money, participating in community recycling events allows you to contribute towards a cleaner environment. By bringing your scrap metal to these events, you help prevent it from ending up in landfills and contribute to the recycling efforts in your community.
Offering Pick-Up Services
Another way to earn extra cash with scrap metal removal is by offering pick-up services. Many people may not have the means or time to bring their scrap metal to a recycling center, and this is where you can step in and provide a convenient service.
You can advertise your pick-up services through social media, local classifieds, or by word of mouth. Be sure to set competitive prices and provide reliable and efficient pick-up services to attract customers. This can be a great option for earning extra cash if you have a vehicle or access to one, as it allows you to collect larger quantities of scrap metal at once.
Consider Metal Management Services
Many companies generate large quantities of scrap metal as a by-product of their operations. They often struggle with disposing of it properly. By providing metal management services, you can help these companies recycle their scrap metal efficiently. This is while earning extra cash.
Metal management services may include collecting and sorting scrap metal. It also includes transporting it to recycling facilities and ensuring proper disposal of any hazardous materials.
All About Scrap Metal Removal
In conclusion, scrap metal removal presents a unique opportunity to not only earn extra cash but also contribute towards a cleaner and more sustainable environment.
By understanding the different types of scrap metal, their benefits, and where to find them, you can start your own business or participate in existing recycling efforts to turn junk into profitable opportunities.
If you want to explore the best topics, we've got you covered. Check out some of our other blogs today!