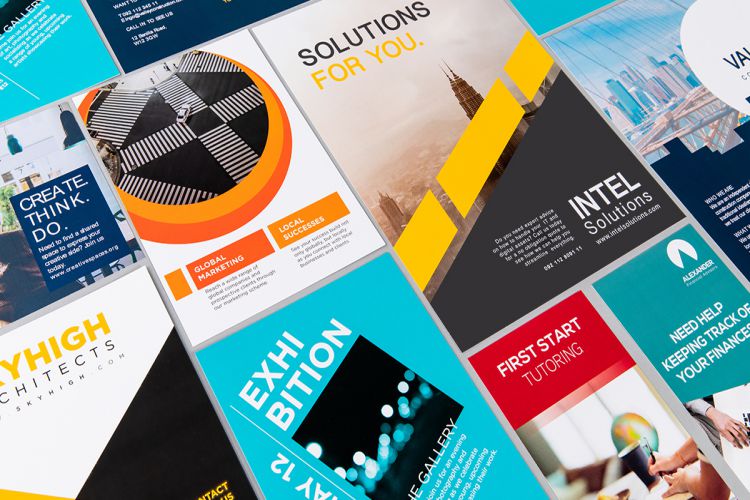 In today's competitive business landscape, effective marketing and promotion are essential for success. Flyers and stickers are versatile and cost-effective tools that can help businesses reach their target audience and create a lasting impression. However, to achieve the desired results, it is crucial to choose the ideal printing services for flyers and stickers. This article will guide you through the process of selecting a printing service provider that can meet your specific requirements and deliver high-quality materials.
Understanding Your Printing Needs
Before embarking on the search for printing services, it is important to have a clear understanding of your printing needs. This involves identifying the purpose of your flyers and stickers and estimating the quantity and size requirements.
When it comes to printing materials, such as flyers and stickers, it is essential to have a well-defined purpose in mind. Are you using them for a promotional campaign, product launch, or special event? Each of these scenarios requires a different approach in terms of design, messaging, and overall aesthetic.
For a promotional campaign, you might want to create eye-catching flyers that attract attention to the important features and advantages of your offering. To persuade potential clients to act, the design needs to be striking and exude a feeling of urgency. On the other hand, if you are launching a new product, you may want to focus on creating informative flyers that provide detailed information about the product's specifications, usage, and unique selling points.
When it comes to stickers, the purpose can vary even more. Stickers can be used for branding purposes, as giveaways at events, or even as decorative elements. Understanding the intended use will help you determine the design, size, and quantity of the materials.
Estimating the Quantity and Size Requirements
Once you have identified the purpose of your flyers and stickers, it is crucial to estimate the quantity and size requirements. Consider factors such as the target audience size and distribution channels to determine the number of copies needed.
If you are targeting a small, niche audience, you may only need a limited number of flyers or stickers. However, if you are planning a large-scale promotional campaign or attending a major event with thousands of attendees, you will need to print a significantly higher quantity to ensure widespread distribution.
Additionally, carefully consider the size of the materials to ensure they effectively convey your message and fit within the intended distribution method. For example, if you plan to distribute flyers in mailboxes, you need to ensure that they are small enough to fit inside without being folded or damaged. On the other hand, if you are placing stickers on products or packaging, you may want to opt for a larger size to ensure visibility and impact.
By taking the time to understand your printing needs, you can make informed decisions when choosing printing services. This will not only help you save time and money but also ensure that your flyers and stickers effectively communicate your message to your target audience.
Evaluating Printing Service Providers
With a clear understanding of your printing needs, it is time to evaluate different printing service providers. This involves assessing the quality of work and checking the range of services offered.
Assessing the Quality of Work
The quality of printed materials plays a significant role in creating a positive impression. Look for printing service providers that have a track record of delivering high-quality work. Ask for samples of their previous projects or view their portfolio to gauge the level of craftsmanship and attention to detail.
Checking the Range of Services Offered
When choosing a printing service provider, it is important to consider their range of services. Look for providers that offer a comprehensive suite of services, including design assistance, various printing techniques, and finishing options. This ensures that all aspects of the printing process can be handled efficiently by a single provider, saving you time and effort.
Considering the Cost and Value
While cost is an important factor to consider, it should not be the sole determining factor in selecting a printing service provider. Instead, focus on the value they can offer, which goes beyond the price tag. This involves comparing pricing structures and understanding the value of additional services.
Comparing Pricing Structures
When comparing pricing structures, be sure to consider all associated costs, such as design fees, paper quality, and finishing options. Request quotes from different service providers and carefully review the breakdown of costs to ensure there are no hidden fees or unexpected charges.
Understanding the Value of Additional Services
Printing services that offer additional value-added services can enhance the overall quality and effectiveness of your printed materials. Look for providers that offer services such as graphic design assistance, customization options, and fast turnaround times. These additional services can save you time and effort while ensuring the final product meets your expectations.
Importance of Customer Service in Printing Services
Customer service is a crucial aspect of any business partnership, and it is no different when it comes to printing services. Ensure that the printing service provider you choose has a reputation for excellent customer service.
Responsiveness and Communication
A printing service provider that is responsive and communicates effectively with customers can help ensure a smooth and satisfactory printing experience. Look for providers that are willing to answer your questions, provide updates on your project's progress, and address any concerns promptly.
Handling of Issues and Complaints
No printing project is without the possibility of issues or complaints. It is important to choose a service provider that has a proven track record of handling such situations professionally and effectively. Look for providers that offer guarantees or have policies in place to address any problems that may arise.
The Role of Technology in Printing Services
Advancements in technology have revolutionized the printing industry, offering numerous benefits in terms of efficiency, quality, and design capabilities.
Modern Printing Techniques
When choosing a printing service provider, consider their utilization of modern printing techniques. Digital printing, for example, allows for cost-effective small print runs with quick turnaround times. Additionally, inquire about their use of environmentally friendly printing practices, such as water-based inks or recycled paper options.
Digital Design and Proofing Capabilities
Technology has also transformed the design and proofing process. Look for printing service providers that offer digital design services and provide the ability to review and approve proofs digitally. This not only saves time but also ensures an accurate representation of the final product.
By following these guidelines, you can choose the ideal printing services for your flyers and stickers. Remember to assess your specific needs, evaluate different service providers, consider the cost and value, prioritize customer service, and embrace the technological advancements that enhance the printing process. With the right printing partner, you can effectively promote your business and leave a lasting impression on your target audience.