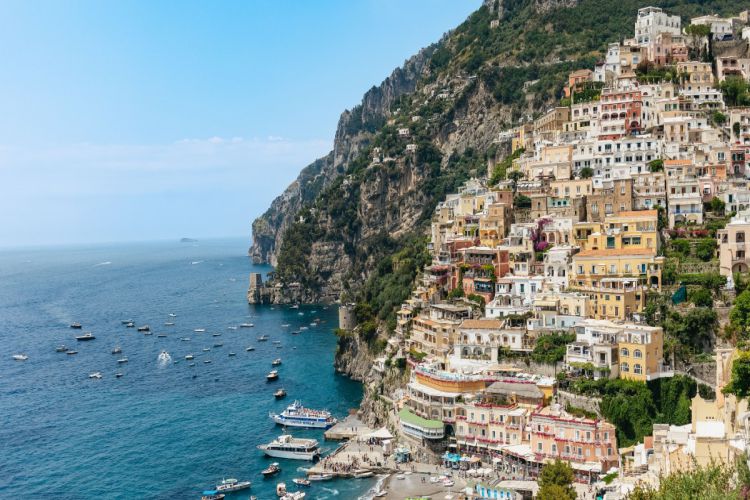 Naples, a vibrant city nestled on the southeastern coast of Italy, offers a plethora of activities for travelers to indulge in. Whether you're exploring historical sites, enjoying the local cuisine, or lounging on the stunning beaches, knowing the best time to visit can enhance your experience. Understanding Naples' climate is crucial in determining when to plan your trip, as it will significantly impact the availability and enjoyment of various things to do in Naples.
Understanding Naples' Climate
When it comes to climate, Naples, located in Mediterranean Europe, is blessed with mild and pleasant weather throughout the year. However, there are distinct differences between the summer and winter seasons that play a significant role in determining the most suitable time for specific activities. Let's delve deeper into the pros and cons of visiting Naples during these contrasting seasons.
Naples' Summer Season: Pros and Cons
The summer season in Naples spans from June to August and is undeniably the peak tourist season. During this time, the weather is characterized by scorching temperatures, with averages reaching up to 85°F (29°C) during the day. The warm climate creates the perfect conditions for enjoying the stunning beaches that line the coast.
Visitors from all over the world flock to popular beach destinations like Posillipo and Castel dell'Ovo, where they can bask in the glorious sun and take refreshing dips in the crystal-clear waters of the Tyrrhenian Sea. The beaches come alive with people engaging in various water sports activities, such as snorkeling, scuba diving, and jet skiing, making the most of the warm Mediterranean waters.
Aside from the beaches, summer in Naples offers a vibrant atmosphere with numerous festivals and events taking place. The city becomes a hub of cultural celebrations, including music festivals, art exhibitions, and traditional processions. The lively streets are filled with locals and tourists alike, creating a festive ambiance that is hard to resist.
Naples' Winter Season: Pros and Cons
On the other hand, the winter season in Naples, spanning from December to February, unveils a different set of opportunities for travelers. During these months, the weather is milder, with average temperatures ranging from 45°F (7°C) to 60°F (15°C). While the beach may not be as tempting during this time, Naples reveals its historical and cultural treasures to visitors.
Exploring landmarks like the Royal Palace of Naples, a magnificent architectural masterpiece, becomes a captivating experience without the intense heat and large crowds of summer. The monumental Piazza del Plebiscito, one of the largest public squares in Europe, stands majestically, inviting visitors to admire its grandeur and soak in the rich history surrounding it. Additionally, winter visitors have the opportunity to explore the ancient ruins of Pompeii, a UNESCO World Heritage Site, without the usual hustle and bustle of tourists.
Winter in Naples also brings a sense of tranquility and peace to the city. The narrow streets of the historic center, lined with charming cafes and boutiques, offer a cozy and intimate atmosphere. Visitors can enjoy leisurely walks, savor the local cuisine, and indulge in some retail therapy, all while taking advantage of the discounted rates at accommodation options that are available during this off-peak season.
In conclusion, whether you choose to visit Naples during the vibrant summer or the serene winter, you are bound to be captivated by the city's unique charm and offerings. From sun-soaked beaches and exhilarating water sports to historical landmarks and cultural treasures, Naples has something to offer every traveler, regardless of the season.
The Impact of Seasonal Changes on Activities
Seasonal changes in Naples play a significant role in shaping the availability and suitability of different activities. Let's delve into the outdoor and indoor pursuits that are influenced by these variations.
Outdoor Activities in Different Seasons
During the summer, outdoor activities take center stage in Naples. In addition to beach-related pursuits, hiking enthusiasts can explore the nearby Mount Vesuvius and experience the thrill of standing atop this famous volcano. The panoramic views of the Bay of Naples from its summit are truly breathtaking.
As the summer heat begins to fade and autumn sets in, Naples transforms into a vibrant tapestry of colors. The city's parks and gardens, such as the Royal Palace Gardens and Villa Comunale, become a haven for nature lovers. The crisp air and falling leaves create a picturesque setting for leisurely walks and picnics.
In winter, Naples offers a different kind of outdoor adventure. The Appian Way Regional Park and Capodimonte Park are perfect for leisurely strolls amidst serene greenery, adorned by the colors of winter foliage. The cooler temperatures make hiking and exploring the city's rich natural surroundings a pleasant experience.
With the arrival of spring, Naples burst into life once again. The city's botanical gardens, such as the Orto Botanico di Napoli, are in full bloom, showcasing a stunning array of flowers and plants. Outdoor enthusiasts can also take part in various sports activities, such as cycling or jogging along the scenic coastal promenade.
Indoor Activities in Different Seasons
When the scorching summer heat becomes too intense, Naples offers a plethora of indoor activities for travelers to enjoy. Art enthusiasts can immerse themselves in the city's cultural heritage by visiting renowned museums like the National Archaeological Museum and the Naples National Museum of Capodimonte. These museums house a vast collection of ancient artifacts, sculptures, and paintings that provide a glimpse into Naples' rich history.
During the winter months, discovering the local gastronomy becomes a delightful indoor pursuit. Naples is famous for its mouthwatering pizza and is home to numerous pizzerias where you can indulge in a warm slice of authentic Neapolitan pizza while staying cozy indoors. The aroma of freshly baked pizza fills the air, inviting locals and tourists alike to savor this iconic culinary delight.
In addition to indulging in pizza, winter in Naples offers a variety of indoor activities for those seeking cultural enrichment. The Teatro di San Carlo, one of the oldest and most prestigious opera houses in the world, hosts captivating performances that showcase the city's love for music and theater. Attending a ballet or opera performance in this historic venue is a truly unforgettable experience.
As spring arrives, Naples' indoor activities take on a different flavor. The city's vibrant markets, such as the Mercato di Porta Nolana and the Mercato di Pignasecca, come alive with the colors and aromas of fresh produce. Exploring these bustling markets allows visitors to immerse themselves in the local culture, interact with friendly vendors, and sample a wide variety of regional delicacies.
The Role of Festivals and Events in Naples
Naples' vibrant atmosphere is further enhanced by a multitude of festivals and events that take place throughout the year. These celebrations offer a glimpse into the city's rich cultural heritage and provide additional reasons to plan your visit accordingly.
Popular Summer Festivals in Naples
The summer months in Naples are adorned with vibrant festivals that showcase the city's lively spirit. The Festival of Piedigrotta, held in September, is one such event that combines music, art, and fireworks. The festival takes place near Naples' waterfront, attracting both locals and tourists alike.
Another notable summer festival is the Feast of Saint Januarius, which occurs in September. This religious celebration is dedicated to the patron saint of Naples and features a procession carrying the ampoule containing the dried blood of Saint Januarius. The event is marked by fervent devotion and colorful street processions.
Winter Events Worth Attending
While summer festivals dominate the calendar, winter in Naples also offers a fair share of exciting events. The Christmas season, starting in early December, transforms the city into a lively wonderland. Along with traditional nativity scenes and festive decorations, Naples hosts the famous Christmas market in Piazza San Domenico Maggiore, delighting visitors with artisanal crafts and local delicacies.
Additionally, during February, Naples becomes the center of festivities during Carnevale. Streets are filled with colorful parades, masked costumes, and traditional music, making it a joyful experience for both young and old.
Traveling to Naples: Costs and Considerations
When planning a trip to Naples, it is essential to consider the financial aspects of your journey. Understanding the costs associated with flights, accommodation, and other expenses can help you make informed decisions and ensure a smooth travel experience.
Seasonal Flight and Accommodation Prices
Flight and accommodation prices in Naples can vary depending on the season you choose to visit. During the summer months, prices tend to be higher due to the peak tourist season. It is advisable to book your flight and secure your accommodation well in advance to secure better rates and availability.
In contrast, winter brings lower demand, resulting in more affordable flight and accommodation options. This can be advantageous for those on a tighter budget or seeking to experience a more relaxed and less crowded Naples.
Considerations for Travel Insurance
Regardless of the season, travel insurance is highly recommended when visiting Naples or any international destination. Travel insurance provides financial protection and peace of mind in the event of unforeseen circumstances such as cancellations, medical emergencies, or lost baggage. It is advisable to research different insurance options and select a plan that suits your needs.
Essential Tips for Planning Your Naples Trip
Now that you have a comprehensive understanding of the best time to visit Naples for maximum activities let's explore some essential tips for planning your trip.
Packing Tips for Different Seasons
Packing for your Naples adventure will largely depend on the season you choose to visit. During the summer months, it is crucial to pack lightweight and breathable clothing, a hat, along with sunscreen, and use sunglasses to shield your eyes from the glaring sun.
In winter, layering is key, as temperatures can fluctuate throughout the day. It is advisable to pack a mix of warm clothing, including sweaters, jackets, scarves, and gloves. Don't forget to bring comfortable shoes for exploring the city's historical sites and nature trails, regardless of the season.
Health and Safety Tips for Travelers
While Naples is generally a safe city for travelers, it is always wise to take standard precautions. It is recommended to stay alert and be mindful of your belongings in crowded areas. Additionally, familiarize yourself with emergency contact numbers and keep a photocopy of important documents such as your passport for extra security.
Regarding health, ensure that you have a comprehensive travel insurance plan that includes medical coverage. It's also advisable to check with your healthcare provider regarding any necessary vaccinations or travel recommendations for Naples.
By understanding Naples' climate and the impact of seasonal changes on activities, you can plan your visit to this marvelous Italian city with precision. Whether you long for a sun-soaked beach getaway, a cultural exploration of ancient wonders, or indulging in vibrant festivities, Naples has something to offer in every season. So pack your bags, prepare for an unforgettable adventure, and get ready to experience the best of Naples.