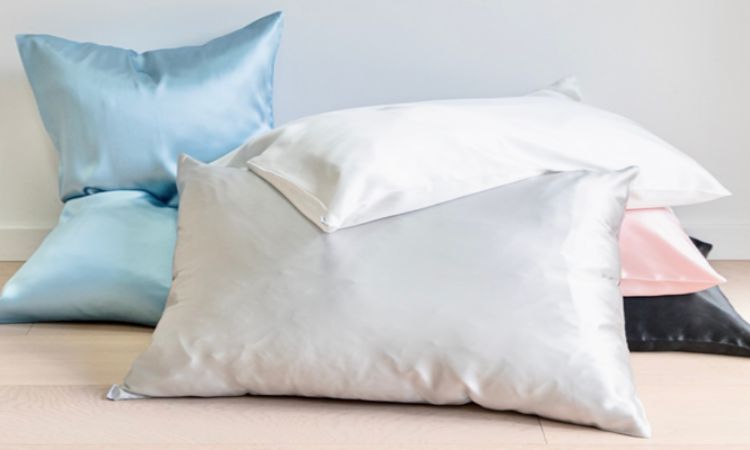 The silk pillowcase has emerged as a non-cosmetic skincare and haircare savior among trend followers and influencers, and it has become something of a hero product in the world of beauty blogging. The rise in demand for this product has made it more difficult to determine what characteristics set these silk pillowcases apart from others on the market because not all of them have the same characteristics. Consumers have a responsibility to educate themselves about the various types and qualities of silk available; and how to choose the right silk pillowcase. Here are some helpful hints on how to purchase 100% genuine mulberry silk.
Learn How to Choose the Right Silk Pillowcase
Choosing the right pillowcase for you requires some skills and knowledge. However, here are some essential hints for you to know before considering how to choose the right silk pillowcase.
Which Variety Of Silk Is Ideal For Making Pillowcases, And Why?
Purchasing a silk pillowcase is an investment if you want to experience the full range of benefits that silk has to offer. Silk bed linens are made from a wide variety of silks, which vary not only in plant origin but also in grade, weight, and other characteristics. Muga silk, mulberry silk, tasar silk, and eri silk are the four primary types of silk fabrics that are utilized in the manufacturing industry. When considering the market, the most reputable retailers of silk pillowcases will typically opt for mulberry silk because of its supple weave and ability to withstand frequent washing.
What Kind Of Silk Fabric Produces The Highest Quality Pillowcases To Use With Silk Pillows?
In order to achieve the ideal pillowcase form for their products, Many manufacturers use only 100% A Grade, 19 Momme Mulberry silk in the manufacturing process. Mulberry silk is widely regarded as the highest quality silk that can be purchased, in part because of the inherent characteristics of the mulberry leaf and the method by which it is produced. We have discovered that a 19 momme weight is ideal for keeping the proportions of a silk pillowcase intact; however, the weight can go as high as 22.
What Characteristics Should A Pillowcase Made Of Silk Have?
Your criteria for selecting a silk pillowcase should generally fall into one of these three categories: the quality of the manufacturing, the aesthetic, and the health benefits. As was mentioned earlier, a silk pillowcase ought to be regarded as an investment; consequently, it is imperative that you prioritize purchasing the highest quality silk that your finances will allow for. A high-quality mulberry silk pillowcase is always available and affordable. All you need to know is learn how to choose the right silk pillowcase.
When it comes to the aesthetics of the pillowcase, a lot of this depends on personal preference. This is especially true when it comes to color. The level of softness and sheen of a pillowcase can change depending on the type of weave, so you may have to decide whether you want an extremely luxurious sheen or a more understated matte-look silk. If you choose something other than a complete set of silk bed linens, you should also select a color that will coordinate with the rest of the decor in your bedroom.
This is especially important if you go with something other than silk bed sheets. The final factor to take into consideration is the positive effects that sleeping on a silk pillowcase can have on your health. If you have concerns about your skincare or hair care, you should search for reviews of pillowcases that praise them specifically for their effectiveness in addressing those concerns. Choosing a delicate, supple, and high-quality silk pillowcase ensures that you will reap the benefits of silk pillowcases, which include the reduction of wrinkles, the soothing of acne, and the smoothing of hair.
Should I Get A Pillowcase Made Of Silk?
It is impossible to overstate how much of an overall difference it can make in the condition of your skin and hair if you switch to using a silk pillowcase. There are numerous advantages that come along with using a silk pillowcase, regardless of your age. Silk fabrics' ability to resist the effects of aging and to retain moisture are two of their most compelling selling points. Silk is less abrasive and harsh on facial skin than other materials, which means that it will not pull on your skin while you sleep, leaving you with facial creasing when you wake up in the morning. The natural proteins in silk work well with the outer layers of your skin as well as your hair, allowing for better moisture retention and ensuring that you remain adequately hydrated throughout the night. Because of this, your skin can be maintained with topical products more easily, and the static in your hair can be reduced, making it simpler to brush. When you consider all of this, it is easy to see how sleeping on a silk pillowcase could easily cut your morning routine time in half.
Conclusion
Standard cotton or synthetic blend pillowcases can harbor higher levels of bacteria and dirt than silk pillowcases. Still, silk pillowcases are hypoallergenic. This may be of particular benefit to people who have skin types that are prone to acne and oiliness, as well as those who have sensitive skin and therefore have to pay special attention to maintaining the cleanliness and integrity of their skin. If you want to simplify your morning routine and enjoy the other benefits discussed throughout this post, consider investing in a silk pillowcase. We hope you will find these pointers helpful on how to choose the right silk pillowcase. We highly recommend the Mulberry Silk pillowcase to anyone looking to purchase their very first luxury silk pillowcase because it is an essential beauty accessory for attaining flawless skin and hair.