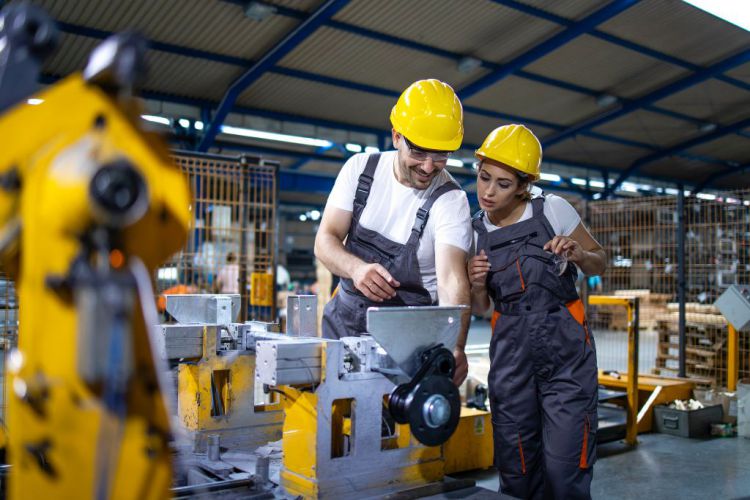 In today's modern industrial age, the intricate web of machinery and equipment drives the beating heart of production. These powerful tools, many operated by electricity, have revolutionized our world.
While they provide many benefits, they also present a plethora of hazards to those who work in close proximity. Industrial environments are notorious for their potential risks. In fact, according to the National Safety Council, a person gets injured on their job about every seven seconds, resulting in 7 million workplace injuries each year.
So, how can you work to protect your industrial employees? Learn the risks of the work environment and how you can mitigate them. Read on, and this article will tell you how.
Understanding the Multifaceted Risks
To protect employees within the industrial realm, it is essential to ensure you understand all of the hazards that are unique to their work environments. These dangers include:
Electrical Dangers

: Beyond the overt threat of exposed wires, subtle issues like fluctuating voltages, overheated components, and poorly insulated equipment precipitate dangerous scenarios. Electrocution or fire hazards often lurk where least expected.

Mechanical Hazards

: Moving machinery parts risks trapping a limb and can lead to unforeseen malfunctions if they're misaligned or worn out. The sheer weight of some equipment poses an added risk.

Chemical Exposures

: Each chemical, even those perceived as benign, has its handling requirements. Ignorance of storage protocols or incorrect usage often leads to harmful exposures or reactive explosions.

Environmental Concerns

: High decibel levels, persistent vibrations, or exposure to extreme hot or cold temperatures have long-term health impacts, often underestimated.
Proactive Safety Through Intelligent Design
Anticipating dangers your employees will encounter and designing safety measures to counteract them is the best way to protect your company's employees from workplace injuries. Methods to incorporate intelligent design include:
Machine Guarding

: Beyond the traditional guards, explore sensor-based systems that shut down machinery when an unexpected object (or limb) approaches.

Safety Recording System

:

Ensuring workplace safety can be achieved by

introducing a safety recording system, as recommended by Protex AI

. This system records, stores, and offers swift access to crucial safety information, assisting employers in verifying the safety and regulatory compliance of their employees.

Electrical System Design

: Embrace technology like arc fault circuit interrupters (AFCIs) to detect and address potential fire-causing arcs.

Ventilation Systems

: Consider automated systems that adjust based on detected chemical levels, ensuring the air remains within safe limits.
Comprehensive Education & Training
Safety is as much about mindset as it is about protocol. Regular education of employees is essential to ensure their continued safety in your workplace. Educational opportunities include:
Safety Workshops

: Regularly updated workshops can address the evolving nature of hazards and introduce newer safety technologies and methods.

Emergency Drills

: Move beyond fire drills. Conduct surprise scenarios like chemical spills or blackout simulations to test readiness.

Equipment Familiarization

: Ensure hands-on training sessions where workers can familiarize themselves under expert supervision, addressing queries and concerns in real time.
Advancements in Personal Protective Equipment (PPE)
PPE has always been around in the workforce but has evolved to offer more specialized protection to benefit your employees. These advancements include:
Safety Helmets with Sensors

: Modern helmets come equipped with sensors that can detect impact or temperature variations.

Noise-Canceling Ear Protection

: These protect against loud noise and amplify human speech, facilitating better communication in noisy environments.

Augmented Reality Safety Glasses

: These glasses can overlay safety information or guide workers during complex tasks.

Smart Gloves

: Especially for electrical work, gloves now offer features like vibration when detecting live currents.
Thorough Maintenance & Inspections
Maintenance is an ongoing commitment. Regular inspections ensure that your machinery is not only working correctly but won't have malfunctions that will cause harm to your employees. Some excellent maintenance and inspection opportunities include:
Predictive Maintenance

: Utilize technology to predict potential failures before they manifest. This technology includes monitoring equipment vibrations, temperatures, or unusual sounds.

Detailed Electrical System Audits

: These should delve into the quality of insulation, circuit loading, and grounding integrity.

Safety Systems Testing

: It's not enough to install safety systems; regular testing ensures they operate optimally.
Engaging Specialized Professionals
The importance of specialized professionals, especially in electrical domains, cannot be overstated. When repairs are needed for specialized equipment, you hire the best for the job. 
The same must be done with electrical work. Ensure you hire a licensed industrial electrician with a reservoir of knowledge that ensures safety is seamlessly woven into every electrical facet.
Cultivating a Deep-Seated, Safety-First Culture
Safety needs to be more than a checklist; it should be a deeply rooted ethos for your company. Some excellent ways to incorporate protection into your work culture include:
Open Communication Channels

: Create platforms where safety concerns can be anonymously reported, ensuring all potential hazards are flagged.

Safety Incentives

: Consider initiatives like 'Safety Champion of the Month' to motivate and reward proactive safety measures.

Interactive Signage

: Augmented Reality (AR) or QR-code-based signs can offer real-time information and tutorials, ensuring safety guidelines are both accessible and comprehensive.
Make Changes Today to Ensure Your Workplace is Safe for Your Industrial Employees!
Start today to decrease the likelihood of workplace injury in your workplace. Understand the unique risks of your workplace so you can learn how to mitigate them through intelligent design, ensure you offer regular and comprehensive education and training for your employees, check out the new advancements in PPE, participate in routine maintenance and inspections, include specialized professionals, and create a safety-first culture.