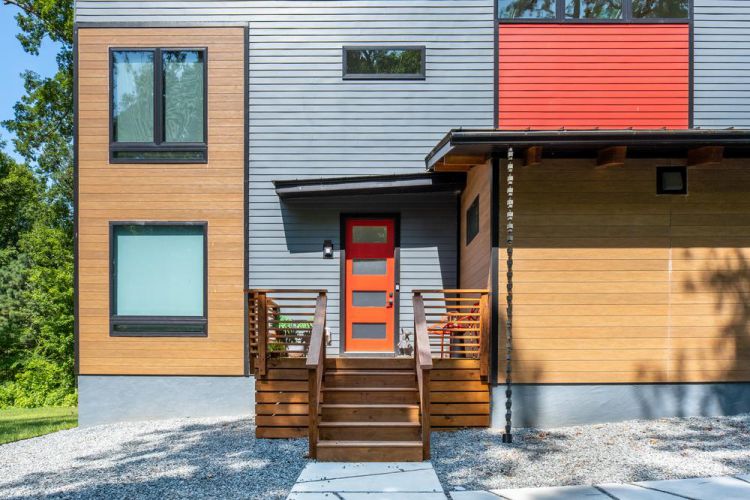 Siding, traditionally viewed as a simple exterior covering, has undergone significant transformations. The industry's advancements are not just about curb appeal. They also focus on sustainability, durability, and energy efficiency. This transformation has been fueled by a combination of technological leaps and consumer demands. As specialists in the field know, today's siding is a testament to innovation meeting practicality.
The Evolution of Siding Materials
Traditional Materials: A Quick Recap
Historically, wood dominated the siding landscape, prized for its classic aesthetic and natural touch. Vinyl soon followed, becoming popular due to its cost-effectiveness and versatility. Aluminum, another early entrant, offered resistance to pests and rust. However, each material, while revolutionary in its time, had inherent limitations.
Modern Innovations in Materials
Enter the era of modern siding materials, where composite sidings have made waves. Composites, engineered with a blend of materials, maximize strength while minimizing weaknesses. One notable example is fiber cement siding, which combines durability, resistance to fire, and a refined look. Additionally, proprietary blends have emerged, such as LP SmartSide, melding wood strands with adhesive resins for enhanced resilience.
Then there's the rise of thermally modified wood. Exposed to high temperatures in oxygen-free environments, this wood resists decay and insects better than untreated counterparts. It also offers a sleeker, darkened aesthetic, often preferred in modern architecture.
Innovation continues, responding to demands for materials that offer both function and form. As the industry evolves, so do expectations, driving a cycle of progress in siding materials.
Technological Advances in Siding
Energy-Efficiency Breakthroughs
The quest for energy-efficient homes is reshaping siding technology. Modern insulated sidings come equipped with rigid foam insulation. This addition boosts a home's R-value, a key insulation metric. Fact: homes with high R-values reduce energy bills. Expanded polystyrene (EPS), a component in insulated siding, optimizes thermal bridging control. The result? Homes retain warmth in winter and cool air in summer.
Durability & Longevity Enhancements
Durability in siding isn't just about withstanding the elements. Today's siding resists ultraviolet rays, preventing premature fading. Innovations like baked-on paint ensure long-lasting vibrancy. Furthermore, siding technologies now combat pests, moisture, and rot more effectively. Modern sidings like fiber cement stand strong against termites and harsh weather. Here's an interesting tidbit: some advanced sidings now come with warranties exceeding 30 years.
Smart Siding Technologies
The integration of IoT with siding is gaining traction. Smart siding systems can now detect wear, damage, or moisture buildup. Early detection systems in siding reduce maintenance costs and enhance property safety. Another innovation: self-cleaning sidings. These use nanotechnology to break down organic deposits, reducing the need for manual cleaning. Imagine sidings that communicate maintenance needs or adjust reflectivity based on the weather. The future is here.
Aesthetic and Design Innovations
Textures and Finishes
Textures and finishes can elevate siding beyond mere functionality. Matte finishes, once uncommon, have seen a rise due to their understated elegance. They subtly diffuse light, reducing glare on sunny days. On the flip side, metallic finishes gleam, adding contemporary edge to properties. Not to be overlooked, wood-look finishes remain evergreen, merging tradition with modernity. Today's technology even mimics exotic woods, a luxury previously unattainable for many.
Expanding Color Palettes
Color is more than aesthetics; it's psychology. Warmer tones might boost mood, while cooler shades could evoke calm. Siding isn't exempt from fashion's cyclic nature. Yet, innovation ensures that today's trending colors resist UV-induced fading longer than ever. Fun fact: some manufacturers now offer palettes inspired by yearly global color trends. This enables homes to stay not just durable, but fashion-forward.
Customization Capabilities
Customization is the luxury of the present age. Advanced molding techniques permit custom design patterns in siding. This means homeowners can incorporate personal motifs or intricate designs. It's not just about picking a color or texture. It's about leaving a personal, lasting mark on a structure. Customization in siding has made homes more reflective of individual personalities.
Environmental and Sustainable Trends
Eco-friendly Materials
Eco-consciousness drives today's siding industry. Many manufacturers are turning to recycled materials, reducing waste and resource exploitation. Recycled steel sidings, for instance, can contain up to 60% post-consumer content. Remarkably, these sidings still boast longevity and durability, debunking myths about recycled materials being inferior. Moreover, sustainable sourcing, particularly with wood, ensures forests remain unharmed and biodiversity protected.
Reducing Carbon Footprint
Beyond material choice, the production phase is under scrutiny. Advanced manufacturing processes are now more energy-efficient, curbing greenhouse gas emissions. Fact: some facilities run primarily on renewable energy, marking a considerable shift from conventional methods. Transportation, too, plays its part. Localized production hubs are popping up, reducing transport distances and the associated carbon footprints.
Sustainable Maintenance & End-of-Life
Maintenance is evolving with sustainability in mind. Biodegradable cleaners, void of harmful chemicals, are now recommended for many sidings. These ensure minimal environmental impact during cleaning. When sidings reach their end-of-life, recycling or repurposing becomes essential. Many modern sidings are now fully recyclable, closing the loop in their lifecycle. This shift not only conserves resources but also reduces landfill waste, championing a cleaner planet.
Installation Innovations
Time-Saving Techniques
Efficiency is paramount in modern siding installation. Innovations like snap-fit panels and interlocking systems have emerged. Notably, these techniques shave hours off installation time. Furthermore, these systems often result in a tighter, more consistent finish, melding speed with aesthetics seamlessly.
Reducing Installation Errors
Precision in siding is non-negotiable. Advanced tools, guided by laser technology, ensure precise cuts and alignments. Fact: even a millimeter's discrepancy can affect a siding's performance. With these tools, errors become rare, fostering long-term structural integrity and aesthetic consistency.
Training & Certification Enhancements
Professional development in siding installation is witnessing a renaissance. Online courses, replete with augmented reality simulations, offer hands-on training remotely. Leading manufacturers now offer specialist certifications, endorsing the best in the trade. This not only elevates skill sets but also assures homeowners of top-tier installation quality.
Conclusion: The Future of Siding Innovations
The siding industry is in perpetual motion. As technological advancements accelerate, so will the evolution of siding materials and techniques. With sustainability and customization steering the narrative, the future hints at sidings that are not just protective sheaths but interactive surfaces. Imagine sidings harnessing solar energy or changing hues with seasons. While speculative, the convergence of tech, design, and sustainability suggests boundless possibilities. The next decade in siding? Expect the unexpected.