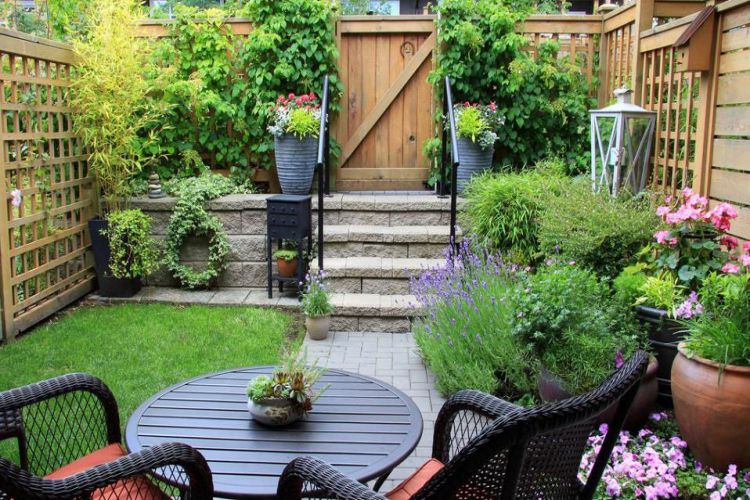 When you have a small outdoor space, it can seem like there isn't much that can be done with it. However, with a few simple landscaping techniques and design elements from the best landscapers Winnipeg, you can transform your tiny backyard into an inviting oasis. 
Whether you have a balcony or a patch of grass in the corner of your yard, here are 12 tips and tricks to help you make the most of your limited outdoor space.
1. Think Vertical: 
If you have a small space, one of the best ways to maximize it is to go vertical. Planting trees or even growing vines up an arbor or trellis can add dimension and depth to the area. You can also build raised beds for vegetables, or use wall-mounted planters for herbs and other plants.
2. Use Mirrors: 
One trick that homeowners often overlook is using mirrors in landscaping. Place a large mirror on the wall so it reflects light around the yard and visually expands the space. This is especially effective when placed near water features like pools, ponds, and fountains.
3. Create Different Levels: 
By adding different levels to your small space, you can break up the area and create an interesting visual effect. You can do this by terracing a hillside or adding steps between levels of planting beds. This helps to add depth to the landscape and makes it appear larger than it actually is.
4. Incorporate Paths: 
Well-designed pathways are essential for any outdoor space, regardless of its size. Adding walkways will make your small yard easier to navigate and give it an organized look that's visually appealing as well. Consider using stones or pavers in different shapes and sizes to create a unique look for your pathway. 
5. Add Furniture: 
Outdoor furniture such as seating, tables, or fire pits can help to create a cozy atmosphere your small space. Choose pieces that are lightweight and easy to move around so you easily rearrange them when needed this will give you the ability to mix things up every now and then and keep your yard looking fresh. 
6. Install Lighting: 
Installing lights in your outdoor space is an effective way to add ambiance and make it appear larger than it actually is. You can use solar-powered lights for pathways, string lights for pergolas or trees, or even hang lanterns from ceilings or walls for a more dramatic effect. 
7. Add Privacy: 
Creating privacy in a small outdoor space can be tricky, but there are a few options to consider. You can install lattice or bamboo screens around the perimeter of your yard to provide some extra seclusion. Or you could plant tall hedges or trees to give you more privacy without sacrificing too much space.
8. Grow an Herb Garden: 
Taking up gardening in a small outdoor area is a great way to make the most of the limited space you have. Herbs don't require much room and can be grown in pots on shelves, windowsills, or railings for easy access and maintenance. Plus, having an herb garden will give your outdoor area a pop of color and fragrance as well! 
9. Utilize Containers: 
Growing flowers or plants in pots or containers is one of the easiest ways to add a bit of greenery to your small yard. Not only do they look great, but they also give you flexibility when it comes to rearranging them as needed. Consider grouping several containers together for an eye-catching display.
10. Use Stone: 
Using stone in landscaping can help create a beautiful and unique look for your outdoor space. It's also easy to install, durable, and low maintenance – perfect for those with busy schedules! You can use stones as ground cover or edging material around flower beds and pathways to give your garden a neat, polished look.
11. Incorporate Water Features: 
Adding water features such as fountains, ponds, or waterfalls can bring a sense of calm and tranquility to your small outdoor space. Not only do they look beautiful, but they also provide the soothing sound of running water which can be relaxing after a long day. If you're up for it, you could even build your own DIY waterfall! 
12. Install Trellises: 
Trellises are great for adding extra vertical space in a small yard. They come in a variety of styles and sizes so you can find one that fits your unique needs. Plus, they look great when covered in flowering vines or other plants which adds color and texture to the area. 
Conclusion: 
Creating a beautiful and functional outdoor space in a small yard can seem like an intimidating task. But with some creative thinking and the right strategies, you can maximize your limited space and create an inviting oasis for relaxing or entertaining. Try out some of these tips to get started on transforming your small yard into something special!