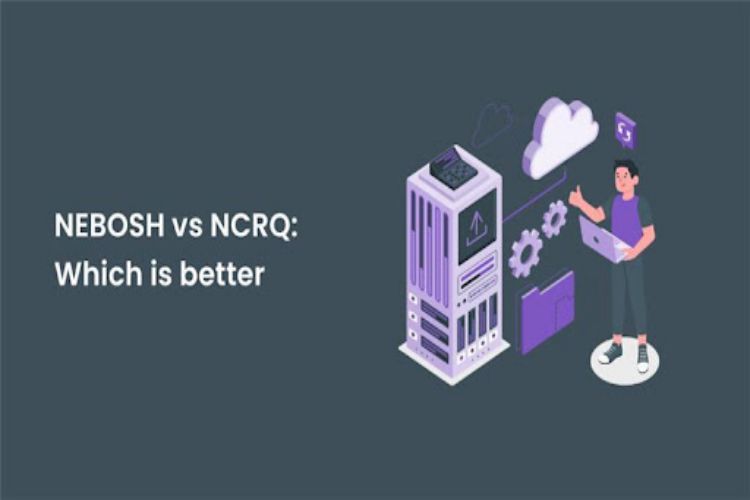 For individuals seeking a rewarding career in health and safety, certifications play a pivotal role in establishing expertise and credibility. Two of the most renowned in the field are NEBOSH Certification (National Examination Board in Occupational Safety and Health) and NCRQ Certification (National Compliance and Risk Qualifications). Aspiring health and safety professionals often find themselves at a crossroads, unsure of which certification to pursue. In this blog, we will compare NCRQ vs NEBOSH, exploring their differences, strengths, and weaknesses to help you make an informed decision on which certification will suit your career goals best.
Table of Contents 
Understanding NEBOSH Certification 

Understanding NCRQ Certification 

Key Differences between NEBOSH and NCRQ 

Assessment Methodology 

Course Content 

Flexibility 

Which Certification is Better? NEBOSH or NCRQ? 

Conclusion 
Understanding NEBOSH Certification 
NEBOSH is a globally recognized examination body that provides a range of health and safety certifications. NEBOSH, founded in 1979, has become a prominent source of vocational certificates in health, safety, and environmental management. The NEBOSH courses are designed to provide applicants with the information and skills needed to successfully identify and manage workplace risks. The NEBOSH certification is highly valued by businesses worldwide, making it a valuable tool for anyone seeking employment or promotion in health and safety jobs. 
Understanding NCRQ Certification 
NCRQ is a newer entrant in the world of health and safety certifications. The National Compliance and Risk Qualifications program was created to provide health and safety education that is both practical and evidence-based. Unlike NEBOSH, which uses a standard test style, NCRQ evaluations are based on real-life case studies and practical applications. This method ensures that applicants have theoretical knowledge and can demonstrate their ability to use that information successfully in real-world circumstances. 
Key Differences between NEBOSH and NCRQ 
These are the Key differences between NEBOSH and NCRQ: 
Assessment methodology 
Written examinations are used to examine applicants' knowledge and comprehension of health and safety concepts, practices, and legal frameworks.  
NCRQ takes a more practical approach, examining applicants through case studies and tasks based on their work experience. This technique emphasizes the use of knowledge in real-world circumstances. 
Course content 
NEBOSH courses often cover various health and safety issues, such as general health and safety, environmental management, construction safety, and other themes. The syllabus is thorough and well-organized.  
NCRQ focuses on fundamental health and safety concepts while emphasizing practical learning. The course content is intended to address the real-world difficulties that health and safety practitioners encounter on a daily basis. 
Flexibility 
NEBOSH provides a variety of credentials, allowing candidates to select the level of certification that best matches their expertise and career goals. Approved training organizations offer the courses, and study options vary.  
The NCRQ certification track is more simplified, with an emphasis on fewer but more in-depth certifications. The practical tasks, which may be completed while working, allow applicants to obtain hands-on experience. 
Which Certification is Better? NEBOSH or NCRQ? 
Individual preferences, professional ambitions, and learning styles influence the response to this question. Both the NEBOSH and NCRQ qualifications are highly valued and recognized in the health and safety profession. Consider the following variables while making your decision: 
Career Aspirations

: If you want to get a broad range of health and safety expertise and work in various industries, NEBOSH may be the ideal choice. NCRQ, on the other hand, may be a better option if you prefer a more hands-on and practical approach to learning.  

Learning Style

: Take into account your chosen learning approach. NEBOSH consists of traditional classroom-based instruction and written tests, whereas NCRQ is more practical and self-directed.  

Employer Preference

: Research the employment market to see whether firms in your desired field prefer NEBOSH or NCRQ credentials. In some places or industries, one certification may be preferred over the other. 

Time and Resources

: Determine how much time and resources you can devote to the certification. NEBOSH courses may need additional study hours, but NCRQ's workplace-based projects provide a more flexible learning schedule. 
Conclusion 
Both NEBOSH and NCRQ certificates have benefits and drawbacks, and none is inherently superior. The ideal choice for you depends on your career goals, preferred learning styles, and the resources you have available to you. Before deciding, performing extensive research, meeting with industry leaders, and evaluating your long-term goals is critical. Finally, obtaining NEBOSH or NCRQ certification would enhance your skills and chances as a competent health and safety specialist.