Creating a magical atmosphere in your backyard oasis begins with one crucial element: pool lighting. The right lighting can transform an ordinary pool into a mesmerizing spectacle, enhancing both its aesthetic appeal and functionality. Whether you're hosting a nighttime pool party or enjoying a serene swim under the stars, the importance of well-placed, beautiful lighting can't be overstated. In this post, we'll explore various aspects of pool lighting, from types and benefits to installation tips, ensuring you can make the most of your pool after the sun sets.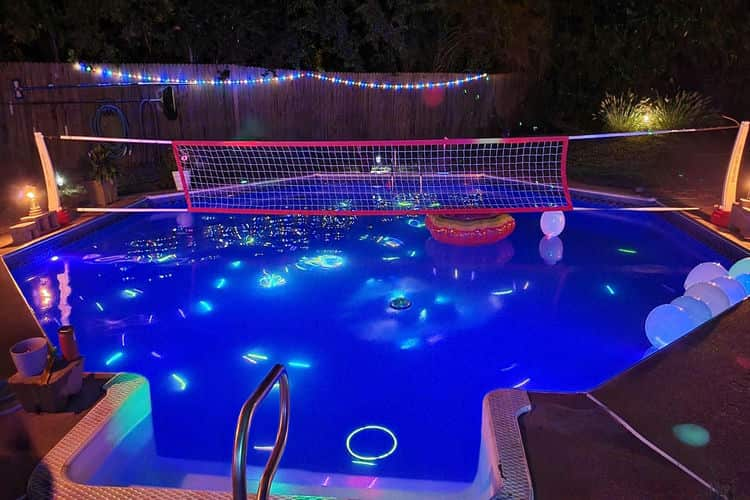 The Magic of Pool Lighting
Pool lighting serves multiple purposes. It's not just about making your pool look attractive; it's also about safety and functionality. Proper lighting can prevent accidents by illuminating the pool's edges, steps, and other critical areas. Additionally, it can extend the usability of your pool into the evening, providing a lovely ambiance for relaxation or entertainment.
Types of Pool Lights
When it comes to pool lighting, there are several options to choose from:
LED Lights: These are the most popular choice for modern pool lighting. LED lights are energy-efficient, long-lasting, and available in a variety of colors and brightness levels. They are ideal for creating a vibrant or serene atmosphere, depending on your mood or event.
Halogen Lights: Although less energy-efficient than LED lights, halogen lights are known for their crisp, white illumination. They're a great option if you're looking for straightforward, bright lighting.
Fiber Optic Lights: These lights offer a unique aesthetic. They are excellent for creating starry night effects or illuminating water features around the pool.
Benefits of Quality Pool Lighting
The benefits of installing quality pool lighting are numerous. Firstly, it enhances the beauty of your pool, especially at night, making it a focal point of your backyard. Secondly, it increases safety by illuminating potential hazards. Thirdly, it extends the usability of your pool, allowing you to enjoy nighttime swims or poolside gatherings. And finally, it can increase the value of your property, making it an investment worth considering.
Design Considerations
When designing your pool's lighting scheme, consider the following:
Color and Intensity: Decide what mood you want to set with your pool lighting. Soft, warm lights create a relaxing atmosphere, while brighter, multi-colored lights can make for a more energetic environment.
Placement: Strategic placement of lights can highlight architectural features of the pool or surrounding landscape. Consider lighting up pathways, water features, and pool edges for both aesthetic and safety purposes.
Controls: Modern pool lights often come with remote controls or can be integrated into smart home systems. This allows for easy adjustment of light intensity and color.
Installation and Maintenance
Proper installation and maintenance are crucial for the longevity and effectiveness of your pool lights. It's advisable to hire professionals for installation, especially if you are not familiar with electrical systems. In places like Sydney, finding a skilled pool tiler or lighting expert is essential for ensuring that your pool not only looks fantastic but is also safe and up to code.
Regular maintenance, such as cleaning the light covers and checking for water ingress, will ensure your lights continue to function beautifully for years to come.
Investing in quality pool lighting is a surefire way to enhance the beauty, safety, and functionality of your swimming pool. Whether you opt for the energy efficiency of LED lights, the crisp brightness of halogen, or the unique aesthetic of fiber optics, the right lighting can turn your pool into a magical, inviting space.
Remember, while DIY projects can be tempting, for tasks like pool lighting installation, it's often best to seek out professionals, such as a reputable pool, who can ensure that your dream pool not only shines bright but does so safely and efficiently. You can always hire a professional to tile your pool.
In the end, with the right lighting, your pool can become more than just a place to swim—it can be a stunning centerpiece, a source of endless entertainment, and a tranquil retreat, all at the flick of a switch.