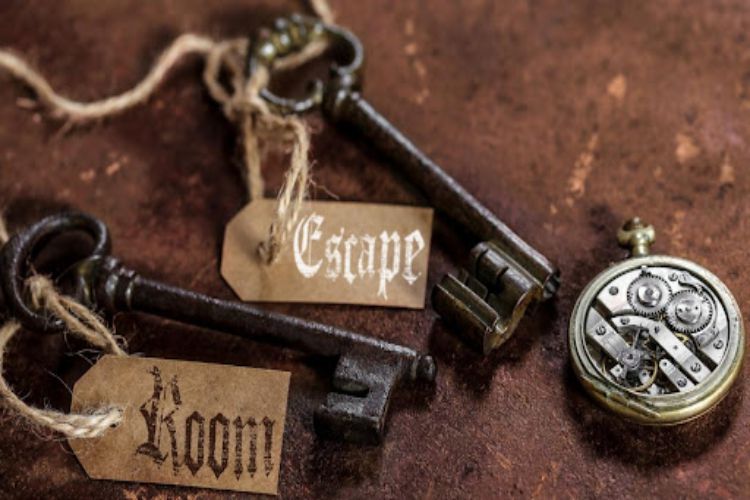 Escape rooms have taken the entertainment world by storm. They offer a thrilling and immersive experience for groups of friends, families, and even corporate teams.
In this blog, we're going to dive deep into the world of mystery rooms, dispelling myths, providing insights, and giving you the lowdown on whether these rooms are truly as challenging as they appear.
So, are escape rooms hard? If you want to know, buckle up, puzzle enthusiasts, as we unravel the mystery behind this.
Read on!
What to Expect in an Escape Room?
Imagine being transported into a world of intrigue, where you and your team become the protagonists of a thrilling narrative. That's the magic of mystery rooms.
These physical adventure games lock participants in a themed room and present them with a series of puzzles, riddles, and challenges that they must solve within a time limit to "escape" the room. Themes can range from historical mysteries and sci-fi adventures to horror scenarios. There's something to pique everyone's interest.
Intriguing, isn't it? But here's the catch: while these rooms demand critical thinking, teamwork, and creativity, you don't need to be a genius to crack the codes. You just need the right approach.
Who Are These For?
Escape rooms cater to a diverse audience. This makes them an excellent choice for various occasions. Whether you're celebrating a birthday, planning a unique date night, or looking for team-building activities, they offer an exciting and engaging way to spend time together.
If you're considering organizing a unique event experience, why not consider escape rooms for events? These specially curated experiences add an extra layer of excitement to your gatherings. It can make them memorable for all the right reasons.
Are Escape Rooms Hard?
Let's address the elephant in the room – the notion that mystery rooms are only for the brainiacs. The truth is, these rooms are designed to challenge your cognitive abilities, but they're not an IQ test.
The puzzles are crafted to test a wide range of skills, such as logic, lateral thinking, pattern recognition, and observation. So, while a high IQ might provide a slight advantage, it's not a prerequisite for success.
When faced with a challenging puzzle, mystery rooms offer various levels of assistance to keep you on track. Many room venues provide hints that can nudge you in the right direction without giving away the entire solution.
Remember, the goal is to have fun and enjoy the experience. If you find yourself stuck, don't hesitate to ask for escape room hints. It's all part of the adventure!
What Affects the Difficulty of a Room?
When it comes to escape rooms, no two experiences are exactly alike. Each room has its unique blend of challenges, puzzles, and storylines, which collectively contribute to the level of escape room difficulty.
Room Design and Puzzle Complexity
At the heart of every room lies its design – a meticulously crafted environment that sets the stage for your adventure. The room's theme, storyline, and ambiance all play a crucial role in immersing you in the experience. But it's the puzzles themselves that truly determine the difficulty.
Puzzle complexity ranges from the relatively simple to the truly intricate. Some rooms might feature straightforward puzzles that can be solved with a bit of observation and logic. These act as entry points for beginners, helping them get comfortable with the concept.
On the other end of the spectrum, you'll encounter rooms with mind-bending, multi-layered puzzles that require a combination of deduction, lateral thinking, and creative problem-solving. These challenges are designed to test the mettle of experienced enthusiasts.
Interconnectivity of Clues
The level of interconnectivity between clues is another aspect that influences room difficulty. In some rooms, clues might be scattered around with a relatively straightforward connection between them.
In contrast, more complex rooms may require you to piece together seemingly unrelated bits of information to unlock critical insights.
Time Pressure and Immersion
The countdown clock is a constant reminder of the ticking seconds. It can significantly impact the perceived difficulty of a room. Time pressure adds a layer of intensity that can make even simple puzzles feel more challenging.
The immersive nature of mystery rooms amplifies this effect. The more you become engrossed in the story and setting, the more invested you feel in solving the puzzles within the allotted time.
Rooms that are designed to create a sense of urgency through storytelling, like defusing a bomb or escaping from a sinking submarine, can heighten the challenge factor. The need to act quickly, coupled with the desire to unravel the mystery and achieve your objective, can push you to think faster and work more collaboratively with your team.
Strategies to Finish a Room
Rooms can seem very intimidating. But, with a bit of strategic knowledge and a game plan, you can be sure to beat them. While some of them may be more difficult than others, having a strategy can help ensure that you and your team succeed.
Communication Is Key
Mystery rooms thrive on effective communication. Encourage an open and constant exchange of ideas within your team. Discuss your observations, share theories, and listen actively to one another.
Sometimes, a seemingly insignificant detail mentioned by a team member can unlock a whole new perspective on a puzzle.
Divide and Conquer
With a time limit ticking away, it's essential to manage your resources efficiently. Divide the room into sections and assign different puzzles to team members based on their strengths.
This not only accelerates your progress but also ensures that everyone feels actively involved.
Stay Organized
As you uncover clues and solve puzzles, maintain order in your approach. Create a central area where you can arrange items and clues, making it easier to connect the dots and identify patterns.
A well-organized team is more likely to succeed in navigating the complexities of the room.
Explore the Best Escape Rooms Today
So, are escape rooms hard? The answer is both yes and no. Yes, they present challenges that require critical thinking and creativity. No, you don't need a sky-high IQ to enjoy and excel at them.
Next time you find yourself pondering whether to embark on a room adventure, remember this: the difficulty is part of the thrill, the challenges are meant to be conquered, and the memories you create will last a lifetime.
So, gather your team, put on your thinking caps, and embrace different worlds in different rooms!
If you think this article is helpful, check out our other blogs!