The latest research from Statista shows that there are over three million "vanlifers" in the United States. Every year, this number grows due to the simple fact that people love what van life has to offer — and who could blame them? After all, it's now incredibly easy to live in your van and travel anywhere around the world, which is ultimately what makes it so exciting.
Of course, you can't just live the van life without having the essentials. From van-related tools to smart gadgets, there are many different things that you can buy to improve the overall quality of your van life. If you're interested in this, then make sure to read ahead so that you can discover the top ten van life essentials that are easy to get your hands on.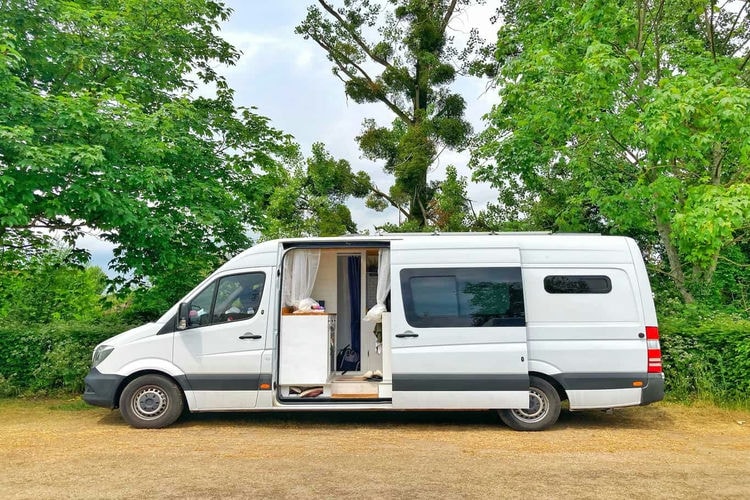 1.    Towbar
The number one item on your list of priorities should be a towbar. Like many other people living the van life, you might also have a trailer, caravan, or cycle carriers with you. If so, you'll need a high-quality towbar so that these things can be towed behind you. The best type of towbar on the market is the Ford Transit Custom towbar. It even comes with a safety lock feature so that you know when it is and isn't properly attached, which is great for overall safety.
2.    Portable Shower
Some people are lucky to have showers already built into their vans, campervans, or mobile homes. However, if this isn't the case for you, then it's highly recommended you buy a portable shower that you can take with you in your van wherever you go.
Portable showers are small, lightweight, and very affordable. Essentially, it's a no-brainer to buy one. Finally, you'll no longer have to use truck stops or RV parks to shower during the week. Instead, you'll be able to do it using your own portable shower.
3.    Interior LED Lights
Is your van in desperate need of some interior lighting? If the answer is yes, then you should order some interior LED lights that can be attached to the ceiling or side of your van's interior. Through the power of your smartphone, you'll then be able to change the color of the interior LED lights at any time when it starts to go dark outside. For example, if you're having a relaxing time at night with an ice-cold drink, you might want to turn the LED lights to a bright red or dark blue — you get the idea.
4.    Home Gym Equipment
Most people living the van life spend a lot of time driving and walking. However, despite high levels of activity, it's still a good idea to invest in some home gym equipment that you can keep in your van. This way, you won't have to join a gym (which is pretty much impossible to do when living the van life). Instead, you'll be able to pull up at any spot you like, grab your gym equipment, and work out.
Naturally, you won't be able to buy huge barbells if you're living in a small van. Having said this, though, there should still be plenty of room for regular weights, skipping ropes, push-up bars, and other helpful equipment that'll ensure you stay in excellent shape while you're out on the road.
5.    Comfortable Camping Chairs
Next, get yourself some comfortable camping chairs. Whether you're living the #SoloVanLife or traveling around with a partner, you'll need to have some comfortable camping chairs. You'll then be able to use these chairs when you pull up at different spots, such as popular campgrounds.
Remember, most camping chairs take up very little room and can easily be stored in the back of your van. Plus, they're also cheap, too, so there's no need to worry about breaking the bank.
6.    WiFi
In the modern world, it's incredibly difficult to live the van life without WiFi. Therefore, make sure to take a look at the different van life WiFi options that are currently available. You'll then be able to choose the network that works best for your budget and the parts of the country that you plan on traveling around.
If you're someone who works remotely from your van, then you're going to need WiFi anyway. Otherwise, you won't be able to complete important work, send emails, or communicate with your clients. This is why you should make getting the right WiFi a priority this year so that you can maximize your van life experience.
7.    Fire Extinguisher
It's always good to prepare for the worst possible scenarios — especially when you're living in a van. On rare occasions, accidents such as fires can happen. As a result, you need to be prepared, which is why having a fire extinguisher is essential.
For example, you might be out in the middle of nowhere with just you and your van when a fire suddenly starts. The fire department likely won't be able to reach you in time before significant damage has been done, but you can help prevent this from happening by using your fire extinguisher (providing that it's safe to do so).
Usually, most fire extinguishers go behind the passenger seat. However, if you have another vacant spot in your van that you want to use to store, you can.
8.    Cutlery
One of the best parts about van life is that you get to eat pretty much anywhere you like while pulled up in your van. The only catch is that you'll need to have your own cutlery, including knives, forks, and spoons. It's generally a good idea to buy high-quality cutlery (even if it's slightly expensive) because it lasts longer and is better for people who're living the long-term van life.
9.    Portable Chargers
In your van, you'll probably keep lots of different tech devices, from your smartphone to your laptop. Carrying portable chargers in your van means you'll never have to worry in emergencies where you can't charge your devices, as you'll simply be able to hook them up to your portable chargers instead.
10.   Hair Clippers
Lastly, there are hair clippers. Thousands of people living in their vans now use hair clippers to give themselves a haircut. This saves the hassle of having to travel to a barbers or hair salon that you're not familiar with. Plus, you also get to save a ton of money, which is a nice bonus.