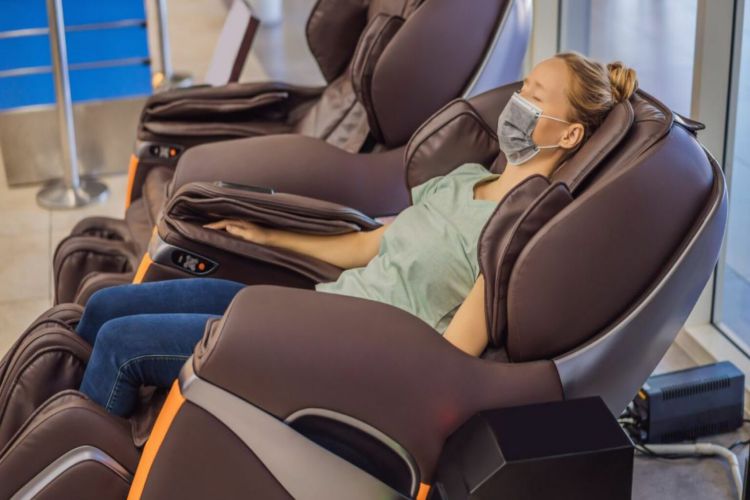 Ever felt that genuine relaxation is becoming a luxury?
While spa visits and short vacations often come to mind, they aren't always feasible options. However, there's an alternative that might surprise you. Enter the game-changer for relaxation at home: the massage chair. No longer just a niche luxury, these advanced seats now expertly replicate the techniques and benefits of a professional massage, ensuring you can unwind without even stepping out of your door.
The world of massage chairs is expanding rapidly, with every new model promising features more advanced than the last. They offer more than just a simple back rub; these chairs are now integrated with cutting-edge technology to ensure the user gets a comprehensive relaxation experience. 
Let's explore more to understand what sets these therapeutic recliners apart.
The Ultimate Comfort: Understanding the Relaxation Massage Chair
Elevating the standards of comfort and well-being, the relaxation massage chair has redefined our perception of at-home relaxation. Unlike its standard counterparts, the relaxation variant boasts distinct features designed for unparalleled comfort:
Mimicking Real Massage Techniques:

These chairs emulate the gentle, kneading actions of a masseuse and pair them with the rhythmic compression akin to a Shiatsu massage.

3D Rollers:

Equipped with these advanced rollers, the chair can imitate the depth and intricacy of a hands-on massage.

Airbag Technology:

Strategically positioned airbags inflate and deflate, mirroring the push and pull sensation of a traditional massage.

Additional Features:

With options like heat therapy and integrated speakers for calming tunes, the experience is akin to being at a serene spa, all while being at home.
Such intricacies and advancements ensure that users are not just sitting, but truly immersing in a relaxation journey.
Pinpoint Precision: The Best-Targeting Massage Chair
Tension and stress aren't uniformly distributed. Often, they concentrate on specific areas like the shoulders, neck, or lower back. The best-targeting massage chair is designed to tackle these localized tensions. 
Here's how they stand apart:
Body Scanning Technology:

These recliners come equipped with advanced sensors. These tools can map the contours and dimensions of the user's unique body structure, providing a foundation for a personalized message.

Identification of High-Stress Zones:

Leveraging sophisticated programming, they precisely pinpoint and focus on the areas bearing the brunt of daily stress.

Adaptive Techniques:

Depending on the identified stress zones, the chair adjusts its techniques–be it deep kneading for the lower back or gentle tapping for the shoulder blades.

User Feedback Systems:

Some high-end models even allow users to provide real-time feedback, ensuring the massage intensity and technique are always in sync with user preferences.
The aim? Delivering precise relief right where it's needed, every single time.
Sink into Comfort: Recliner Massage Chair Features
The recliner massage chair harmoniously blends luxury with therapeutic relief. Imagine your most cherished recliner, perfectly tailored to cradle every contour of your body. Now, picture that comfort enhanced with state-of-the-art features:
Holistic Massage Mechanics:

Integrating rollers, airbags, and heat pads, these chairs work cohesively to dissolve fatigue and tension.

Extended Leg Rests:

No part is left untouched. The extended leg rests ensure that your calves and feet receive their share of relaxation.

Specialized Armrests:

Some premium models come with armrest slots equipped with airbags. These provide gentle compressions, mirroring the sensation of skilled hands working on your forearms and palms.

Adaptive Intensity Settings:

Personalize your massage experience with adjustable intensity settings, catering to your unique pressure preferences, from gentle to invigorating.
Such comprehensive features ensure every moment spent in the recliner massage chair is a journey toward unparalleled relaxation.
Experience Weightlessness: Zero-Gravity Massage Chair
The zero-gravity massage chair represents more than just relaxation; it's a gateway to the future of wellness. This innovative recliner borrows concepts from space science where astronauts experience weightlessness, adapting them ingeniously for a ground-breaking relaxation experience. 
Here are some standout features:
Floating Sensation:

As the chair glides into its zero-gravity posture, it's not just about a recline. Users often share they feel a profound sensation of lightness as if they're hovering, encapsulated in a gentle embrace of weightlessness.

Optimal Health Benefits:

This isn't just about luxury; it's about well-being. The strategic recline works wonders in minimizing the gravitational pressures on the heart and spine. This position, favored by astronauts in space to distribute forces during take-off, encourages a free flow of blood, optimizing oxygen and nutrient delivery to vital organs and muscles.

Enhanced Massage Effectiveness:

With reduced gravitational interference, massage mechanics can work more intimately. This promotes a deep, thorough muscle penetration, ensuring every knot and stress point is addressed, enhancing the therapeutic effects.

Distributed Body Support:

Ever felt a strain on your lower back during a massage? The zero-gravity stance alleviates this by ensuring that the body's weight is spread out evenly, paving the way for a sublime, pressure-free relaxation journey.
For those seeking more than a massage, and desiring a holistic, health-enhancing relaxation encounter, the zero-gravity relaxation loungers promise an experience that's literally out of this world. 
Choosing the Ultimate Throne: How to Pick the Best Massage Chair
Navigating the vast realm of massage chairs can be overwhelming. However, selecting the best massage chair aligned with your personal needs just involves some introspection and clarity:
Massage Preferences:

Identify the kind of massage you lean towards – be it Swedish, Shiatsu, deep tissue, or reflexology.

Scope of Massage:

Decide if you're in favor of full-body therapy or targeted muscle relief.

Advanced Features:

Determine the value of extra functionalities like Bluetooth for syncing your relaxation playlist or chromotherapy lighting for mood enhancement.

Budget and Space:

While often the starting point, it's essential to factor in how much you're willing to spend and the space you have.
Conclusion
From recliners to avant-garde zero-gravity models, modern massage chairs have moved beyond offering just basic comfort. These marvels of design and technology have evolved into holistic wellness hubs, blending therapeutic benefits with unparalleled relaxation. The right choice can redefine the way we perceive and experience leisure at home. 
In an era where moments of genuine calm are coveted, such an investment beckons as a sanctuary amidst the chaos. Indeed, it appears that the pinnacle of relaxation finds its home in the embrace of a massage chair.