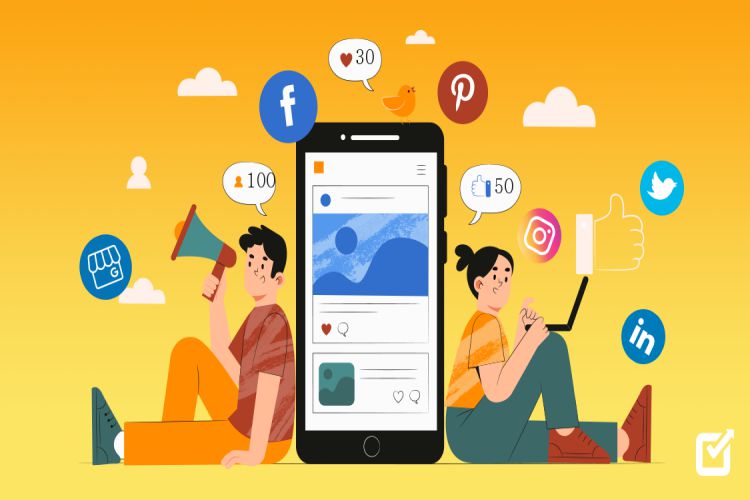 Modern Businesses, ranging from sizable corporations to fledgling startups, acknowledge the vital significance of social media in their marketing approaches. They leverage platforms like Facebook, Instagram, Twitter, and LinkedIn to forge connections with their target demographic, promote their offerings, and foster brand awareness. To guarantee the success of these initiatives, it is crucial to assess and analyze the outcomes of their social media campaigns. This is where Key Performance Indicators (KPIs) emerge as essential tools.
Social Media KPIs & Metrics
KPIs, also known as Key Performance Indicators, serve as the yardsticks by which businesses evaluate the triumph of their social media marketing endeavors. These indicators offer insights into the effectiveness of various facets of a social media strategy. While monitoring a range of metrics is crucial, KPIs enable businesses to zero in on the pivotal elements driving their social media goals and corporate objectives.
Establishing Effective Social Media KPIs
Before delving into specific KPIs, it is crucial to comprehend how to establish the appropriate social media KPIs that are in alignment with your business aspirations. Here are some suggestions to initiate this process:
1. Define Your Social Media Objectives
Your social media goals should harmonize with the overarching objectives of your company. For instance, if your company's aim is to boost brand recognition, your social media objectives may center around extending your reach and enhancing visibility. Conversely, if your primary focus is lead generation and sales, your KPIs should concentrate on conversions and revenue."
2. Consider Your Company's Growth Stage
The stage of growth your company is in will influence your social media KPIs. Startups, for instance, often focus on building a community and market validation. Therefore, KPIs related to reach, engagement, and customer feedback are essential. Established businesses may emphasize conversions and the cost associated with acquiring customers through social media.
3. Focus on a Few Key KPIs
While you may monitor various social media metrics, your KPIs should directly correlate with your business's bottom line. Select a few KPIs that provide critical insights into your social media performance. For example, if your business goal is to drive sales through social media, focus on metrics like sales per platform, total revenue, or cost per acquisition.
Now, let's delve into the top social media KPIs for different categories of social media goals:
1. Social Media KPIs for Reach
Measuring the reach of your social media content is crucial to understanding the extent to which your messages and campaigns are reaching your target audience. It encompasses both the actual number of people who come across your social media accounts and posts, as well as the potential number of people your content can access.
a. Follower Count
Follower count is one of the fundamental KPIs to track. It tells you how many accounts are following your brand on social media platforms. Each platform has its version of followers or fans. These numbers can be found on your profile page or within your social media management tool.
b. Impressions
Impressions represent the total number of times a post or profile has been viewed. It does not distinguish between unique accounts but accounts for the total views. For example, if one account sees the same post four times, it counts as four impressions. Different social networks have their variations of impressions.
c. Post Reach
Post reach is a more specific metric within the category of reach KPIs. It indicates the number of unique accounts that saw a specific post. This metric focuses on the number of unique accounts, ensuring that one account seeing the same post multiple times counts as one reach.
2. Social Media KPIs for Engagement
Engagement is a key aspect of social media success. It signifies how actively your audience is interacting with your content. High engagement levels indicate that your content is resonating with your audience. Here are some vital engagement KPIs:
a. Clicks
Clicks measure the interactions with your content. They can include link clicks, expanding captions, or tapping on posts to view more content. The number of clicks is indicative of the quality of your content and its ability to capture the audience's interest.
b. Likes
Likes or favorites indicate that the audience appreciates your content enough to interact with it. While some platforms have started hiding like counts from the public view, these numbers are still available in your analytics.
c. Shares
Shares represent the number of times your post has been shared or re-posted by your audience. It implies that your content was compelling enough for users to recommend it to others.
3. Social Media KPIs for Conversions
Conversions are the next step in the marketing funnel. They represent the transformation of social media interactions into customers or leads. Key KPIs for measuring conversions include:
a. Sales Revenue
Sales revenue indicates the revenue generated through social media sales or promotions. You can track this by analyzing data from Google Analytics or e-commerce platforms integrated with social media.
b. Lead Conversion Rate
The lead conversion rate measures how effectively your social media strategy generates leads. It's essential to recognize that lead generation on social media is a valuable long-term strategy. Tracking leads through Google Analytics or other tracking tools is vital for assessing performance.
c. Non-Revenue Conversions
Non-revenue conversions are actions that users take beyond purchasing a product or service. These include actions like email newsletter sign-ups, downloading whitepapers, or completing sign-up forms. Your business defines what constitutes a non-revenue conversion.
Automation Strategies for Efficient Social Media Marketing
As the volume of social media activity increases several social media automation steps can help businesses streamline processes and make data collection more efficient. Here are some strategies to automate your social media marketing:
1. Content Scheduling
Social media management tools like Buffer, Hootsuite, and Sprout Social allow you to schedule posts in advance. This automation simplifies content management and ensures that your posts are published at optimal times.
2. Social Media Analytics Tools
Leverage analytics tools that integrate with your social media accounts. They provide comprehensive reports and insights, helping you assess performance efficiently.
3. Chatbots
Use chatbots for customer service and engagement. They can handle routine customer inquiries and offer support around the clock.
4. Social Media Monitoring Tools
Social media monitoring tools like Spinklr allow you to track brand mentions and industry trends. This data is valuable for staying up-to-date and engaging with real-time information.
5. Automation Rules
Some social media platforms offer automation rules that allow you to automatically engage with users who mention your brand or use specific keywords. These rules can help in immediate response and customer engagement.
6. Audience Segmentation
Automate the process of segmenting your audience based on behavior, interests, or demographic data. This can help in delivering more targeted content.
Conclusion
In the dynamic world of social media, understanding the right KPIs and implementing effective automation strategies are essential for success. It's not just about being present on these platforms but leveraging them strategically to achieve your business objectives. Carefully set KPIs, closely monitored, and efficiently managed, can lead to more substantial returns on your social media marketing investments. The constantly evolving social media landscape means businesses must adapt, but with the right tools and strategies, you can navigate these digital waters successfully.