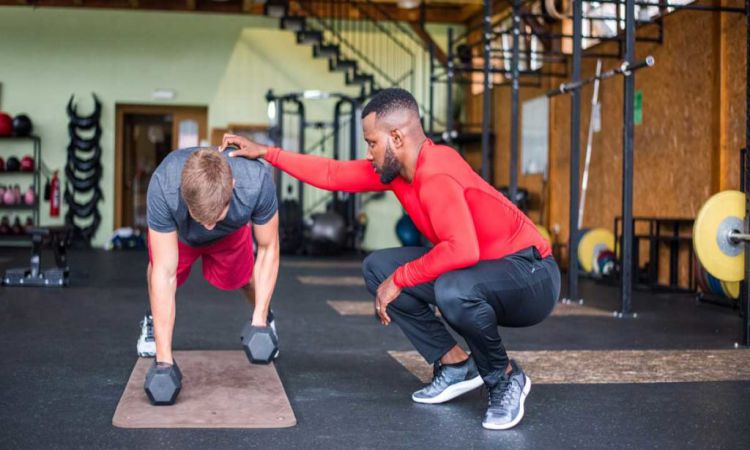 Working as a conditioning and strength coach can be incredibly rewarding. These professionals help people reach their personal, exercise, and athletic goals and live better, healthier lives. However, all coaches have a responsibility to the clients they serve. They owe it to those clients to stay up to date on the latest techniques and to use safe, proven coaching and training methods. Fortunately, as a coach, there's a lot you can do to improve the quality of your work and better serve your clients.
Think Of Yourself As A Role Model
Coaching is far more than just a job. When you work as a strength and conditioning coach, you also become a role model, and it's imperative that you think of yourself that way. Work hard to set a good example for clients by living a healthy, active lifestyle. Demonstrate a positive attitude, confidence, and other attributes that will be beneficial in helping a client achieve their goals. Leading by example can have a positive impact on the coach's life, clients' lives, and the overall effectiveness of the coaching sessions.
Use A Variety Of Methods And Techniques
Over time, many coaches will start to develop strong preferences. They'll have conditioning methods and strength training exercises that they prefer over others. This behavior is normal and completely natural.
However, coaches should avoid getting into a "rut" or only using the same types of exercises over and over again. That's because the best types of training programs are versatile and diverse. Consistently educate yourself on new forms of exercise. Also, treat each client as an individual and honestly assess their unique objectives when deciding on the best exercise regimen.
Work Hard To Keep Clients Safe And Injury-Free
Coaches work hard to push their clients and help them achieve things they never thought possible. But, the best coaches focus not just on progress, but on safe progress. They take steps to keep their clients free from injury. Things like not moving too fast, insisting on thorough stretching and warm-ups,  demonstrating proper form, and offering constructive criticism and advice are hallmarks of a truly good coach.
Treat Each Client As An Individual
Coaches must remember that every client is their own person. Each athlete will have their own preferences, skills, and areas where they need improvement. Instead of developing a training program and using it with all clients, coaches must cater their instruction to each individual.
The best way to do that is by getting to know every client on a personal level. Spend time talking to them about their future goals, their fears, their insecurities, and their past coaching experiences. Then, use that information to create a targeted coaching plan that's as unique as the person you're working with.
Practice Positive Self-Care Habits
Effective coaches give their time and energy to those they serve. However, they also have to take care of themselves. When coaches aren't eating properly or eating enough, aren't getting adequate sleep, and are generally run down or burnt out, they can't be as effective as they might like. Thus, practice positive self-care habits and make time to do things that keep you healthy and happy. In the end, it will benefit both the coach and the client.
There are few things more noble than empowering others to be their best selves. Strive to be the kind of coach that changes lives for the better. When you do that, it's impossible not to be successful.