In the United States, 30% of households have at least one plant inside their house. It's true; plant people can't pass up a chance at adopting" a plant at the "plant shelter."
Indoor gardening can be a rewarding hobby, but only when you buy the correct type of plants for your home. After all, each plant requires specific conditions that should be met for optimal growth.
You must also consider where your new plant will live when you bring it home. When you understand more about purchasing indoor plants, you can buy healthy plants that thrive inside your house.
So, if you want to start a new hobby, add some greenery to your home, or just keep the plant you already have alive, keep reading. Here's a complete guide to buying houseplants and indoor plants care.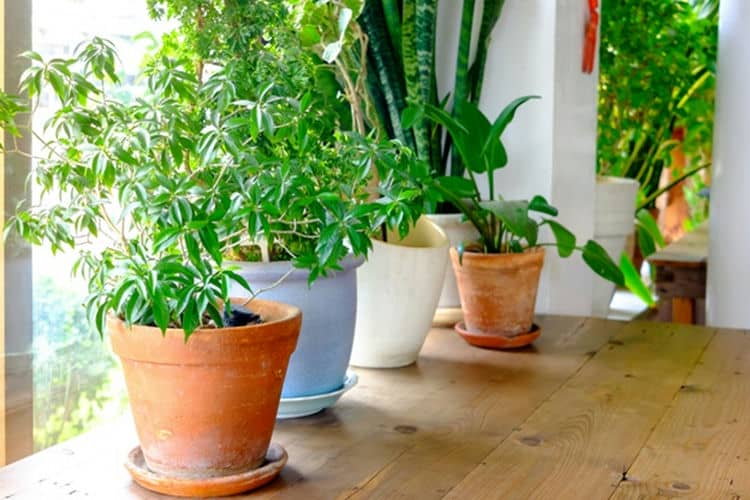 Types of Indoor Plants
The first thing to learn when purchasing indoor plants is which plants are available for you to buy and care for. There are plants for every type of plant parent, whether you're an absolute beginner or more of an intermediate. Here are five common houseplants that you can consider at any indoor gardening skill level.
Peace Lily
The Peace Lily, or Spathiphyllum, is an ideal indoor plant for the absolute beginner. They're undemanding, and the best part about them is they tell you when they need to be watered because their leaves droop dramatically. Don't worry; they perk right back up after quenching their thirst.
Between waterings, you can safely forget about them, and they'll survive. Place this plant in an area with low to medium indirect light for best results.
Indoor Plant Tip: Peace Lillies are toxic to cats, so avoid this indoor plant if you have feline furbabies at home
Spider Plant
Another common houseplant is called a spider plant, Chlorophytum comosum, or hen and chicken plant. These plants enjoy being crowded in their pots, so when you're potting up your spider plants, squeeze two or three plants in together and watch them flourish.
Keep these plants in a room with bright, indirect light. Additionally, these plants will grow baby plants from their shoots, which you can snip off and replant for new plants.
Indoor Plant Tip: There are different varieties, so buy a few different ones to get a nice variegated potplant
ZZ Plant
The ZZ plant, or Zamioculcas zamiifolia, is one of the easiest houseplants to care for. If you forget to water your plants, you must buy yourself a ZZ plant.
Water these guys only when the top inch of soil is dry (test by digging your finger into the soil until it reaches your second finger knuckle). Water it if it is; otherwise, leave it be.
Indoor Plant Tip: ZZ plants can grow in low lighting but will grow much slower than if they were in a brighter area
Philodendron
There are several types of philodendrons you can buy. One of the more common ones is the heartleaf philodendron, named for the shape of its leaves. This plant is ideal for hanging baskets and will grow in most lighting conditions.
Water them when they look limp or when the top inch of the soil is dry. You can easily propagate this plant, making it one of the best value-for-money plants you can buy.
Fiddle-Leaf Fig
If you're into a plant with a challenge, you may be the ideal owner of a Fiddle-leaf fig (Ficus lyrata) plant. These tropical plants can grow very tall (40 – 50 feet) and require lots of bright, indirect light.
These plants are tricky to water, and overwatering is a common mistake plant owners make with a Fiddle-leaf. Water this plant when the top inch or two of the soil is dry.
Factors to Consider When Purchasing Indoor Plants
Now that you know some common houseplants you can buy, let's consider what factors you should consider before purchasing indoor plants. Here are the most essential:
What Are The Lighting Conditions?
Placing your plant in an area that gets a good amount of light is vital if you want it to grow big and healthy. Consider where you want to place the plant and how much light it will receive. Buy a plant that is suited to the indoor plant lighting you have available.
What's The Indoor Humidity?
Another factor to consider when purchasing indoor plants is how much humidity does your house have? Some plants enjoy a more humid environment, so knowing this factor before shopping can help you choose the right plant.
How Much Time Do You Have?
If you only have a little time to care for your houseplants, it's essential to know this before you invest a lot of money into this hobby. If you have limited time, consider plants like the ZZ plant or Peace Lily that you can water infrequently or will let you know when they need watering.
Do You Have Pets?
As mentioned, some houseplants are toxic to animals and should be avoided if you have pets or small children. This is especially essential if your cats enjoy chewing on plant leaves. Instead, opt for purchasing safe indoor plants for all house inhabitants.
How Much Space Do You Have?
Our final factor to consider is the amount of space you have to dedicate to your houseplants, aka your indoor plant placement. If you live in a small apartment, buying a Fiddle-leaf fig or Delicious Monster can get tricky when they get massive. Buy plants that are appropriate for the space you can give them.
Indoor Houseplants: The Perfect Hobby
Purchasing indoor plants can be extremely rewarding when you choose plants well suited to the environment you can provide them. If you have lots of indirect light and space, consider getting creative by buying plants of different sizes.
If you're strapped for space and time, choose a small plant that requires little care, like a cactus. Know where you will put them, what light and care they need, and how big they'll get before spending your hard-earned money.
We hope this article has been informative and entertaining. Find more in our Homes & Gardens, Family, Food & Drink, and Culture categories.