Snorkeling with sea turtles is a bucket-list experience for many ocean enthusiasts. These gentle and majestic creatures captivate us with their grace, beauty, and fascinating behavior. However, it's crucial to ensure that our interactions with sea turtles are respectful and responsible, minimizing the impact on their environment and well-being. In this guide, we'll discuss the dos and don'ts of snorkeling with sea turtles, along with essential tips for a memorable and eco-friendly experience.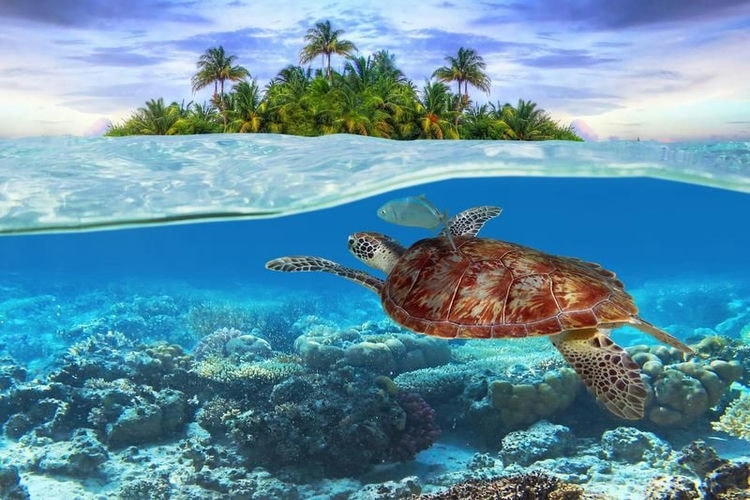 Ensuring a Responsible and Memorable Snorkeling Experience with Sea Turtles
Embarking on a snorkeling adventure with sea turtles is an incredible opportunity to connect with the natural world and witness the beauty of marine life. As you prepare to immerse yourself in this captivating underwater environment, it's essential to consider the impact of your presence on these vulnerable animals and their habitat. With a focus on responsible and ethical practices, you can enjoy this once-in-a-lifetime experience while ensuring the well-being of sea turtles for future generations.
Do's of Snorkeling with Sea Turtles
Keep a safe distance
While it's natural to want to get close to these amazing animals, it's essential to maintain a safe distance of at least 6 feet (2 meters) from the turtles. This precaution minimizes stress for the turtle and avoids disrupting its natural behavior. By keeping your distance, you'll also protect yourself from potential injuries, as sea turtles can be surprisingly fast swimmers and may accidentally harm you if they feel threatened.
Use eco-friendly gear
When snorkeling with turtles, make sure you're using eco-friendly and reef-safe gear. This includes biodegradable sunscreen, which won't harm the coral reefs or marine life. Avoid using sunscreens that contain harmful chemicals such as oxybenzone and octinoxate, which have been linked to coral bleaching and can damage the turtles' habitat. Additionally, consider investing in environmentally friendly snorkeling equipment made from sustainable materials.
Research and follow local regulations
Before embarking on your snorkeling adventure, familiarize yourself with the rules and guidelines established in your snorkeling destination. Many areas have specific regulations in place to protect sea turtles and their habitat. These may include designated snorkeling zones, time restrictions, or guidelines for interacting with the turtles. Adhering to these rules not only ensures a more responsible encounter but also helps support local conservation efforts.
Don'ts of Snorkeling with Sea Turtles
Chase or touch the turtles.
No matter how close you may get to a sea turtle, resist the urge to touch or chase it. Stress from being touched can make turtles more prone to becoming hurt or unwell. Chasing turtles can unnecessarily wear them out and interfere with their normal behavior. Always keep in mind that you are a visitor in their world, and that you must respect their personal space.
Feed the turtles
Feeding sea turtles is a definite no-no. Doing so disrupts their natural diet and can lead to health issues. Additionally, feeding turtles encourages dependency on humans, which can be dangerous for the turtles and lead to aggressive behavior towards people.
Take pictures using flash
Avert using flash when capturing pictures of sea turtles. The turtles' behavior can be disrupted and stressed out by the bright light, which can frighten and hurt them. If you must take pictures, use a camera without a flash and a red filter, or think about buying an underwater camera made exclusively for photographing marine life.
Choosing a Reputable Turtle Snorkeling Tour Operator
Selecting the right tour operator for your sea turtle snorkeling adventure is crucial in ensuring a responsible and enjoyable experience. A reputable operator will prioritize the well-being of the turtles and their habitat while providing you with an unforgettable encounter. Here are some tips to help you choose a good turtle snorkeling tour operator:
Look for operators with a conservation focus
A responsible tour operator will emphasize the importance of conservation and ethical practices when interacting with sea turtles. They should be actively involved in or support local conservation initiatives and promote eco-friendly snorkeling practices.
Check for certifications and affiliation
Reputable tour operators may have certifications or affiliations with recognized conservation organizations, such as PADI's Green Star Award, the Marine Stewardship Council, or the Sea Turtle Conservancy. These certifications indicate that the operator adheres to environmentally responsible practices and supports sea turtle conservation efforts.
Read reviews and seek recommendations
Online reviews and personal recommendations from friends or family members can provide valuable insights into the quality and responsibility of a tour operator. Look for operators with consistently positive feedback, particularly regarding their commitment to sea turtle conservation and ethical snorkeling practices.
Inquire about their guides
A knowledgeable guide can make a significant difference in the quality of your snorkeling experience. Good tour operators employ well-trained guides who are familiar with sea turtle behavior and local regulations, ensuring that your encounter is both educational and eco-friendly.
Consider group size
Smaller group tours often provide a more personalized experience and minimize the impact on sea turtles and their environment. Look for tour operators that limit the number of participants per trip, which can result in less stress on the turtles and a more enjoyable experience for you.
By carefully selecting a reputable turtle snorkeling tour operator, you can be confident that your adventure will be both memorable and responsible, allowing you to fully appreciate the beauty and wonder of these magnificent creatures.
Summing Up
Snorkeling with sea turtles is an unforgettable experience that offers a unique opportunity to witness these magnificent creatures in their natural habitat. As ocean enthusiasts and responsible snorkelers, it's our duty to ensure that our interactions with sea turtles prioritize their well-being, safety, and the preservation of their environment. By following the dos and don'ts outlined in this guide, along with choosing a reputable tour operator and practicing ethical snorkeling habits, you'll create a memorable and responsible encounter that respects both the turtles and their ecosystem.
In addition to enjoying the beauty and wonder of sea turtles, remember that your actions can inspire others to be more conscious of their impact on marine life. By sharing your responsible snorkeling practices on social media, discussing your experiences with friends and family, and supporting sea turtle conservation efforts, you can help raise awareness about the importance of protecting these vulnerable animals and their habitat.