Military ribbons are integral to military uniforms as a symbol of honor and achievement for servicemen and women.
From thin ribbons to thick, elaborate ones, these strips of fabric represent an individual's accomplishments, service, and bravery in a particular conflict or mission. Let's learn about ribbons and why they matter in the past, present, and future.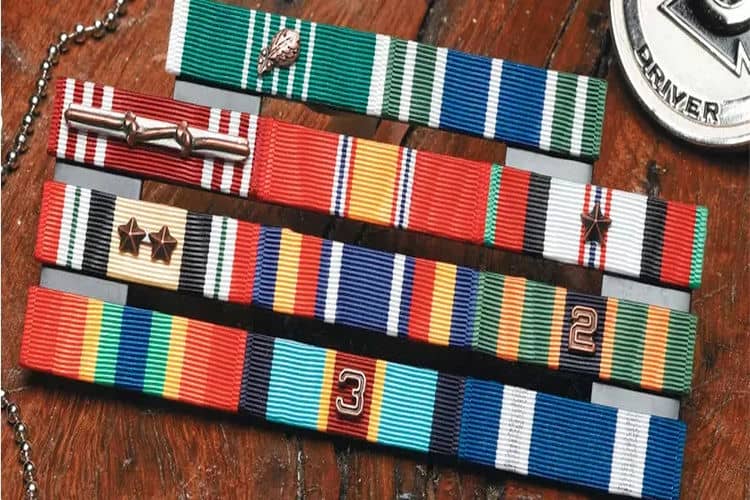 When and Where Did Military Ribbons Originate?
Using military ribbons dates back to ancient Rome, where leaders rewarded soldiers with various military decorations and honors.
In medieval times, knights were given coats of arms and emblems to symbolize their loyalty and service to their king or queen. However, military ribbons as we know them today were not widely used until the 19th century.
The first modern military ribbons were issued during the Crimean War in 1854. The British Army issued the first campaign medal, which featured a blue ribbon with a crimson center stripe, to soldiers who served in the conflict.
Soldiers wore the ribbon on the left breast of the uniform, and it was an immediate success. It was later replaced by the Queen's South Africa Medal, which featured a blue ribbon with two orange stripes.
During World War I, the United States Army issued the first American campaign medal, featuring a bronze star on a ribbon with vertical red, white, and blue stripes. The star represented the Army's campaign service, and the stripes represented the Army's national colors.
How Are Ribbons Used in Military Dress and Order?
Military ribbons have since become an essential part of military dress uniforms in all branches of the United States military. Each ribbon has a specific design and color scheme representing the individual's achievements.
The significance of military ribbons goes beyond the individual's service and achievements. They also represent the sacrifices and service of those who came before and those who will come after.
Military ribbons are passed down from generation to generation and serve as a way to honor and remember the sacrifices of those who have served.
Famous Military Ribbons in the U.S.
One of the most significant military ribbons is the Purple Heart, awarded to members of the United States military who have been wounded or killed in action.
The Purple Heart dates back to the American Revolution when it was known as the Badge of Military Merit. General George Washington established the badge in 1782 to recognize soldiers who had shown bravery in battle.
The badge was revived in 1932 as the Purple Heart and is now one of the most recognized military awards in the world.
Other Notable Military Ribbons
Some of the most common military ribbons include the National Defense Service Medal, the Vietnam Service Medal, and the Iraq Campaign Medal. These ribbons represent the individual's service and sacrifice and serve as a way to recognize and honor their contributions to their country.
Military ribbons also help us remember and honor those who have given their lives in service to their country. The Gold Star lapel pin is awarded to the families of United States military servicepeople who died in combat or as a result of their service.
What Are the Differences Between Ribbons, Medals, and Badges?
Ribbons, medals, and badges are military awards that differ in form and function.
Military ribbons are small pieces of fabric worn on a uniform to represent an individual's achievements and service. They typically feature a specific design and color scheme representing the individual's accomplishments, such as service in a particular conflict or completion of a training program. Ribbons are often awarded with a medal or badge and worn on the same uniform.
On the other hand, medals are metal objects that are often larger and more elaborate than thin ribbons. They are typically awarded for specific achievements, such as acts of bravery or meritorious service.
Badges are similar to medals in that they are metal objects worn on a uniform, but they are usually smaller and less elaborate. Badges are often awarded for completing a specific training course or achieving a certain level of proficiency in a particular skill, such as marksmanship or parachuting. Recipients may pair them with thin ribbons or other materials or worn independently.
Know the Ins and Outs of Military Ribbons
There's much to learn about military ribbons, among other symbols and accolades. If you enjoy military history or just want to honor veterans and active service members, you can always boost your knowledge and appreciation of the subject.