Trends come and go, but a few stand out year after year. Some even reach iconic status.
This year, a return to tradition is making a big impact. Look for styles that include peg legs on chairs and cabinets, woven rattan furniture, rustic fabrics, and fringed trims.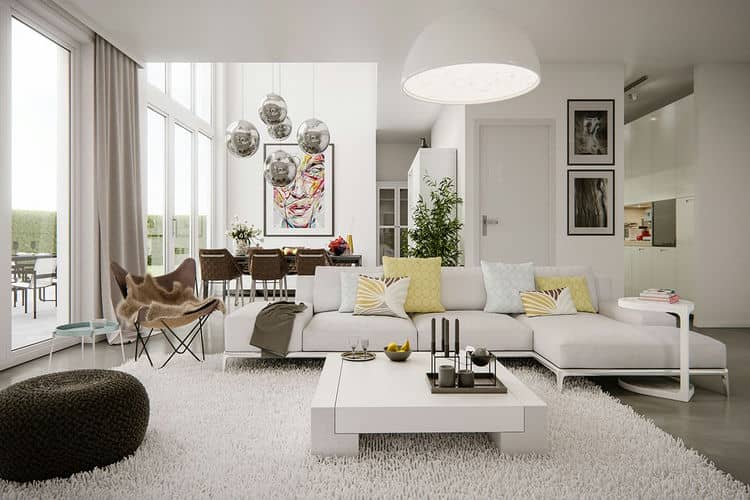 Curved lines are another design staple that's on the rise. Try a camel-back sofa where the back cushion arches into one or two humps to elevate living rooms with organic intrigue.
Mid-Century Modern
Taking cues from the natural world, mid-century modern decor ideas embrace fluid and organic shapes that are aesthetically pleasing yet still functional. Whether you prefer a neutral color palette or something more glam, this lounge seating trend offers eye-catching features like splayed furniture legs and wooden accents.
With a nod to the popular style from the 50s and 60s, these chairs work well in almost any room. Place a pair in front of the fireplace to create a cozy reading nook, or use them in the living room as versatile accent chairs.
While clean, slim lines are still a major design trend; we're seeing more curves and organic silhouettes creeping into the mix this year. Tactile upholstery is also a big trend. Think boucle, velvet and suede—these soft fabrics feel good and add a luxe look to any lounge chair.
Maximalism
After a decade of minimalist living room trends featuring chalk-colored walls and sparsely arranged books, it's time to embrace the fullest possible style. Maximalism is the polar opposite of minimalism, with more color and bold patterns taking center stage.
Maximalism goes hand-in-hand with the relaxed bohemian and eclectic design styles, encouraging breaking style rules and displaying one-of-a-kind items you love. Consider your favorite artwork, records, unique glass bottles, license plates, figurines or plushies, and other collectibles. Showcase your flair with these pieces by displaying them proudly on your shelves, incorporated into wall art, or as part of your furniture design.
When it comes to color, contrasting shades are a staple of maximalism. Try blending black and white to create a striking palette, or experiment with dark greens, deep reds, and bold blacks. You can also bring details like detailed patterns and textured materials to add depth to your space. One trick to keeping a maximalist space from feeling too chaotic is to select a limited number of colors for your walls and then fill in the rest with accents, accessories, and another decor.
Curved Lines
Curved lines, which are synonymous with nature, may create ease and a natural flow in your house, instantly elevating spaces with their organic silhouettes. This trend may have debuted in 1948, but it has gained momentum thanks to new design innovations and a renewed fascination with circular shapes.
Rounded forms and curved lines have a comforting appeal that stems from Oubrain's inherent connection to these shapes. On the other hand, sharp angles and pointy details evoke fear and anxiety—making them less ideal for furniture pieces to be lounged on.
Fortunately, 'it s's easy to incorporate curves in your home. The rounded lines in your sofa can be complemented by curved furniture pieces such as accent chairs, ottomans and coffee tables. In the example above, a textured rattan chair and mushroom side table offset a smooth upholstered sofa to keep the space balanced. You can also incorporate the curved trend into your architectural layout by framing your entryway with an arched doorway.
Natural Materials
Whether due to the pandemic or simply the desire to focus on warmth and comfort, we're seeing more people choose to live with classic furniture styles and details. This includes a return to darker wood, floral and print fabrics (something that seemed like it went out with last's Coastal Grandma trend), skirted sinks, bucolic artwork, and more ornate trims.
As a complement to this trend, unique accent chairs with organic shapes and textures are rising. Whether a velvet channel tufted piece or an elegant long-slug couch, these seating options add personality and create a fun seating moment in your space.
Colorful furniture is a fun way to express yourself and add vibrancy to your living space. This style can be achieved through a painted finish, boldly patterned upholstery, or even bright throw pillows and accessories. Remember that dark colors may need more natural shades to balance them out, while delicate pieces are often more versatile and easy to mix and match.
Romantic Materials
Unique accent chairs can be a great way to add seating and personality to your living room. They can be bold in color or luxe in texture. If you need more time to commit to an entire chair, start small with a throw, pillow or rug. You can also look for funky art at thrift stores or antique fairs that can be re-framed or painted matte black and added to your space.
This is especially true if paired with a gold drinks trolley and modern artwork. Try adding a velvet channel tufted bench as a focal point to your lounge seating area to create an inviting moment.