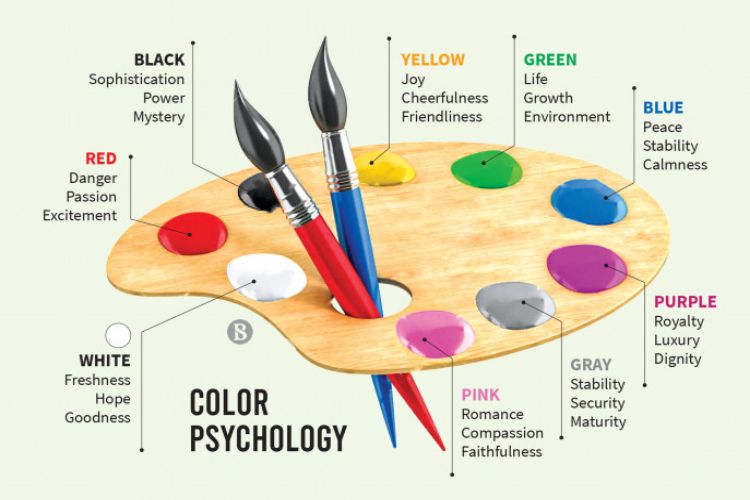 Colours profoundly impact our emotions, perceptions, and the overall ambience of a space. Understanding how colour selection can influence mood, alter perceptions, and create the desired style is essential for interior designers. This article will explore the transformative power of colour and its implications for design. By delving into the psychology of colour, individuals undertaking an interior design course can gain insights into its profound influence and make informed choices when selecting colours for their projects. Whether you're considering a home renovation, office redesign, or exploring the world of interior design professionally, understanding the power of colour is crucial. The right choice of colours can elevate a space from ordinary to extraordinary and evoke the desired emotional response.
Colour and Mood:
Colours directly impact our emotions and can trigger specific psychological responses. Colours have the power to evoke emotions within people. Warm hues like red, orange, and yellow can spark excitement, passion, and warmth. Amazingly, something as simple as a colour can impact your mood and energy levels. Cool colours like blue, green, and purple are calming, instilling a sense of tranquillity, relaxation, and serenity. Neutrals such as white, grey, and beige evoke a sense of balance, simplicity, and timelessness. By understanding the emotional associations of different colours, designers can intentionally create moods and atmospheres that align with the space's intended purpose.
Perception and Color For Manipulating Space and Light
Colours can also influence our perception of space and light within a room. Light colours, such as white or pastels, make a space appear larger, more open, and airy as they reflect light and create a sense of brightness. Dark colours, like deep blues or rich browns, can make a space feel smaller, more intimate, and cosy as they absorb light and create a sense of depth. Skilful use of colour can manipulate the perceived dimensions of a room, making it feel more spacious or intimate. By strategically incorporating lighter or darker hues in specific areas, designers can create visual illusions that enhance a space's overall aesthetic and functionality.
Creating Style with Color & Setting the Tone
Colours play a significant role in establishing a space's style and visual identity. Different colour palettes can evoke specific design styles and themes. For instance, a monochromatic colour scheme with shades of grey and white can create a sleek and modern look, while a vibrant palette of primary colours can evoke a playful and eclectic style. By selecting colours that align with the desired style, designers can create cohesive and visually pleasing environments that reflect the personality and purpose of the space. Combining colours, textures, and patterns can elevate the overall aesthetic and create a unique design statement.
Harmonizing Colors To Create Visual Balance
Harmonious colour schemes are vital for creating visually pleasing and well-balanced spaces. Colour harmonies refer to combinations of colours that work together to develop a sense of unity and balance. Complementary colours, opposite on the colour wheel, create a vibrant contrast, while analogous colours, which are adjacent to the colour wheel, create a harmonious and cohesive effect. By understanding colour harmonies, designers can create visually appealing palettes and ensure that colours interact to enhance the overall design concept. Carefully selecting and arranging colours bring unity and coherence to a space.
Using Color as a Design Tool: 
Colours can be used strategically to highlight or downplay specific elements within a space. Accent colours are vibrant hues that draw attention to focal points or architectural features, creating visual interest and guiding the eye towards particular areas of importance. Conversely, colours can also conceal or camouflage less desirable elements. For example, using darker colours on a low ceiling can create the illusion of height, diverting attention away from the perceived limitations of the space. By harnessing the power of colour, designers can manipulate focus and create visual balance within a room.
Colour Trends and Personal Expression: 
Colour trends change over time, influenced by culture, fashion, and societal shifts. Staying updated with colour trends allows designers to incorporate fresh and contemporary elements. However, personal expression should not be overlooked. Colours evoke subjective responses, and individual preferences should be considered. By blending current colour trends with emotional expression, designers can create spaces that feel current and authentic, reflecting the unique personality and tastes of the occupants.
The Role of Lighting in Enhancing Color:
It is an integral part of interior design and is crucial in how colours are perceived. Different lighting conditions can affect the appearance and vibrancy of colours in a space. Natural light brings out the most vibrant hues, while artificial lighting, such as warm or cool-toned bulbs, can create different colour casts. Designers need to consider natural and artificial lighting sources when selecting colours to achieve the desired effect. Proper lighting enhances the richness and depth of colours, creating a harmonious and visually pleasing environment.
The Cultural Significance of Color:
Colours hold cultural significance and can convey symbolic meanings in different societies and contexts. For example, red may represent luck and celebration in some cultures, while it may symbolize danger or caution in others. Understanding the cultural associations and meanings of colours is crucial for designing spaces that resonate with specific audiences or cater to diverse cultural backgrounds. By incorporating culturally significant colours, designers can create environments that evoke a sense of familiarity, comfort, and cultural appreciation.
Conclusion:
The selection of colours in interior design is not merely a matter of personal preference or aesthetics; The ability to transform the atmosphere of a room, shift perspectives, and establish a particular aesthetic makes it an incredibly influential asset. The psychology of colour plays a significant role in evoking emotions, influencing perception, and conveying messages. By harnessing the power of colour, interior designers can transform spaces and create environments that resonate with the desired ambience and style. Whether embarking on a personal design project or considering an interior design course to enhance your skills, delving into the world of colour is essential to creating visually captivating and harmonious spaces.