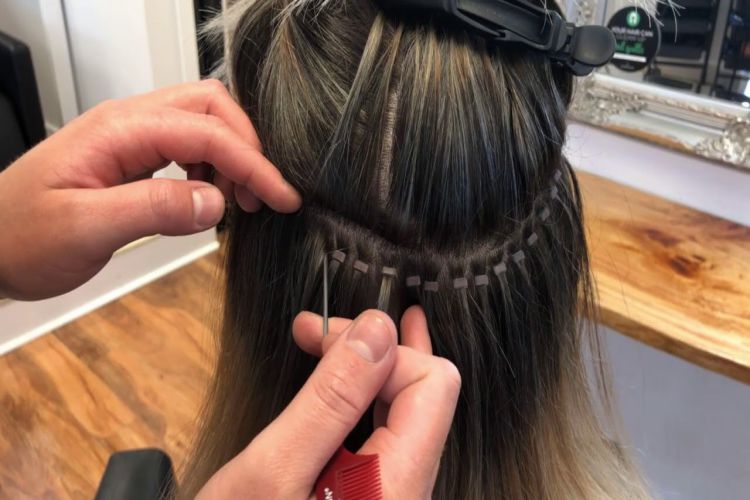 If you are someone who loves styling your hair, you would definitely agree that at some point you feel like having a thicker growth, to add the necessary volume to your varying hairstyles. Hand-tied wefts are perfect for this as they offer a lot of versatility.
You can try different lengths, hair colors, and styles at your convenience. An added boost of hair strands can do so much to your overall appearance and confidence! At Superhairpieces, we see our hair units create a life-transforming impact on our client's lives on a daily basis.  
So trust us when we say that no matter the length of your natural hair or the reason behind your wanting a hairpiece, we have what you need. To all those people who want long and lush hair for their versatile hair trends, you must get your hands on our hand-tied wefts. These human hair extensions add volume, shine, density, and texture to your natural hair, in a matter of minutes.
Hair Extension weft comparison – G-wefts, Machine Wefts, and Hand-tied wefts EXPLAINED! – YouTube
What are hand-tied extensions?
Hand-tied wefts are human hair extensions that add length, volume, and density without putting too much tension on the scalp or hair. The process of making hand-tied wefts is labor intensive as each hair strand is sewn together by hand. This technique uses minimal hair, producing extensions with a subtle, undetectable appearance that blends in well with the wearer's existing hair.
You can use one weft on top of the other and customize it to your own hair follicle strength so that it gives a boost of volume to your thin/thinning hair. You can also layer different colored hand-tied hair wefts to create a perfect color match and dimension for your natural hair to blend well with the extensions. 
For best results, look for hand-tied wefts that are made with Remy human hair that will not tangle or shed easily.
Who needs hand-tied wefts?
If you are aiming for long, beautiful, and glamorous Instagramable hair. Hand-tied hair extensions are just what you need. They suit just about everyone and are especially useful for people with thin, straight or wavy textured hair. The weft attachment will then lay flatter against their scalp causing lesser tangling and hair shedding while being almost invisible. 
How are they installed?
Hand-tied weft hair extensions are generally attached to your natural hair using beads, and a sew-in method with cotton or nylon thread. However, the attachment should better be left up to your stylists who would know exactly what would work best for you according to your hair's density, length, and overall desired end result.
Hiring a professional hairstylist instead of doing it yourself will guarantee better results that will last longer while also keeping your hair healthy.
How long do hand tied extensions last?
If properly maintained, your hand-tied weft extensions can last up to 6 months. Do keep in mind that reinstallation will be needed as your natural hair begins to grow out. 
How much do hand tied extensions cost?
Each pack of hand-tied hair extensions could cost you anything between $200 – $400 depending on the type and quality of hair strands used on it. 
Where can you get your hand-tied weft?
At Superhairpieces, you are provided with supreme quality, 100% human hair hand-tied weft extensions at different lengths ranging from 14'' to 22'', in a variety of color options. We currently only offer hand-tied weft extensions with straight 6A quality hair. This translates to you getting the best of the best human hair extensions for a completely natural, seamless look and feel without the worry of hair shedding.