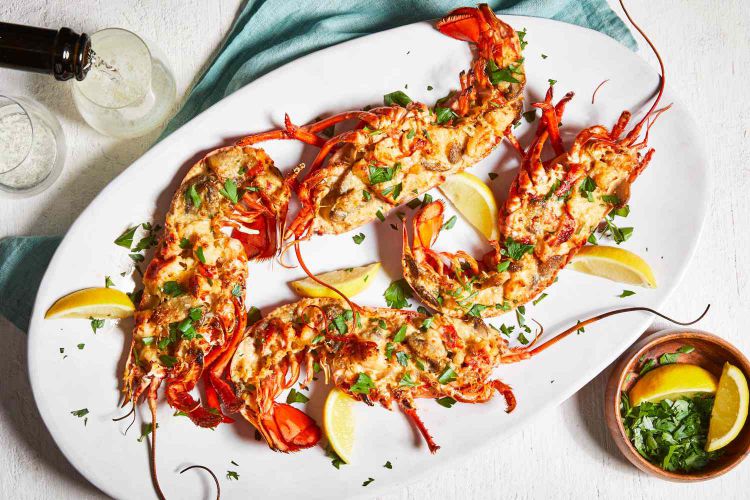 If you're searching for ways to add an element of sophistication and indulgence to your next gathering, look no further than lobster appetizers. Lobster is a highly-prized delicacy often associated with fine dining, and incorporating it into your appetizer spread is a surefire way to impress your guests. In addition, with its rich buttery flavor, lobster can be used in various creative and delicious ways, making it a versatile ingredient for any occasion.
This article will explore some of the best lobster appetizers guaranteed to elevate your gathering and leave your guests raving about the food.
6 Best Lobster Appetizers to Make Any Gathering Special
1. Lobster Roll Sliders
Transform your lobster roll experience with our new lobster roll sliders! These bite-sized delights are the perfect way to satisfy your cravings for the classic sandwich while enjoying a new twist on the dish. First, indulge in fresh lobster's sweet and succulent taste nestled between soft and fluffy buns. Then, upgrade your next gathering or mealtime with our irresistible lobster roll sliders. 
These mini lobster sandwiches are perfect for any party or gathering. The delicious blend of cooked lobster, creamy mayonnaise, crunchy celery, aromatic tarragon, zesty lemon, tangy pickles, and a pinch of salt and pepper creates flavor in every bite. Serve them as a crowd-pleasing appetizer or snack that everyone can quickly grab and enjoy. For maximum flavor infusion, allow this mixture to chill and meld together. Once ready, generously spread it onto your favorite buttered and toasted rolls.
2. Cheesy Cheddar Lobster Dip
Looking for the perfect appetizer to impress your guests? Look no further than this delicious baked cheese dip! Made with succulent lobster meat, aromatic shallots, and a blend of savory herbs and spices, this warm and gooey dip is sure to please. Whether you serve it with chips, chopped veggies, crackers, or your favorite dippers, this cheesy and decadent dish is guaranteed to be a hit at any gathering. 
Indulge in the decadent blend of Romano, cheddar, and cream cheeses with a touch of savory umami from the lobster. This irresistibly cheesy dip is elevated by a medley of aromatic herbs that will impress your guests and showcase your sophisticated taste. Perfect as a prelude to any meal or a luxurious snack, this dip is the ultimate indulgence for any cheese and seafood lover.
3. Lobster Mac and Cheese Bites
Lobster mac and cheese has become a popular dish that can be served as a decadent main course or a crowd-pleasing appetizer. This elevated twist on the classic mac and cheese is perfect for adding a touch of sophistication to your holiday spread. Whether you want to impress your family or guests, this creamy and flavorful dish with Caviar Blini will surely be a hit. But, of course, bite-sized snacks are always a hit regarding party food. So elevate your party game with delicious lobster mac and cheese bites that will surely be a crowd-pleaser. Your guests won't be able to resist these delectable bites and will be raving about them long after the party. 
Indulge in a heavenly combination of succulent lobster, creamy cheese, and delectable macaroni; all wrapped up in a crispy breadcrumb casing. These bite-sized balls of joy will quickly become the star of any party or gathering, destined to be adored by all.
4. Hot Lobster Roll Dip 
Indulge in the ultimate seafood delight with this luxurious hot lobster roll dip. Its creamy and cheesy texture makes it the perfect addition to any party or gathering. First, savor the rich flavor of succulent fresh lobster tails and a delectable blend of cheeses, all served in a warm and comforting dip. Take advantage of this unbeatable taste sensation. Next, indulge in a burst of bold flavors with our herb-infused recipe. This dish is a true masterpiece, crafted with rich gruyere, parmesan, and cream cheeses. Topped with crispy potato chips for an added crunch, every bite is a symphony of taste and texture.
This dip is a guaranteed crowd-pleaser, even without the addition of lobster. However, succulent lobster takes it to the next level, delivering a meaty, umami flavor that will leave you completely satisfied and yearning for more. So be prepared for moments of pure bliss as you savor every bite.
5. Lobster Roll Bruschetta
Lobster roll bruschetta is the perfect starter for your Italian dinner. This delectable appetizer combines fresh lobster's succulent flavor with bruschetta's crispiness to awaken your taste buds and set the tone for a memorable dining experience. "Have the ultimate taste experience as the succulent lobster meat perfectly complements the freshness of garden vegetables. Savor the perfect blend of flavors in every bite."
This is a simple yet flavorful dish! Juicy and delicious Roma tomatoes are paired with fragrant basil, crisp celery for a satisfying crunch, and fresh parsley for an herby finish. Best of all, this dish requires minimal prep time, so you can spend less time in the kitchen and more time enjoying the company of your loved ones.
6. Lobster Wellington
Have an ultimate gourmet experience with Lobster Wellington – a dish that exudes elegance and sophistication. But don't let its fancy look fool you – this culinary masterpiece is surprisingly easy to prepare, leaving your guests in awe of your culinary skills. So why not treat your loved ones to a luxurious dining experience?
The lobster puff pastry recipe is the ultimate savory delight. Our mouthwatering chunks of succulent lobster are wrapped in flaky puff pastry and baked to golden perfection. Whether serving it as an appetizer or the main course, this recipe will leave a lasting impression on your guests.
Conclusion
Lobster Appetizers have become a popular and luxurious addition to any gathering or special occasion. There is a wide range of options, from classic dishes like lobster bisque to innovative bites like lobster sliders. When preparing these appetizers, it's essential to prioritize the freshness and quality of the lobster to ensure the best flavor and texture. With the right recipe and techniques, these appetizers will impress your guests and make any gathering memorable. 
Post courtesy: Adam Licht, VP- Culinary Director at All Fresh Seafood