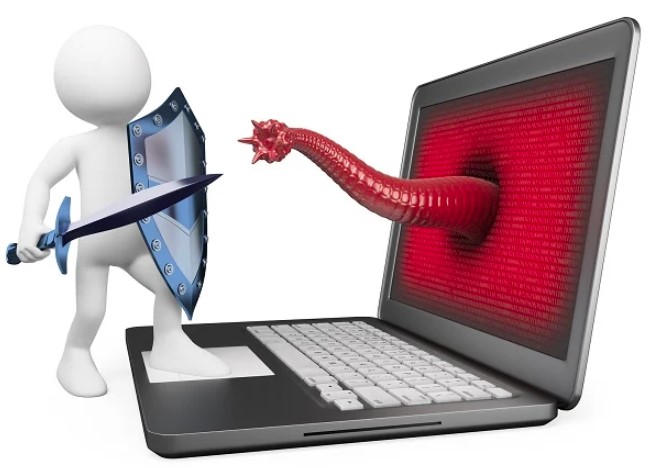 Computer viruses can be a real pain. They can slow down your computer, corrupt important files, and even steal data. Fortunately, there are methods for stopping and eliminating these hazardous applications. Here are actions you may do to protect your computer against viruses and malware:  
Install a Good Anti-Virus Program
Since their introduction in 1986, computer viruses have caused millions of headaches for users, bricking devices and stealing data. Today's threats are broader and more sophisticated, but they still work by infecting files, slowing down or corrupting them, and spreading through networks or external storage devices such as USB sticks.
To protect your devices:
Set up an anti-virus program that routinely scans your computers and checks attachments for malware.

Make sure the software is updated regularly.

Resist clicking on email links or opening files you don't know.
Many anti-virus programs include a firewall to prevent hackers from accessing your computer or devices and how to get rid of malware. Anti-virus programs should also scan for spyware, which collects personal data while you are online without your knowledge. A sudden flurry of advertising, being sent to websites you don't wish to visit, and sluggish performance are all indications of spyware. Many anti-virus programs include antispyware features, but you can buy separate software to protect against this threat. If a virus or piece of malware is preventing you from using your computer, consider reinstalling the operating system (although this will also delete all your files) and consider a firewall technology like Fortinet, which offers protection against malware and more.
Turn Off Your Network Connection
Unplugging your computer from the Internet is crucial if you know or believe it has malware. It will prevent it from communicating with the malicious servers controlling it and transmitting any personal information it has collected. Another great way to prevent malware infection is to keep your web browsers clean. Delete the temporary files folder on your computer regularly and clear your web browser's cache. You should also change your homepage and connection settings regularly. It will help ensure your browsers are always configured to the correct settings and not pointing to suspicious or ad-based websites. In extreme cases, reinstalling your operating system (such as Windows or Mac OS) can be the best way to eliminate a virus. However, this will likely result in losing any data stored on your device, so it is a good idea to back up your files before performing this step. If you don't have a backup, taking your computer to a local shop or expert for help is also a good idea.
Restart Your Computer
Computer viruses are unwanted software bits that invade and corrupt a device. They typically replicate themselves and can steal your personal information. Some are more dangerous, such as rootkit or Trojan viruses. They dig deep into the internal controls of your computer and hide from anti-virus anti-virus programs. Thankfully, you can take steps to boot a virus off your device. Your internet connection must be turned off before starting safe mode. Then you can scan your system, remove any unfamiliar extensions from your browsers, and clear your cache and history.  To restart your computer in Safe Mode, press and hold the Shift key as you select Power Restart or Press F4 for Windows 10. Once your computer is rebooted, open Control Panel and uninstall any apps you don't recognize. You can also run Disk Cleanup to remove temporary files and make more space available. Then, scan your system with an anti-virus program and follow the prompts to remove any discovered viruses.
Reinstall Your Operating System
If the virus has infected your computer to the point where anti-virus software and other measures cannot neutralize it, you may need to wipe the computer and reinstall its operating system. It is a drastic step that will erase all your files, but it is often the only way to eliminate a persistent virus. If you want this option, be cautious about backing up your crucial files so they can be restored. Try to take your computer to a professional repair service before doing this so that they can attempt to neutralize the virus first. You should also delete any files while your device is in Safe mode. It will prevent viruses from re-infecting your computer after it is removed. Lastly, you should also check your browser home pages and connection settings. It is common for malware to change these settings, and resetting them will help to prevent further infection.
Back-Up Your Files
Since the first self-copying computer virus was unleashed in 1986, viruses have wreaked havoc on devices. While some are serious enough to brick your device and render it unusable, most simply slow it down or steal data. Fortunately, even if you have to wipe and reinstall your operating system, you can get back up and running if you have a backup to restore. Back-ups make copies of your files on external hardware or in the cloud. They can be restored if your device is damaged or hacked, which is essential to any cyber hygiene plan. Your data may be backed up using various techniques, from straightforward USB flash drives to sophisticated backup software that may provide a wealth of security features and a programmed backup schedule. Keep your anti-virus program updated, and never download programs that aren't from trusted sources. Also, disable image previews in your email program, as some viruses can be transmitted by showing an infected picture in the preview. Finally, don't connect USB sticks or other storage media you don't know where they came from; many may contain malware or ransomware.