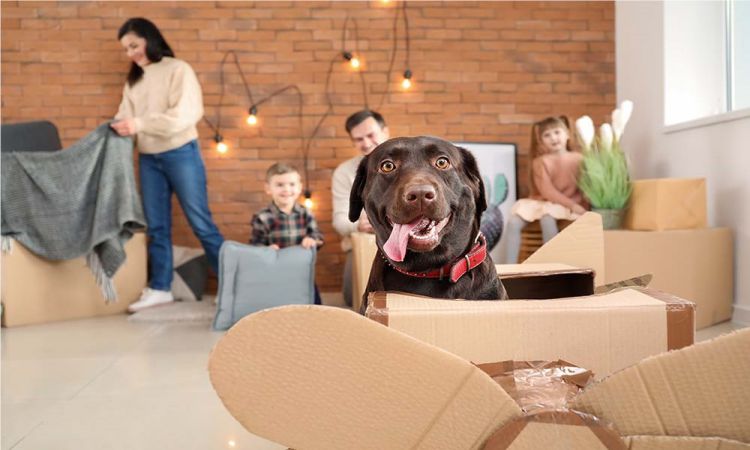 Moving long distances with pets can be an incredibly daunting and stressful undertaking, but with proper preparation and planning, you can make the transition much easier for both you and your furry companions. Embarking on a long-distance relocation with pets takes time, research, and consideration of their needs through every step of the process.
The key to a successful move with pets is to anticipate challenges ahead of time and properly prepare. When done right, long-distance moves can go relatively smoothly for four-legged family members as well as yourself.
Research requirements
Make sure you understand any restrictions, paperwork, or health requirements for bringing pets on planes or crossing state lines. For example, some states require health certificates from a vet issued shortly before travel. Knowing the rules in advance will help avoid issues.
Get their medical records
Have copies of all vaccination and medical records on hand to provide as needed during travel or at your new home. Ask your vet for referrals if you're moving far enough that you'll need a new vet.
Microchip your pets
A microchip is a permanent ID that can help reunite you with lost pets. Make sure the microchip is registered to your new address. Consider temporary tags with your new phone number too.
Consider their needs
Will climate differences impact your pet at the new home? Is plane travel safer for some breeds than others? Knowing this will let you take precautions to keep them safe and healthy.
Prepare for travel days
When you need long distance movers, get crates, carriers, gates, etc. whatever you may need to transport pets or keep them secure in temporary lodging on the route. Have these items packed with you, so that the movers don't cart it off in the big truck.  Plan pet-friendly stops for potty breaks. Bring food, bowls, a leash, and toys to reduce stress.
Update ID tags
Make sure your pets wear up-to-date IDs with your new phone number and address listed. Collars can slip off, so microchipping is still essential.
Pack a pet first aid kit
Include medicines, bandages, etc. in case your pet gets injured or anxious during the move. Also pack pee pads, paper towels, and cleaners in case of accidents.
Scope out the new area
Find parks, trails, and greenspaces near your new home. Look for a vet, groomer, kennel, and emergency vet too. Knowing your resources ahead of time brings peace of mind.
Find temporary housing
Research pet-friendly extended-stay hotels or short-term rentals if needed during the transition. Reserve these early as pet-friendly options fill up fast.
De-stress from the move
After you arrive, allow plenty of time for your pet to recover from the travel and adjust to the new home. Make sure your pet has a quiet, comfortable, familiar place to decompress.
Get settled before socializing
Don't rush to introduce your pet to new animals right away. Wait until after you and your pet feel comfortable in the new environment first.
Be patient and consistent
Understand your pet may show some behavioral changes like hiding, anxiety, or acting out due to stress. With time, patience, and consistency, these issues should be resolved.
Moving with pets requires planning, preparation, and TLC during the transition. Following these tips, however, will help make your long-distance relocation go smoothly for both you and your faithful companion.